Harbin Weather in July
In July, hot weather is common in many cities of China, but Harbin weather is pleasant and comfortable. The average daytime temperature is 28°C (82°F), and the average night temperature is 18°C (64°F). With an average of 143 mm, the most abundant precipitation throughout a year falls in this month. Because of the cool climate in Harbin in July, the city becomes an ideal place to escape summer heat.
Harbin International Beer Festival is usually held in
Ice and Snow World
in mid July. Beer culture forum, beer exhibition activities, green agricultural products fair, artistic performances, and other activities will be held during the festival. Visitors can drink a cup of local brand beer, taste delicacies and enjoy music parties.
Averages for Harbin Weather in July
Temperature: 23°C / 73°F
High Temperature: 28°C / 82°F
Low Temperature: 18°C / 64°F
Humidity: 77%
Rainfall: 143 mm
Rainy Days: 14 days
Sunrise: 03:48 ~ 04:15
Sunset: 19:04 ~ 19:27
Air Quality in July
Average AQI:41

What to Wear in Harbin in July
You can wear short-sleeved T-shirts plus shorts or thin skirts, or wear a cotton or a chiffon dress in the daytime, but you should take a thin overcoat when going out at night. A pair of breathable canvas shoes or sneakers is necessary.

Thing to do in Harbin in July
Daytime temperature is not very high in this month, so moderate outdoor activities are OK. Climbing Mao'er Mountain is a good option. Mao'er Mountain is situated in Shangzhi City, 84 km (52 mi) from Harbin. Lotus Pool in Tai Chi shape, Qiankun Pavilion, Chipmunk Garden, Five Blessing Trees and Sun and Moon Shaped Rocks in the summit of Mao'er Mountain are highlights; furthermore, the mountain spring water is clean and sweet. There tourists can experience adventurous and exciting rock climbing.
Tourists can also visit Hulan River Estuary Wetland Park, which is a naturally formed wetland at the confluence of Songhua River and Hulan River. The aquatic plants flourish, and many rare birds inhabit in the park. There you can take a boat or ride a bike to appreciate the beautiful scenery and experience beach motorcycle and exciting water recreational activities.
Other Tips
In July, the ultraviolet radiation is intense in Harbin, so you need to apply sunscreen or wear a sunhat and sun-proof clothing to protect your skin during outdoor activities. You'd better take some commonly used medicine, such as medicine for carsickness and heatstroke; in addition mosquito repellent is indispensable. For fear of the inconvenience caused by the peak tourist season, you'd better make your bookings as early as possible.
What is the temperature in Harbin in July?
High/Low Temperatures of Harbin in July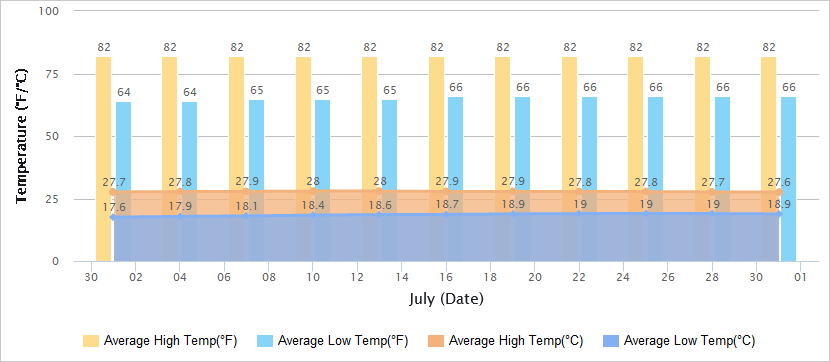 Air Quality of Harbin in July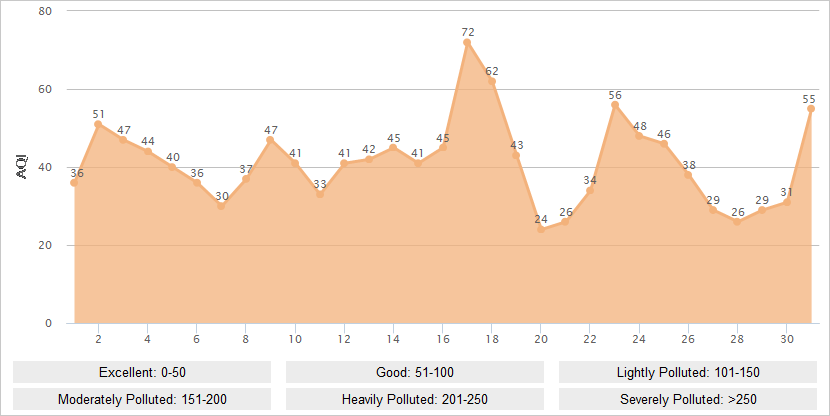 Historical Harbin Weather in July
Apr
Temperature
Sunrise / Sunset
Humi-
dity
(%)
High
Low
1
27.7°C / 81.9°F
17.6°C / 63.7°F

03:48

/ 19:27

61
2
27.8°C / 82°F
17.7°C / 63.9°F

03:48 /

19:27

48
3
27.8°C / 82°F
17.8°C / 64°F

03:49 /

19:27

53
4
27.8°C / 82°F
17.9°C / 64.2°F

03:50 /

19:26

50
5
27.9 °C / 82.2°F
17.9°C / 64.2°F

03:50 /

19:26

52
6
27.9 °C / 82.2°F
18°C / 64.4°F

03:51 /

19:26

55
7
27.9 °C / 82.2°F
18.1°C / 64.6°F

03:52 /

19:25

62
8
27.9 °C / 82.2°F
18.2°C / 64.8°F

03:52 /

19:25

59
9
27.9 °C / 82.2°F
18.3°C / 64.9°F

03:53 /

19:24

73
10
28 °C / 82.4F
18.4°C / 65.1°F

03:54 /

19:24

51
11
28 °C / 82.4°F
18.4°C / 65.1°F

03:55 /

19:23

62
12
28 °C / 82.4°F
18.5°C / 65.3°F

03:56 /

19:22

71
13
28 °C / 82.4°F
18.6°C / 65.5°F

03:56 /

19:22

63
14
27.9°C / 82.2°F
18.6°C / 65.°F

03:57 /

19:21

40
15
27.9°C / 82.2°F
18.7°C / 65.7°F

03:58 /

19:20

49
16
27.9°C / 82.2°F
18.7°C / 65.7°F

03:59 /

19:20

53
17
27.9C / 82.2°F
18.8°C / 65.8°F

04:00 /

19:19

82
18
27.9°C / 82.2°F
18.8°C / 65.8°F

04:01 /

19:18

59
19
27.9°C / 82.2°F
18.9°C / 66°F

04:02 /

19:17

58
20
27.9°C / 82.2°F
18.9°C / 66°F

04:03 /

19:16

64
21
27.9°C / 82.2°F
19 °C / 51.6°F

04:04 /

19:15

62
22
27.8°C / 82°F
19 °C / 66.2°F

04:05 /

19:14

84
23
27.8°C / 82°F
19 °C / 66.2°F

04:06 /

19:13

88
24
27.8°C / 82°F
19 °C / 66.2°F

04:07 /

19:12

80
25
27.8°C / 82°F
19 °C / 66.2°F

04:08 /

19:11

57
26
27.8°C / 82°F
19 °C / 66.2°F

04:09 /

19:10

59
27
27.7 °C / 81.9°F
19 °C / 66.2°F

04:11 /

19:09

63
28
27.7 °C / 81.9°F
19 °C / 66.2°F

04:12 /

19:07

58
29
27.7 °C / 81.9°F
19 °C / 66.2°F

04:13 /

19:06

66
30
27.7 °C / 81.9°F
19 °C / 66.2°F

04:14 /

19:05

61
31
27.6°C / 81.7°F
18.9°C / 66°F

04:15 /

19:04

56
- Last updated on Sep. 19, 2019 -