Harbin Weather in August
The weather of Harbin in August is cool and rainy. The average daytime temperature is 26°C (79°F), and the average night temperature is 16°C (61°F). The temperature difference between day and night is acceptable. The average precipitation is 121 mm, as a result the air is humid. Washed by rainwater, the city becomes cleaner, and the air quality is excellent.
The Harbin Summer Music Concert, one of the three biggest national music events in China, is held biennially on August 6 with a duration of 10 or 11 days. During the celebration, multiple evening parties, music concerts, competitions, and cultural activities are attended by artists from all over the world. Tourists will fully enjoy the charm of music.
Averages for Harbin Weather in August
Temperature: 21°C / 70°F
High Temperature: 26°C / 79°F
Low Temperature: 16°C / 61°F
Humidity: 78%
Rainfall: 121 mm
Rainy Days: 12 days
Sunrise: 04:16 ~ 04:53
Sunset: 18:13 ~ 19:02
Air Quality in August
Average AQI:30

What to Wear in Harbin in August
On sunny days, short-sleeved T-shirts plus shorts or thin skirts, or cotton and chiffon dresses are suitable. If venturing outside at night, you should take a light overcoat or a thin sweater.


Thing to Do in Harbin in August
Harbin weather in August is suitable for outdoor activities. Tourists can visit Harbin Northern Forest Zoo which is not only an animal kingdom, but also a forest oxygen bar. This zoo has a good ecological environment with a forest coverage rate of 95.8%. There you can see world-class rare animals such as white tigers, white lions, polar bears, African cheetahs and African white rhinos, and rare Chinese animals including pandas, Siberian tigers, Asian elephants, white-lipped deer, and red-crowned cranes.
If you want to engage in some recreational activities, Erlong Mountain is an ideal place. It is known as Harbin's east garden featured with dense forest, numerous plants and vast waters. There visitors can experience zip line, summer sled, mountain cableway, rock climbing, powered paraglider and other exciting activities, and taste farmhouse dishes.
Other Tips
In August, the sunlight is intense on sunny days, so you need to apply sunscreen or wear a sunhat and sun-proof clothing. When photographing animals in Harbin Northern Forest Zoo, you should not use flash light, for fear that animals are frightened. Most cities of China are hot in this month, but the cool climate in Harbin in August attracts more tourists; therefore, you'd better have your itinerary arranged early.
What is the temperature in Harbin in August?
High/Low Temperatures of Harbin in August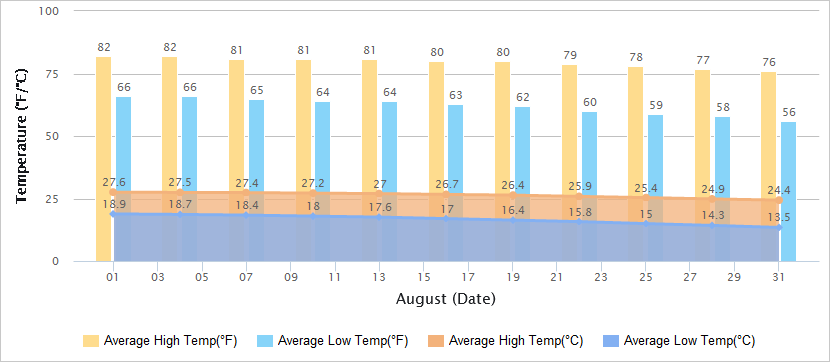 Air Quality of Harbin in August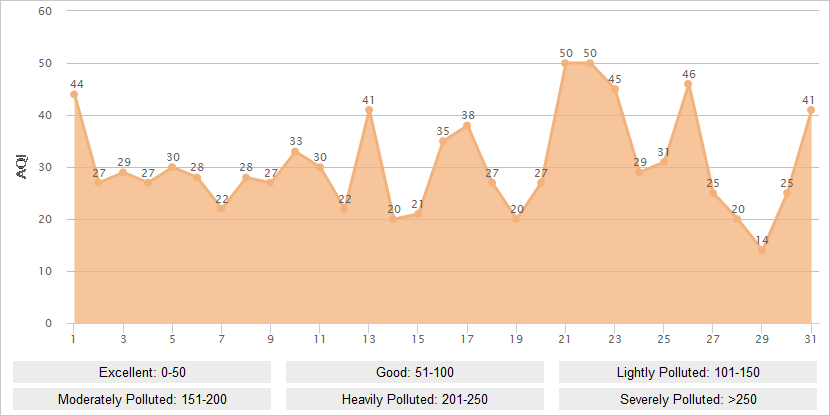 Historical Harbin Weather in August
Apr
Temperature
Sunrise / Sunset
Humi-
dity
(%)
High
Low
1
27.6°C / 81.7°F
18.9°C / 66°F

04:16 /

19:02

47
2
27.6°C / 81.7°F
18.8°C / 65.8°F

04:17 /

19:01

50
3
27.6°C / 81.7°F
18.8°C / 65.8°F

04:19 /

19:00

53
4
27.5°C / 81.5°F
18.7°C / 65.7°F

04:20 /

18:58

55
5
27.5°C / 81.5°F
18.6°C / 65.5°F

04:21 /

18:57

64
6
27.5°C / 81.5°F
18.5°C / 65.3°F

04:22 /

18:55

65
7
27.4°C / 81.3°F
18.4°C / 65.1°F

04:23 /

18:54

56
8
27.4°C / 81.3°F
18.3°C / 64.9°F

04:25 /

18:52

44
9
27.3°C / 81.1°F
18.2°C / 64.8°F

04:26 /

18:51

52
10
27.2°C / 81°F
18°C / 64.4°F

04:27 /

18:49

70
11
27.2°C / 81°F
17.9°C / 64.2°F

04:28 /

18:48

70
12
27.1°C / 80.8°F
17.7°C / 63.9°F

04:29 /

18:46

78
13
27°C / 80.6°F
17.6°C / 63.7°F

04:31

/

18:45

52
14
26.9°C / 80.4°F
17.4°C / 63.3°F

04:32 /

18:43

49
15
26.8°C / 80.2°F
17.2 °C / 63°F

04:33 /

18:41

58
16
26.7°C / 80.1°F
17°C / 62.6°F

04:34 /

18:40

49
17
26.6°C / 79.9°F
16.8°C / 62.2°F

04:36 /

18:38

47
18
26.5°C / 79.7°F
16.6°C / 61.9°F

04:37 /

18:36

45
19
26.4°C / 79.5°F
16.4°C / 61.5°F

04:38 /

18:35

54
20
26.2°C / 79.2°F
16.2°C / 61.2°F

04:39 /

18:33

43
21
26.1°C / 79°F
16°C / 60.8°F

04:41 /

18:31

52
22
25.9°C / 78.6°F
15.8°C / 60.4°F

04:42 /

18:29

46
23
25.8°C / 78.4°F
15.5°C / 59.9°F

04:43 /

18:28

37
24
25.6°C / 78.1°F
15.3°C / 59.5°F

04:44 /

18:26

67
25
25.4°C / 77.7°F
15°C / 59°F

04:46 /

18:24

40
26
25.3°C / 77.5°F
14.8°C / 58.6°F

04:47 /

18:22

39
27
25.1°C / 77.2°F
14.5°C / 58.1°F

04:48 /

18:21

43
28
24.9°C / 76.8°F
14.3°C / 57.7°F

04:49 / 1

8:19

36
29
24.7°C / 76.5°F
14°C / 57.2°F

04:51 /

18:17

49
30
24.5°C / 76.1°F
13.8°C / 56.8°F

04:52 /

18:15

94
31
24.4°C / 75.9°F
13.5°C / 56.3°F

04:53 /

18:13

84
- Last modified on Sep. 19, 2019 -