10 Best Cities in China for Budget Travelers
The best cities in China for budget travelers to spend a cheap vacation include Chengdu, Chongqing, Xi'an, Beijing and many others. They are "cheap" as the entry tickets at attractions, food, and hotels are relatively inexpensive and the public transportation is reliable and cost-effective. "Cheap" does not mean they are low-quality travel destinations. Actually, you can enjoy the beautiful landscapes, rich historical sites, delicious local dishes, etc in these cities.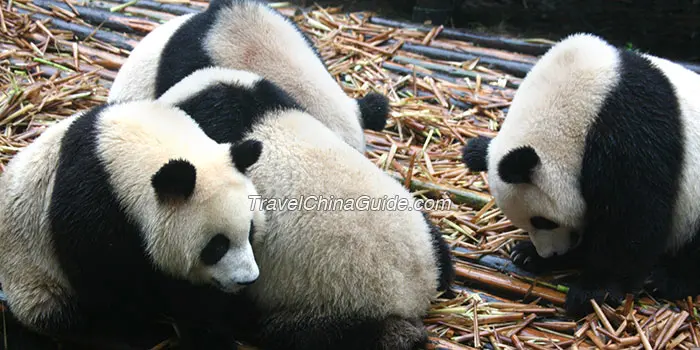 Chengdu is definitely a cheap China tour destination, the capital of Sichuan Province in the west. There are many roadside restaurants and food stalls offering cheap but delicious Sichuan food. Generally speaking, CNY 30 is enough to glut yourself at such a restaurant. In addition,
Chunxi Road
,
Jinli Street
,
Wide and Narrow Alley
and some other attractions are opened for free, thus you could save an amount of money as well. Apart from the sites having been mentioned,
Chengdu Research Base of Giant Panda Breeding
,
Dujiangyan Irrigation System
,
Mount Qingcheng
,
Wuhou Temple
, etc. charge a cheap entry fee, which make Chengdu one of best cities to visit in China for budget travelers.

Chengdu Tours

Recommended Tour:

Chengdu Day Tour to Panda Base, Wide and Narrow Alleys & Jinsha Site Museum
Chongqing is also one of top cities in China for a budget tour. The night sights and hot pot are the most attractive things in the mountainous city. As the night views are free to watch, and a hot pot meal costs only CNY 40-60 per person averagely, your Chongqing trip must be cheap. If you would like to try the higher-end new-style hot pot, it would be a little expensive at a price between CNY 80 to 100 per person. Other local snacks are cheap as well, and the most famous
Hongya Cave
and
Ci Qi Kou Ancient Town
in the downtown require no admission fee.

Chongqing Tours

Recommended Tour:

Private Chongqing Day Tour to Wulong from

$187
Xi'an is listed as a cheap tourist city for the comparatively lower price level. Travelling to Xi'an, most of your budget would go to the admission tickets of attractions, such as
Terracotta Army
charging CNY 150 per person, and
Mount Huashan
, CNY 180. The local food price is not high, expect these on famed
Muslim Quarter
and around other attractions. Generally with CNY 10, you can have a breakfast very full. Also, you can rely on the public transport to most attractions in the city, like
Bell Tower
,
Giant Wild Goose Padoga
, and
City Wall
at a cost of about CNY2-5. As a tourism city, the hostels and inns are also rich, which are nice choices to save money.

Xi'an Tours

Recommended Tour:

2 Days Best Tour in Xi'an from

$239
Although the consumption level is high in Beijing, the capital of China, it is one of the best cities in China for a cheap vacation. The youth hostels and budget hotels may cost as low as CNY 100 for a night. Many restaurants allow group consumption online, by which you can get some discounts. Besides, Beijing might be the China tourist city with the cheapest attraction tickets, for example,
Forbidden City
only charges CNY 60 per person in peak seasons and CNY 40 in slack seasons.
Jingshan Park
charges only CNY 2 for an adult on ordinary days. Moreover,
Tiananmen Square
,
Houhai
,
Nanluoguxiang
,
798 Art District
, museums and parks, etc. are open for free. Considering all these, Beijing is absolutely a budget tourist city in China.

Beijing Tours

Recommended Tour:

Beijing 4 Days Tour with Highlights from

$539
Nanjing, an ancient city with many historical attractions, is also one of the best cities in China for a cheap China tour due to the not high price level, convenient public transport, cheap time-honored restaurants, and some attractions open for free. A bowl of the most famous local food, Duck Blood and Vermicelli Soup and one serve of Small Steamed Buns at the cost of about CNY 15 will make you full. The classical attractions like
Dr. Sun Yat-sen's Mausoleum
,
Nanjing Museum
, and
Confucius Temple
ask no admission ticket. At night, you could walk along
Qinhuai River
to enjoy the charming night views with no cost, too.
Guilin, widely recognized to have the most beautiful landscape throughout China, is one of the best cities to visit in China yet a cheap China travel destination. The representative dish
Guilin Rice Noodles
costs as low as CNY 5 for a bowl of. A city bus ride would cost you CNY 1 or 2 each time; and the taxi runs with the flag-fall price of CNY 9. At the same time, Li River Cruise,
Elephant Trunk Hill
,
Two Rivers and Four Lakes
,
Longji Terraces
,
Butterfly Spring
,
Moon Hill
and so on have cheap admission tickets. After arriving Yangshuo by
Li River
cruise, you can tour around the countryside free of charge.

Guilin Tours

Recommended Tour:

One Day Li River Cruise Tour from Guilin to Yangshuo from

$140
Lanzhou, the capital of northwestern Gansu, is an inland city by the upper stream of
Yellow River
. Because it's not a developed place, the price there is naturally low. You can easily find budget hotels. And a bowl of the most famous Lanzhou Beef Noodles only costs around CNY 10. You may stroll on
Zhangye Road
- the busiest pedestrian street for shopping and dining, and visit
Five Springs Mountain Park
,
Gansu Provincial Museum
,
Waterwheel Garden
,
White Pagoda Park
, etc. Last but not least, you can appreciate the scenery of the Yellow River for free here at a close distance.

Lanzhou Tours

Recommended Tour:

4 Days Private Lanzhou Tour with Xiahe Labrang Monastery from

$739
Harbin is a city in the most northeastern region of China, where is covered by white snow all the winter, thus it becomes a popular winter destination with the historical architecture in both European and Chinese styles. Its
Central Street
is free of charge. Actually, expect
Ice and Snow World
, whose entry ticket is a little expensive, other attractions all charge cheap. You can stay overnight in a budget hotel within CNY 100-200, and enjoy local cuisine with low cost. Hence, Harbin is one of the best cities in China for a budget tour. In addition to the above mentioned attractions, you may visit
Dragon Tower
,
Siberian Tiger Park
,
Sun Island
,
Yabuli Ski Resort
, etc., especially during the annual
Harbin Ice Festival
.

Harbin Tours

Recommended Tour:

3 Days Private City Package in Harbin
Although Shenyang is the capital of Liaoning as well as a large city in the northeast, it is a budget destination for travelers. The cheap public transports extend all over the city; the buffet and restaurants are at average prices; costing merely CNY 70-100, you could get a nice room for one night with private bathroom and the comfortable environment. As to the attractions,
September 18th Historical Museum
, Liaoning Provincial Museum, Doling Mausoleum Park, Hun River West Valley, and more historical sites are free to visit. The parks in Shenyang city, such as Nanhu Park, Shenshui Bay Park, and Bayi Park, are all visit-worthy with amusement facilities and free of charge. For a cheap holiday to China, you may spend less than CNY 1,000 for 3 days in Shenyang, making it a quite budget travel destination out of the top cities in China to visit.
As Guizhou is a developing tourist province in southwestern China, the price to travel around there is at a low level. You could easily find the budget hotels in local ethnic style, and near the famous attractions, at around CNY 200 for a night. The local foods would not make you spend much as well. Many attractions in Guizhou are open for free to visitors, and the tickets of the rest of scenic spots are cheap, which is generally within CNY 100, and the cheapest ones may cost you only CNY 5. What's more, to draw more tourists, the tickets are often offered at a discount, thus it is absolutely a cost-efficient destination. In Guizhou, the incredible attractions of natural beauty and many ethnic monitories, like
Huangguoshu Waterfall
,
Xijiang Qianhu Miao Village
,
Zhenyuan Ancient Town
,
Zhijin Cave
, and
Fanjing Mountain
, are highly worth a visit, meanwhile you would get to know the nationalities of
Miao
,
Dong
,
Yao
,
Bouyei
, and so on.

Guizhou Tours

Recommended Tour:

4 Days Private Guizhou Tour with Miao Ethnic Villages from

$569
- Last updated on Jul. 20, 2023 by Catherine He -