Chengdu Research Base of Giant Panda Breeding

All activities relating to close contact with giant pandas have been suspended. Visitors could no longer join in the volunteer program or hold a cub to take photos. The restart time remains unknown.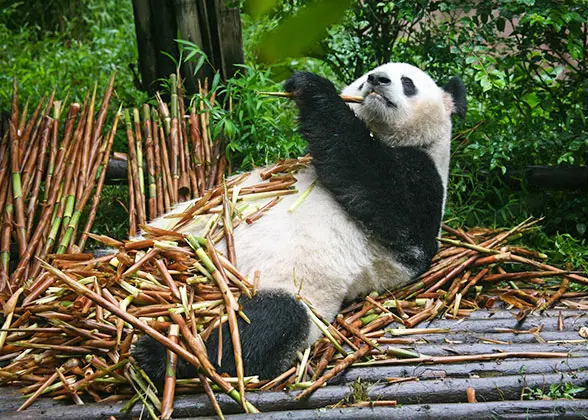 Pictures

Videos

2-Day Chengdu Tour

from $149

2-Day Panda Keeper Program

from $259


8-Day Beijing-Xian-Chengdu Tour from $979

7-Day Beijing-Chengdu-Leshan Tour
$909

See More
Located just 6 miles (10 km) away from downtown, the Chengdu Research Base of Giant Panda Breeding has been created and imitated the natural habitat of giant pandas in order that they might have the best possible environment for rearing and breeding.

The giant pandas are not only a Chinese national treasure but are also beloved by people the world over. They are found only in Sichuan, Shaanxi and Gansu provinces. In total there are fewer than 2,000, of which 70% are distributed within the territory of Sichuan Province. Therefore, when visitors from home and abroad come to Chengdu, Sichuan, one of their main objectives will be to see this lovely animal for themselves.

The base cares also for other rare and endangered wild animals with an area of 560 mus (92 acres), 96% of which is verdure. Giant pandas, lesser pandas, black-necked cranes, white storks as well as over 20 species of rare animals are fed and bred there. Verdant bamboo, bright flowers, fresh air, a natural hill scene and a beautiful artificial view are merged ingeniously at the base.

The necessary facilities have been completed and include a fodder room, sleeping quarters and a medical station. Additionally there is a museum together with research laboratories and a training center.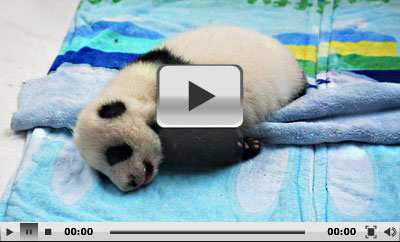 Research Base Photos

A great number of plants and as many as ten thousand clumps of bamboos and bushes have been cultivated to provide for the animals' diet and habitat. The base is planned to be expanded by another 3,000 mus (500 acres) of land on which to simulate a natural environment in order to prepare the giant pandas bred for release into the wild.

The Giant Panda Museum was opened in 1993 to further scientific education and to improve public awareness of the protection of both wild creatures and their environment. This is the world's only thematic museum for rare and endangered animal species. The three main exhibitions are in the Giant Panda Hall, the Butterfly Hall and the Vertebrate Hall. The exhibits include all kinds of precious pictures, more than 800 materials and show more than 2140 different samples gathered in Sichuan. These include examples of animals, birds, amphibians, reptiles and insects as well as fossils and models. The resources held in store at the museum include up to ten thousand samples as well as a library of thousands of books and documents. This excellent and comprehensive museum provides a wonderful venue for all who are interested in seeing something of the propagation and protection of the region's natural bio-diversity.
| | |
| --- | --- |
| | |
Transportation:
By bus:
Take bus 60 or 665, and get off at Longqing Road Shulong Road. Then walk along the Xiongmao Avenue for about several minutes to the base.
Take bus no. 39, 70, 99, 150 or 193 and get off at Dong Wu Yuan Bus Station. Then change to bus 198 or 198A to the base.
Take bus no.87, 198, 198A or 867 and get off at this base station.
By subway:
Take
subway line 3
and get off at Panda Avenue. The base is 3 miles (5 kilometers) away. Take a taxi to reach it with a cost of no more than CNY15.
By taxi:
Take taxi from the city proper and it costs CNY40 or so.

Chengdu Bus / Subway Search
From Shuangliu Airport:
Take airport shuttle bus line 1, get off at Sheng Ti Yu Guan (Sichuan Provincial Stadium) Station and change bus no. 99 to Dong Wu Yuan Bus Station. Then take bus no. 198 or 198A to there.
From North Railway Station:
Take bus no. 9 to Dong Wu Yuan Bus Station, and then change bus no. 198 or 198A to there.
| | |
| --- | --- |
| Admission Fee: | CNY 58 |
| Opening Hours: | 07:30 to 18:00 (tickets sales closed at 17:00) |
| Best Time to Visit: | 09:00-10:00 in the morning for it is active breakfast time |
Travel Tip:
Tourists can take
Chengdu Sight-seeing Bus
to visit popular tourist sites, such as
Dujiangyan Irrigation System
,
Mount Qingcheng
,
Thatched Cottage of Du Fu
and
Wuhou Temple
.

Special Notice:

At present, holding a cub to take photos is not allowed due to the earlier canine distemper accident happened in Xian. The restart time depends on when the epidemic ends.
Hereunder is earlier information on holding cubs to take photos for your reference: CNY 2,000 is needed for holding a 8-to-10-month-old cub and taking photos with him / her for one or two minutes. Visitors need to make a reservation by sending an email to pandabase@panda.org.cn or calling at 86-28-83505513. Once the reservation is confirmed, you can have a close contact with the animal on the appointed date. In addition, CNY 2000 should be paid in cash.

Ya'an Bifengxia Base of China Conservation and Research Center of Giant Panda
is 93 miles (150km) to the southwest of Chengdu.

Dujiangyan Panda Base
about 34 miles (56km) northwest of Chengdu, is also an ideal choice to see the cute animals.

Dujiangyan Panda Valley
is 37 miles (60km) away from Chengdu.

Wolong National Nature Reserve
is 80 miles (130km) from Chengdu.
Read more information about Chinese Giant Panda:

Facts

Growing Process

Diplomacy

FAQs