Chengdu Attractions - Things to Do
A two-thousand-year history leaves Chengdu with numerous historical places of interest. Fertile lands and a favorable climate endow the city with picturesque surrounding scenic landscapes. The followings are popular attractions in the city that attract many tourists every year.


Chengdu Research Base of Giant Panda Breeding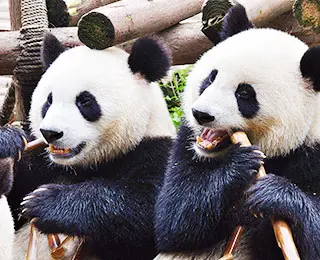 Located just 10km (6 miles) from downtown Chengdu, this is the most convenient place for visitors to see the
giant pandas
at a close range. Apart from this center, the
Dujiangyan Panda Base
, 56km (34 miles) northwest of Chengdu,
Dujiangyan Panda Valley
, 60km (37 miles) from the city,
Wolong National Nature Reserve
, 130km (80 miles) away, and the
Ya'an Bifengxia Base of China Conservation and Research Center of Giant Panda
, 160km (100 miles) away are also ideal attractions to see this cute black-and-white creature.

Sanxingdui Museum
(Three-Star Piles Museum)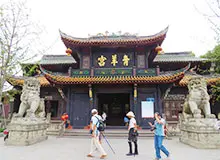 The Sanxingdui Museum in Nanxing Town, Guanghan, about 40 kilometers (25 miles) from city proper, exhibits the excavations of the ancient Shu Kingdom. It is an important archeological discovery which changed people's understanding of ancient history and culture.

Jiuzhai Valley National Park
(Jiuzhaigou)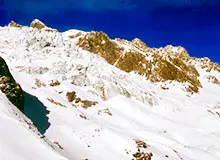 400 kilometers (25 miles) away from Chengdu lies a fairyland whose natural and primitive beauty impresses everyone who visits here. Jiuzhaigou with its heaven-bestowed landscape, precious animals, plants and the special local flavor of the Tibetan People, deserves the first recommendation for a neighborhood tour of Chengdu.

Dujiangyan Irrigation System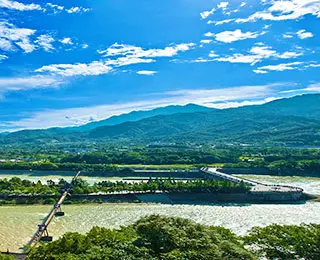 This irrigation project is one of the world's cultural heritages constructed 2,000 years ago, and amazingly continues to benefit more than 40 neighboring counties. It's the oldest and only surviving no-dam irrigation system in the world and a wonder in the development of Chinese irrigation works.

See more about
Top 10 Things to Do in Chengdu
Tickets & Activities

Baoguang Temple
, built in the Eastern Han Dynasty (25-220), is situated in Xindu to the north of the city.

Botanical Garden
is about 9.7km (6 miles) north of the dowtown area. It has more than 2,000 species of plants and covers a total area of 104 acres.

Chengdu Museum
, located in the west of Tianfu Square, is the biggest comprehensive museum in the city, providing the history of the city and the interesting Puppetry and Shadow Play.

Chengdu Teddy Bear Museum
is the largest Teddy Bear Museum in the world, here you can enjoy more than 1,000 teddy bears.

Chengdu Zoo
is the largest zoo in southwest China with more than 300 species of animals, including pandas, South China tigers, takins, and leopards.

Chunxi Road
, regarded as the city's busiest business street, is a center of fashion as well as a home of delicious snacks from all over the country.

Dinosaur Museum in Zigong
, built on the Dashanpu Dinosaur Fossils Site, is one of the three biggest dinosaur site museums in the world.

Haichang Polar Ocean World
attracts plenty of visitors with various ocean animals and their wonderful performances.

Happy Valley
, an amusement park with breathtaking sceneries, interesting explorations and exciting entertainment facilities.

Huanglong National Scenic Reserve
owes its fame to the breathtaking charm of its innumerable ponds, rocks, waterfalls, snow-covered mountains, valleys, temples, and local customs.

Huanglongxi Ancient Town
, with history of 1,700 years and well preserved buildings, is a place where travelers can explore Chinese old culture and custom.

Huanhua Stream Park
, the largest urban forest park in the city.

Jinli Street
once was one of the busiest commercial streets during the Shu Kingdom (221-263).

Jinsha Site Museum
is a rare museum to protect, study and display the archaeological finds of Jinsha Site, which has a history of more than 3,000 years and was discovered by archaeologists in February 2001.

Jiuyanqiao Bar Street
is located along Jinjiang River, becoming a sign of Chengdu nightlife culture.

Luodai Ancient Town
, 18 km (11 miles) east of the city, is the world's largest town of Hakka.

Mount Qingcheng
is a Taoist mountain located about 20 kilometers (12 miles) southwest of Dujiangyan City. It is also a very attractive and intriguing scenic spot that is covered by luxuriant and verdant trees.

People's Park
is well-known for the Memorial to Railway Protection Movement, winding Gold Water Stream, Chrysanthemum Show, and time-honored teahouses.

Pingle Ancient Town
has a history of over 2,000 years, and is famous for the 'Nine Antique Heritages', such as ancient residences and streets, and the ancient post road.

Qingyang Palace
(Qing Yang Gong) is considered to be the oldest Taoist temple in the city. Legends about the origin of the palace can also be enjoyed here.

Salt Museum
in Zigong shows the achievements of China's ancient well salt industry and the tools for artesian well.

Sichuan Cuisine Museum
gives you a chance to experience how to cook Sichuan cuisine.

Sichuan Museum
, the largest comprehensive museum in southwestern China, features 260,000 items in its historical collections and more than 60,000 relics.

Sichuan Science and Technology Museum
focuses on local landforms, ancient projects, mordern achievements of science and techonology.

Stone Elephant Lake
is noted for the ancient Stone Elephant Temple, the maze-like clear lake, and the sea of tulips and lilies.

Thatched Cottage of Du Fu
was the residence of Du Fu, a famous poet of the Tang Dynasty (618-907). For three and a half years he lived in the cottage.

Tianfu Square
the largest city square in southwest China.

Wangjiang Pavalion Park
is renowned for the River View Tower (Wang Jiang Lou), the Memorial Hall for a female poet Xue Tao, and varieties of bamboos.

Wenshu Monastery
is the best-preserved Buddhist temple in the city with hundreds of bronze, wooden and stone statues, and Buddhist relics.

Wide and Narrow Alley
is a popular entertainment and nightlife block, with architecture renovated in traditional Chinese style.

Wuhou Temple
(Wu Hou Shrine Temple of Marquis) was built in the 6th century in memory of the Emperor Liu Bei and the Prime Minister Zhuge Liang of the Shu Kingdom.

Xiling Snow Mountain
is a famous skiing resort and tourism site in Dayi County of Chengdu.

Yongling Museum
is built on the base of Emperor Wang Jian's tomb in the Former Shu State in the Five Dynasties Period (907-960).

Zhaojue Temple
was first constructed in early Tang Dynasty. It is a famous Buddhist temple, and the cradle of Buddhist temples in Japan and Southeast Asia.
- Last modified on Jan. 09, 2020 -
Questions & Answers on Chengdu Attractions
Asked by Thanawit chaiphiphat from THAILAND | Sep. 27, 2019 07:50

Reply
I would like to know the weather Where are you want to go
what is the weather at the time 20-25oct 2019 at these 3 places
Songpinggou
Dagupingchuen
Bipinggou
Answers (1)
Answered by Adam from USA | Sep. 29, 2019 18:45

0

0

Reply
The temperature of Songpinggou will be around 0-10C during that time. It will be cold and rainy so you need to bring some warm clothes and rain gears. I can't find Dagupingchuen and Bipinggou, but I think the weather condition will be pretty much the same.
Asked by podjana from THAILAND | Aug. 23, 2019 06:06

Reply
Can I repeated use the entrance ticket of National reserve in CHINA?
I'm wonder in the Entrance ticket of The National reserve in CHINA.
such as Yading National reserve, Mount Siguniang, Dagu pingchuan[Dagu Glacier (Heishui County)].
Can I repeted used in another days
or I need to buy the new ticket in everyday?


Answers (1)
Answered by Gross from UNITED KINGDOM | Aug. 26, 2019 23:44

0

0

Reply
The ticket is only valid for the day you buy it.
Asked by GEORGIAROSE | Nov. 09, 2018 02:02

Reply
Travel to four sisters mountain
How long does the bus journey take from Dujiangyan Passenger Transport Center to Rilong and how long from Chengdu to Rilong?

Do you recommend booking tickets in advance? If so, can that be done online?

I live in Chonqing and will travel to CS to HST and then either from CD to Dujiangyan by HSR, or from CD to Rilong directly by bus.

I will want to visit Four Sisters Mountain/ surrounding valleys so want to travel the quickest route possible to Rilong from CD.

Best wishes and thanks! :)

GRM

Answers (3)
Answered by Alan from USA | Nov. 11, 2018 18:40

0

0

Reply
From Dujiangyan to Rilong, the travel time is about 6 by bus.
From CD to Rilong, the travel time is about 5 hours by bus. Recently, you don't have to book online and you can buy the tickets when you arrive at the bus station.
Answered by GEORGIAROSE | Nov. 13, 2018 20:55

0

0

Reply
Thank you for the information about the journey times.

Please can you tell me the name and location of the bus station in CD, where I can catch a bus to Rilong?

Is it possible to find out what time the buses to Rilong depart from CD each day?

Thank you very much!
Answered by Alan | Nov. 14, 2018 01:24

0

0

Reply
The bus station name is Chadianzi Bus Station, located at No.289 West Sanhuan Road. You can take the bus from CD to Xiaojinxian and the bus will pass Rilong. You can tell the driver your get-off point in advance. The bus schedule is 07:30, 09:00 and 12:00.
Asked by Lyn Poh from MALAYSIA | Jul. 24, 2018 19:22

Reply
Is it advisable to go Mt Emei during December?
Answers (1)
Answered by Fanny from GERMANY | Jul. 25, 2018 18:13

0

0

Reply
It's too cold and you are advised to go in spring or autumn.