Dujiangyan Panda Base
Dujiangyan Panda Base, also known as China Conservation and Research Center for Giant Panda Dujiangyan Base, the only giant panda care, disease prevention and control institute in the world, is situated in Mt. Qingcheng Town, about 56 km (34 miles) northwest of Chengdu and 18 km (11 miles) from downtown Dujiangyan.
Giant panda
, Chinese national treasure, is one of the rarest animal species in the world. They total 1,864 in China with 74 percent in Sichuan Province, while Dujiangyan Panda Base owns 170.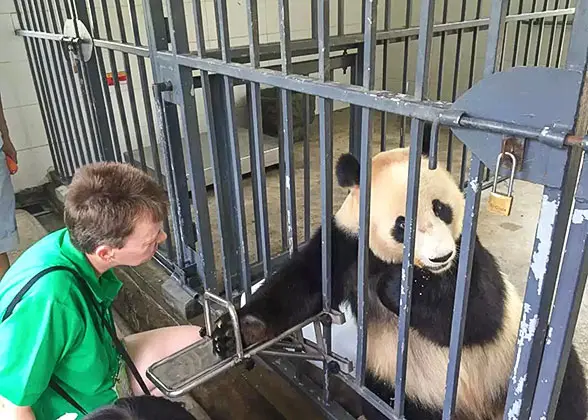 Base land covers 506,666 square meters (605,968 square yards), and it subdivides into 6 zones including: rescuing and quarantining area, disease prevention and control research area, recovering and training area, reception and education area, vegetation area, and service area. Dujiangyan Panda Base offers plentiful supply of bamboos as staple food for this treatured animal. Tourists can follow the cute animals activities with cameras, electronic devices and other means.
Panda Keeper's Program
Dujiangyan Panda Base offers a special program allowing visitors to administer to these lovely animals in person as volunteers. Visitors interested in this program can make an advance reservation, and come close to the lovely animals.
Special work garments will be distributed to volunteers. The first chore is cleaning the animal cages, and followed by food preparation. Volunteers need to slice bamboos into smaller pieces for easier ingestion. In fact, an adult one consumes about 40kg (88 pounds) fresh bamboo shoots a day, 14kg (about 31 pounds) bamboo stalks, or 20kg (about 44 pounds) bamboo leaves. Be sure to feed them enough! Besides, snacks should be prepared including apples, carrots or steamed buns etc.
Visitors who are interested in this program can send emails to pandaeducatecenter@163.com to make a reservation. Each applicant needs to pay around CNY 700 per day. If they have any question, they can contact the base at +86-28-69290315.



See tour offered by TravelChinaGuide:

2-Day Chengdu Panda Keeper Program Tour from $349
Famous Panda Stars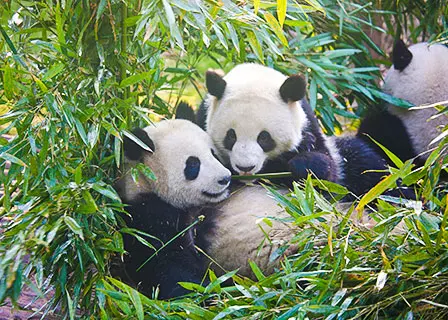 You can also see some well-known pandas who have returned to China after traveling abroad including: Yunzi, Huamei, Meisheng, Taishan, Sulin, Zhenzhen, Fulong, Fuhu, and Linbing. They were born outside China, but have returned to China and now live in the Dujiangyan Panda Base.
You can also visit the Panda Museum in the Dujiangyan Panda Base to know more about the lovely animals, such as their origin, habitat and habits. Tourists are suggested to go there in summer, when they can have a better chance to see the newly-born cubs in the nursery. The tiny, rosy and lovely cubs would be an unforgettable memory lasting lifelong.
How to get to Dujiangyan Panda Base from Chengdu:
1. Take Intercity High Speed Train in
Chengdu Railway Station
and get off at Mt. Qingcheng Railway Station. Then take bus line 102 to Xiongmao Jikong Zhongxin and you will see the base.
2. Take a bus from North City Bus Station, Airport Bus Station, or
Xinnanmen Bus Station
to Dujiangyan. Then, take bus line 102 to Xiongmao Jikong Zhongxin and walk to the base.
Entrance Fee
CNY 58;
CNY 29 for children between 1.3 - 1.5 meters (4.3 - 4.9 feet);
Free for children under 1.3m.
Opening Hours
08:30 – 17:00
---

Further Reading:

Dujiangyan Panda Valley
: Located in the Baima Village, 19 km (11 miles) away from the above base in Dujiangyan. It allows visitors to join the volunteer program (CNY 800 to 900).

Chengdu Research Base of Giant Panda Breeding
: just 10 km (6 miles) away from downtown Chengdu.

Wolong National Nature Reserve
: the largest panda reserve in China, 130km (80 miles) from Chengdu.

Ya'an Bifengxia Base of China Conservation and Research Center of Giant Panda
: 150 km (93 miles) southwest of Chengdu.

Read more information about Chinese Giant Panda:
Facts
Growing Process
Diplomacy
FAQs
- Last modified on Feb. 27, 2019 -
Questions & Answers on Dujiangyan Panda Base
Asked by Mina from SWITZERLAND | Feb. 23, 2019 15:38

Reply
Confusion about trains to Dujiangyan
We wanted to go to the Panda base and read as well was told that the trains to Duijangyan leave from both, North railway station and Xipu. The clerk however told us that the trains to Dujiangyan only leave a from Xipu Railway Station.
Answers (1)
Answered by Sophie from CANADA | Feb. 27, 2019 23:41

0

0

Reply
Well, the North Railway Station is widely known as CD Railway Station. The bullet train from CD Railway Station only departs at 06:00. Thus you are suggested to take it from Xipu Railway Station.
Asked by G from SVERIGE | Feb. 21, 2019 06:28

Reply
Im going to Chengdu i middle of October just to visit the panda center
and I would love to feed baby cubs- do you still have that? Is that a separate activity or Is It the same as a photo with a panda? Do I book It with you here If so? please let me know. Kind Regards Sweden
Answers (1)
Answered by Hailey from GEORGIA | Feb. 21, 2019 19:38

0

0

Reply
As I know, they are different activities. You need to make the reservation on the official website of this base. :)
Asked by Rieng | Dec. 03, 2018 15:44

Reply
Can I leave luggage at Dujiangyan panda base's ticket office?
1. We must carry luggage to panda base. Can we ask officer to leave them at ticket office or tourist center or somewhere? After we finish touring we will take them back to CD.
2. If we do not take hi-speed train back to CD. Can we take public bus about 5.00-6.00 pm? and which terminal bus stop at Chengdu?
Thanks again

Answers (1)
Answered by Darnell from USA | Dec. 03, 2018 17:23

0

0

Reply
1.Yes, there is the left-luggage room in the tourist center.
2. The bus from Dujiangyan to Chengdu will stop at Chadianzi Bus Station. And the bus is available before 19:00.

Asked by Rieng | Nov. 20, 2018 20:10

Reply
Visit Chengdu Dujiangyan panda base
I plan to take public bus from Heishui return to CD. Does the bus stop at Dujiangyan bus terminal? or where can we get off from bus and how to go to panda base? or other information?
Thanks
Answers (1)
Answered by Myron from AUSTRALIA | Nov. 22, 2018 17:16

0

0

Reply
Yes, the bus from Heishui to CD will pass Dujiangyan bus terminal. And you can get off at the bus terminal and take a taxi to panda base. The taxi cost is about CNY20 - 25.
Asked by Tina from USA | Jul. 02, 2018 01:47

Reply
dujiangyan panda base open on December 26,27, 28 for holding the panda?
Answers (1)
Answered by Amy from SINGAPORE | Jul. 02, 2018 03:11

0

0

Reply
Sorry to tell you it's not available.