Wolong National Nature Reserve

Giant pandas Mei Xiang, Tian Tian and their 3-year-old cub, Xiao Qi Ji have returned to China in Nov. 10, 2023 after wrapping up their stay in the US, and are now at the Shenshuping Panda Center in Wolong Nature Reserve for a one-month quarantine.
Prior to the catastrophic Wenchuan Earthquake in 2008, when it came to seeing pandas, people thought of Wolong National Nature Reserve, which is acclaimed as the Hometown of Giant Pandas, the National Treasure of China. More than one hundred pandas once inhabited there, accounting for over 10% of the nation's total.

Wolong National Nature Reserve is located in the southwest of Wenchuan County, 130km (80 miles) from Chengdu, the capital of Sichuan Province. It is the core part of Sichuan Giant Panda Sanctuaries, one of the World Natural Heritages in China. Completed in 1963, Wolong National Natural Reserve is the earliest, largest and best-known panda reserve in China. It was placed on UNESCO Man and Biosphere Reserve Network in 1980. With the warm and humid climate favorable to bamboos, pandas' favorite food, it is an ideal place for the living and reproduction of giant pandas.

The reserve is also widely known as a 'Bio-gene Bank' because of the wide variety of animals and plants, including 56 rare and endangered species such as red panda, golden monkey, white-lipped deer and precious plants such as yew and beech.

Shenshuping Panda Center Built in Wolong after Wenchuan Earthquake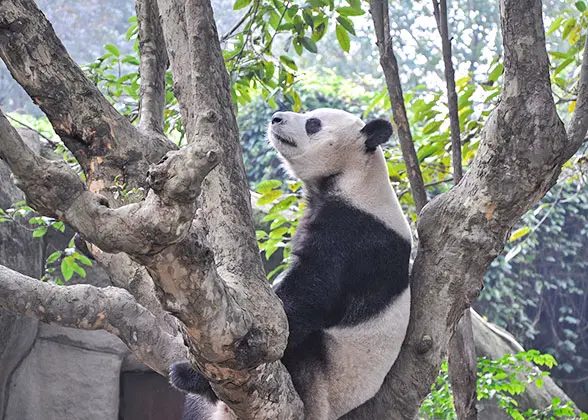 Lovely Gaint Pandas in Wolong Nature Reserve


Introduction to

China Panda
Unfortunately, the Hetaoping Panda Center of Wolong Giant Panda Nature Reserve was badly destroyed by the Wenchuan Earthquake and most pandas were relocated to Bifengxia Base of China Panda Protection and Research Center. Sponsored by the Hong Kong Special Administrative Region, a new panda center was built in Shenshuping of Gengda Town in the reserve and put into use since Oct. 30, 2012. From then on, pandas were transferred to their new home in batches. On May 11, 2016, Shenshuping Panda Center began to receive visitors. Over 90 captive pandas are kept there.

After eight years of desolation, the reserve now gains a new lease of life. Covering an area of about 150 hectares (371 acres), Shengshuping Base consists of 59 colony houses. Hi-tech is commonplace in the Research Center, which is a world leader in propagating the panda species. Pandas are national treasures and also goodwill ambassadors.

Unlike regular zoos, Wolong National Nature Reserve provides natural environment for pandas and they are not kept in cages. Therefore, while driving or walking in the reserve, you may come across cute pandas. In the reserve, there are Baby Panda Zone, Sub-adult Panda Zone, Grown-up Panda Zone, Breeding Zone, and Wildness Training Zone. You may see them walking around slowly, romping happily, eating bamboos with appetite, or climbing up the stub to present visitors a show.
| | |
| --- | --- |
| Our Guest Playing with a Panda | Lovely Pandas Playing on Ground |
Besides those cute creatures, the natural scene itself in Wolong National Nature Reserve is a delight for visitors. Visitors will see luxuriant bamboo groves here and there. What also makes Wolong special is that it is more natural and less commercialized. Without huge crowds of tourists, all that the reserve has are undulating hills, murmuring streams, fresh air, adorable pandas, and other rare animals.

Get to know the daily life of Pandas by working in the panda house
Want to see how pandas spend their day? The experimental activity is available for you to do some chores for the panda family.

During the activity, the first work you will do is to clean the panda house, pick up the feces and carry bamboo for the foodie panda. After, you will observe the breeders feeding pandas. Then watch a documentary of pandas, and learn about the great jobs that have been down by China to protect the once endangered pandas. In the afternoon, watch the cutest baby panda at the panda kindergarten. Finally, be a mother panda, cook healthy and delicious food for lovely pandas on your own.

The fare is around CNY1,000 for one person one day, including the ticket of the park. If you are interested in the activity, contact our travel consultant to plan it for you in advance.

How to get to Wolong National Nature Reserve

From Chengdu, visitors can take a long-distance bus from Chadianzi Bus Station to Wolong or Xiaojin, and get off at Wolong.

From Dujiangyan, visitors can take a bus at Dujiangyan Coach Station to Wolong. It costs CNY 21 and takes about two hours.

Ticket Fare & Opening Hours of Shenshuping Panda Center
Ticket Price
CNY 90
Free for children under 6 and the seniors over 60
CNY 40 for the minors aged 7-18
Opening Hours
09:00 – 17:00 (stop entering at 16:50)
Recommended Time for a Visit
Half a day
Other places to see pandas in Chengdu:

Chengdu Research Base of Giant Panda Breeding

Ya'an Bifengxia Base of China Conservation and Research Center of Giant Panda

Dujiangyan Panda Base

Dujiangyan Panda Valley
Read more information about Chinese Giant Panda:


Facts


Growing Process


Panda Diplomacy


FAQs
- Last updated on Jul. 26, 2023 by Catherine He -
Questions & Answers on Wolong National Nature Reserve
Asked by Dani Opossum Restack from UNITED STATES | Oct. 16, 2019 13:41

Reply
I am a filmmaker from USA. Can I get access to shoot video of pandas at the sanctuary? I have funds.
Answers (1)
Answered by Pam from THAILAND | Oct. 20, 2019 18:05

0

0

Reply
Wolong Nature Reserve only opens a part of area to the public and people can pay entrance fee to visit. What kind of video you want to take? Sorry can't help you. You need to contact them in person.
Asked by Qubit19 from CHINA | Jun. 16, 2019 02:33

Reply
Hi, which of the several panda centers/reserves near Chengdu is the best to visit?
I've just read that the Wolong reserve seems to have pandas walking around freely. Is this true now? I suppose we still can't go near them?
I will be staying in Chengdu for 3 days, just wondering what the best option would be.
Thanks
Answers (3)
Answered by Anna from USA | Jun. 16, 2019 20:04

0

0

Reply
The Chengdu Panda Base is the closest one and it may be more convenient. In Dujiangyan Panda Base, there is a Panda Keeper's Program and you may have a chance to have a close contact with pandas.
Answered by Susie from USA | Jun. 25, 2019 13:14

0

0

Reply
Can't you also be a Panda volunteer at Wolong?
Answered by Anna from USA | Jun. 25, 2019 23:11

0

0

Reply
It seems available but I'm not very sure about that.
Asked by Kinga from HUNGARY | Apr. 26, 2019 00:56

Reply
Could you tell me please how could I reach Wolong from Rilongzhen by public transportation?
How can I proceed to Chengdu from Wolong the same day? Is there a bus timetable?

Thank you!
Answers (1)
Answered by Oscar from USA | Apr. 27, 2019 20:13

0

0

Reply
I'm sorry but I haven't found any available public transportation information.
Asked by Alon from ISRAEL | Aug. 06, 2018 11:04

Reply
Interacting with a Panda in Wolong National Nature Reserve
I heard that for an extra pay, you can actually interact with a panda and take a photo while standing close to a panda, but as far as I understand you need to make a reservation for such an activity.
Can anybody tell me if it's true, and if so, whom do I contact for the matter?
Answers (2)
Answered by Jack from CANADA | Aug. 06, 2018 19:20

0

0

Reply
Yes, it is. It is not allowed to make a reservation by individual and you can only experience that through a large travel agency. I contacted a travel agency to book such a panda tour. Maybe you can have a try: travel

travelchinaguide.com.
Answered by destiny from FLORDA | Oct. 03, 2018 08:14

0

0

Reply
i would love to have 2 of them