Chunxi Road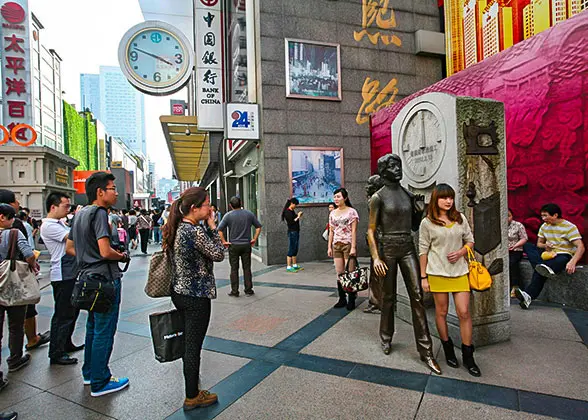 If one travels to Chengdu for the first time, Chunxi Road Pedestrian Street is a place that should not be missed. Located in Jinjiang District, this road in a broad sense covers an area of about 200,000 square meters (2,150,000 square feet). It stretches to the east of Beixin Street, the west of Hongxing Road, the south of Zongfu Road, and the north of East Street. The street was originally built in 1924 to connect two commercial centers, the East Street and Mercantile Corporation. After nearly 100 years of evolution, it is now not only the center of fashion in Chengdu, but also a place that brings together delicious snacks from all over the country.
At the north end of Chunxi Road, stands a group of bronze statues. An old man dressed in
traditional Chinese garments
holds a snuff bottle in his hand. Not far from him a modern young lady in fashionable clothes is walking in a hurry. A stone clock statue is between them, with the time showing 00:00 on February 10, 2002, the date when the reconstruction was completed. The statue of the old man represents the businessmen of Chunxi Road from the past, while the stylish lady represents modern young people. The contrast between them reflects the development of this road.
Walking along the street, you can see a granite-built wall carved with relief sculptures which present eight scenes of Chengdu in the Tang Dynasty (619-907): a temple fair, a flower fair, the
Lantern Festival
, planting hibiscus, picking mulberry leaves, rinsing brocade, weaving brocade, and brewing alcohol. In front of this wall, are another group of colorful statues imitating tourists from different regions.
| | |
| --- | --- |
| Bustling Commercial Street | Yat-sen Square |
After passing by some high buildings and dress shops, Yat-sen Square can be seen at the intersection of two main roads. Dr. Sun Yat-sen's sitting bronze statue is mounted on a granite base decorated with flowers. Four Chinese characters 'Tian Xia Wei Gong', which literally mean that all under heaven are equal, are carved into the granite behind the statue. There are pools and green belts within the square, providing a good place for tourists to rest. Around Yat-sen Square, other sculptures have been set up, all bearing the unique culture of Chengdu deposited in its long history.
As the most bustling commercial street in central and western China, Chunxi Road is a paradise for shopping. It is dotted with various stores, from international high-end brands to cheap places where you can bargain. There are over 700 commercial sites on this road, including some large-sized stores, such as Wangfujing Department Store, Parskon Shopping Center, Isetan Shopping Mall and so on. The century-old Hengdeli Watch and Clock Shop, Jingyi Glasses Store and Chengdu Arts and Crafts Emporium together with the newly opened shops make this street more prosperous.
| | |
| --- | --- |
| Statue of Sun Yat-sen | Ito Yokado Shopping Mall |
In addition, the traditional
Chengdu snacks
on this road will make your mouth water. Typical noteworthy food like Zhong Dumplings, Lai Tangyuan (sweet glutinous rice balls with fillings), Han Baozi (steamed buns with stuffing) and other snacks in numerous stalls are delicious and cheap, gaining popularity among worldwide visitors. Nevertheless, if you are afraid that Chengdu food may be too spicy for you, you can have some sweets in the fast food restaurants scattered along the street sides, like McDonald's, KFC, Pizza Hut, Haagen-Dazs, and Bread Talk, or you can just enjoy a cup of coffee or tea in the nearby cafes or teahouses.
How to get to Chunxi Road
By Bus:
Take bus line 58, or 98, and get off at Chunxilu Beikou (Chunxi Road North Exit) station.
Take bus line 47, 48, 51, 55, 56, 56a, or 104, and get off at Chunxilu Nankou (Chunxi Road South Exit) station.
By Metro:
Take
Line 2
or
Line 3
and get off at Chunxi Road. Leave from exit C or D to find it.
Chengdu Bus / Metro Search
Entrance Fee
Free
Business Hours of Major Stores
Parkson Shopping Center / Isetan Shopping Mall
10:00 to 22:00

Wangfujing Department Store
Sunday to Thursday: 10:00 to 22:00
Friday and Saturday: 10:00 to 22:30

Rocommended Nearby Attractions:

Tianfu Square

Chengdu People's Park

Wide and Narrow Alley
(Kuanzhai Xiangzi)

Sichuan Science and Technology Museum

Top 10 Things to Do in Chengdu
- Last modified on Sep. 21, 2018 -