Chengdu Dining
Chengdu cuisine has three categories, Sichuan Cuisine, Hotpot, and Snack.
Ma Po Tofu
Sichuan cuisine has developed over the centuries. Its distinctive flavors entice people throughout China and recently in foreign countries.

Sichuan cuisine is famous for piquancy, but its flavoring is complex as well as hot. Typical dishes include the following:

Ma Po Tofu (Bean curd with mince and chili oil): one of the most influential flavors of Sichuan cuisine, served in every Sichuan restaurant. Chen Ma Po's Bean Curd Restaurant at No. 197, West Yulong Street serves the most delicious and local one. For hundreds of years, Ma Po's Bean Curd has been popular among people all over China, even throughout the world.

Kung Pao Chicken (Spicy diced chicken with peanuts):
a specialty of Sichuan cuisine, diced chicken, hot pepper and peanuts.

Fish Flavored Shredded Pork: fish-flavored dish in the unique style of Sichuan cuisine. Ingredients include shredded pork, agarics, bamboo shoot and carrot. The delicious dish has no fish but has the flavor of fish.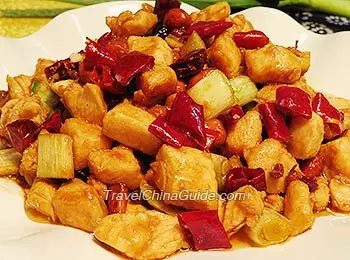 Kung Pao Chicken
Twice Cooked Spicy Pork Slices: A traditional Sichuan dish. The tasty pork slices are fried crisp without greasiness.

If you want to learn more about Sichuan Cuisine, you can pay a visit to Sichuan Cuisine Museum, where you can also learn how to cook a local dish!

Famous Sichuan Restaurants:
Piaoxue Sichuan Cuisine Restaurant: No. 10, Qintai Road
Shizilou: No. 55, Shuanglin Road
Baguo Biyi: No. 20, Fourth Section, Renmin South Road

Read More:
12 Most Popular Sichuan Foods – Have you ever tried?
Dan Dan Mian (Sichuan Dan Dan Noodles)

When people think of Chengdu, they immediately think of hotpot. Introduced from Chongqing, Chengdu hotpot has its own style ranging from simple spicy to moderate, three or four kinds of spices, as well as fish head hotpot, medical herbs hotpot, etc.

Huangcheng Laoma: an old-fashioned hot pot restaurant, regarded as No. 1 among hotpot restaurants in the city. It is situated at No. 20, Qintai Road, Qingyang District, Chengu. A worthy representative of Sichuan culture and diet, Huangcheng Laoma offers hotpot, plus stunning entertainment -- a Changing Face opera performance/shadow play.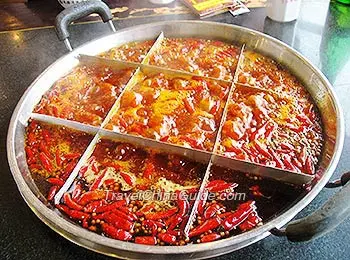 Hotpot
Shizilou: another old-fashioned hotpot restaurant, offers hotpots with half spicy and half light soup. It has several branches in the city, one located at No. 2, Wannianchang Road, Chenghua District.

Tanyutou: near Qingyang Palace at No. 227, Qingyang Zhengjie, Qingyang District, branches all over the country. Its delicious specialty, fish head, differs from that of others.

Snacks
Hidden in the streets and lanes of the city, snack bars still send out savory flavors.

The most renowned snacks include:
Fu Qi Fei Pian (Braised Cow Lungs): Actually beef, heart and tongue take the place of lungs. This tasty dish is made with particular condiments using a delicate process.
Specializing in this dish, Jingcheng Yuan Restaurant is located at No. 23, Zongfu Road.

Chuan Chuan Xiang: also called Ma La Tang, vegetables, sausages, shrimps and anything edible can be threaded onto a bamboo stick and cooked in the hot pot.

Lai Tang Yuan (Lai's Glutinous Rice Ball): the nutritious glutinous rice ball made by Lai (Surname of the maker) is soft and sweet.
With more branches than McDonald's, Lai Tang Yuan is easy to find in Chengdu.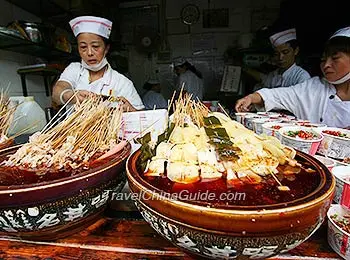 Chuan Chuan Xiang
Long Chao Shou (Long Wonton): with thin skin and tender stuffing, the savory snack is popular among locals and tourists. There are several branches in the city:
Chunxi Road Branch: No. 8, South Section of Chunxi Road, Jinjiang District
Huanhua Branch: No. 9-3, Huahua North Road, Qingyang District
Zhixin Branch: No. 1-14, Zhixin North Street, Wuhou District



Read More: 10 Most Popular Chengdu Street Food

Western Food Restaurants:
There are dozens of KFC in the city, including:
Zongfu Branch: Floor 2, No 21-27, Zongfu Road
Renmin Road Branch: Renmin Shopping Mall
Chunxi Branch: Chunxi Mension, No.1-21, Da Kejia Lane
Tens of McDonald's Restaurants, including Chunxi Branch: Wangfujing Shopping Mall
Several Pizza Hut Restaurants:
Yanshikou Branch: No. 9, Lihua Street (floor 1, Hualian Shopping Mall)
Zufu Branch: No. 6, Zongfu Road (Ziwei Hotel)
Kehua Branch: No. 9, Kehua Middle Road



Further Reading:
Top 10 Chengdu Restaurants You Should Not Miss
- Last modified on Jan. 20, 2021 -
Questions & Answers on Dining in Chengdu
Asked by Justin from NEW ZEALAND | Jun. 28, 2019 23:18

Reply
Is there a malatang restaurant in Chengdu?
Answers (1)
Answered by Lane from CANADA | Jul. 01, 2019 00:04

0

0

Reply
Yes, of course! It is the typical and popular food in this place. Generally speaking, it will be easy for you to find one nearby your living place.
Asked by Jacqueline from GERMANY | Apr. 02, 2019 03:12

Reply
How late do Chengdu restaurants stay open generally?
I was thinking of heading over to the Jianshe Road area on our first night in Chengdu in a couple of weeks time, but we probably won't be there before 8:30/9pm - will some places still be open?
Answers (1)
Answered by Anna from NEW ZEALAND | Apr. 09, 2019 23:12

0

0

Reply
Don't worry, nearly all the restaurants keep open at that time.
Asked by Kausik B from INDIA | Sep. 03, 2018 10:14

Reply
Is there any Indian resturant in Chengdu?
Answers (2)
Answered by David from UNITED KINGDOM | Sep. 03, 2018 22:43

0

0

Reply
Yes, there is a nice Indian Restaurant located in 3 floor, 335-337, Jinhua City, Wanda Plaza. No. 8, Jinhua Road, Jinjiang District and
Answered by Kausik B from INDIA | Sep. 04, 2018 00:11

0

0

Reply
Thanks a lot David.
Asked by Norm from MALAYSIA | Dec. 23, 2017 00:32

Reply
Is there any suitable restaurant for Muslims in Chengdu?
We loved this site.Full of information for us to plan our trip there. I would like to know if there any restaurant or dining place that are suitable for Muslims?
Thank you for response
Answers (2)
Answered by Cecilia from FRANCE | Dec. 24, 2017 20:47

0

0

Reply
As I know, there are many halal restaurants in the city. Near the Mosque in the west of Tianfu Square lie many halal restaurants, like Halal Chuanchuan Restaurant in 10 Xiahe Street, Halal Maocai in 22-4 Renhou Street, and Yuexiangcun Restaurant in 66, 68 South Dongchenggen Street.
Answered by norm from MALAYSIA | Dec. 26, 2017 01:50

0

0

Reply
thank you Cecilia :)