Chengdu Transportation
The transportation network in Chengdu is very developed. It has one of China's busiest airports; it is the intersection point of five trunk railway lines; it is connected with thousands of miles of expressways and has dozens of coach stations sending passengers to various destinations. Within the city area, there are subways, city buses, taxis and many other transport conveniences for passengers to choose from.
Air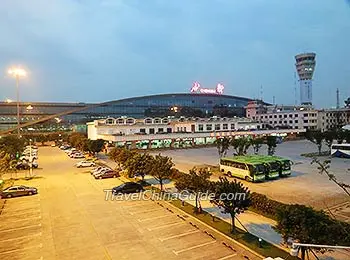 Shuangliu Airport
Shuangliu International Airport (CTU), in the southwest of the city. Located about 16 kilometers (10 miles) from the city center, it is the largest aviation hub in central and western China, and aims to form the national aviation hub in mainland China. It has flights to more than 220 domestic cities and over 130 international cities. Frequent one-hour flights are available to Kunming, capital of Yunnan Province. Flights to Xining, capital of Qinghai Province, take about one and a half hours, with two-hour flights available to Lhasa, capital of Tibet. It is convenient to visit the Jiuzhaigou Scenic Spot by air, a 40-minute flight from CTU to Jiuhuang (Jiuzhaigou and Huanglong) Airport with one-way full fare of CNY 980, excluding departure tax and fuel surcharge. Visitors are advised to book flights early for this popular trip. Discounts may be available through hotels or travel agencies.


Chengdu Flights (brief introduction & flight search)

Chengdu Tianfu International Airport will operate in 2021, around 51.5 kilometers (32 miles) away from downtown Chengdu. Now, passengers can fly to Chengdu Shuangliu Airport and then take airport shuttle bus and city bus to travel between the airport and downtown Chengdu.

Chengdu Railway Station
, namely North Railway station,
East Railway Station
, and
South Railway Station
. Another passenger railway station, west railway station is now under construction. When completed, the "two principals (north and east railway stations), two assistants (south and west railway stations)" setup of the city's rail transport will be formed and better service passengers.
| | |
| --- | --- |
| Chengdu Railway Station | Platform at Railway Station |
Xinnanmen Bus Station
(Tourism Bus Center), Chadianzi Bus Station, Airport Bus Station, East Railway Station Bus Station, Beimen (North Gate) Bus Station, and Wukuaishi Bus Station.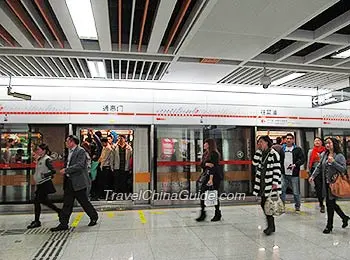 Metro Station
Currently, Chengdu metro
line 1
,
line 2
,
line 3
,
line 4
,
line 5
,
line 6
,
line 7
,
line 8
,
line 9
,
line 10
,
line 17
and
line 18
are in operation. Passengers can take line 1 from Weijianian to Science City via North Railway Station,
Tianfu Square
, Sichuan Gymnasium, South Railway Station, Jincheng Plaza and other places in the city. Line 2 can take travelers to Chadianzi Bus Station,
People's Park
,
Chunxi Road
, East Railway Station, Institute of Public Administration and other areas. Line 3 runs between Taipingyuan and Military General Hospital, passing Chunxi Road,
Chengdu Zoo
, Xinnanmen Bus Station and
Zhaojue Temple
. Line 4 connects Xihe and Wansheng, passing some popular scenic areas like
Wide and Narrow Alley
,
Sichuan Museum
and Cultural Park. Linking Huagui Road and Huilong, metro line 5 totall has 41 stations stretching around 49 kilometers. Line 6 links Wanggongci and Lanjiagou, covering Southwest Jiaotong University and Renmin Road North. Line 7 passes South Railway Station, East Railway Station and North City Bus Station with the duration of 66 minutes. Line 8 travels between Lianhua and Shilidian. Line 9 connects Huangtianba and Financial City East via 13 stations. Chengdu metro line 10 links Taipingyuan and Xinping, passing Terminal 1 & Terminal 2 of Shuangliu International Airport. Line 17 links Jinxing and Jitouqiao, running in the northwest-southeast direction. Line 18 operates between South Railway Station and Tianfu Airport North, containg 9 stations.
In addition,
Line 13
,
Line 19
,
Line 27
and
Line 30
will serve the public in the near future.

Metro Maps

Bus/ Metro Search
Taxi
Hundreds of taxi stands are available in the city. Except hailing a taxi at a stand, it is also feasible to take one along the street. To shuttle around by cab, you'd better avoid the rush hours between 07:30 – 09:00 & 17:00 – 19:00. In addition, it shall be quite normal that a driver doesn't use the taximeter if the car departs from railway stations or long-distance bus stations. In this case, it is recommended to discuss for a flat rate before getting on the car. For difrerent brands of cars, the fare varies a little:
Magotan
Fare
Day
Night
Flag-down Rate for First 2km (1.2mi)
CNY12
CNY13
Fare between 2-10km (1.2-6mi)
CNY3/km
CNY3.3/km
Fare between 10-60km (6-37mi)
CNY4.5/km
CNY4.95/km
Fare beyond 60km (37mi)
CNY3/km
CNY3.3/km
Sagitar 2.0L; cars with 1.4T Emission
Fare
Day
Night
Flag-down Rate for First 2km (1.2mi)
CNY9
CNY10
Fare between 2-10km (1.2-6mi)
CNY1.9/km
CNY2.2/km
Fare between 10-60km (6-37mi)
CNY2.85/km
CNY3.3/km
Fare beyond 60km (37mi)
CNY1.9/km
CNY2.2/km
Elysee, Jetta, Sagitar 1.6L
Fare
Day
Night
Flag-down Rate for First 2km (1.2mi)
CNY8
CNY9
Fare between 2-10km (1.2-6mi)
CNY1.9/km
CNY2.2/km
Fare between 10-60km (6-37mi)
CNY2.85/km
CNY3.3/km
Fare beyond 60km (37mi)
CNY1.9/km
CNY2.2/km

Notes:
1. Three types of taxis are serving in the city, and passengers can make a reservation by calling 028- 962999. It should be noted that the cars of Magotan brand won't run in the city unless being reserved, and the other two types are quite common on the street.
2. For every 5 minutes' waiting, the cost equals to the unit price per kilometer (0.6mi).
3. It is regulated that taxis running in the districts of Jinjiang, Qingyang, Jinniu, Wuhou and Chenghua, as well as from/to Shuangliu Airport must charge by meter. Therefore, if confronted with refusal, you can dial 028-96515 to make a complaint.
Riding a bike can be the best choice for a leisurely city tour. You can find many dockless bikes on the streets of Chengdu. Visitors just need to download bike sharing apps and finish the ID verification procedure to use these bikes. It usually costs CNY 0.5 - 1 for every 30 minutes.
Pedicab
Gathering within the First Ring Road, especially in the city center, the pedicab has been a typical feature of the city. Drivers wear uniforms with identifying cards. The charge starts from CNY 5. You can bargain.

Transportation to Other Cities
- Last updated on Jan. 09, 2023 -
Questions & Answers on Chengdu Transportation
Asked by Somen from INDIA | Jan. 01, 2023 06:38

Reply
Chengdu west train station
How far is from chengdu airport to chengdu west train station?
How one can reach there,?
Answers (1)
Answered by Stella | Jan. 09, 2023 01:57

0

0

Reply
It is about 17km between. From the airport, you can take metro line 10 to Huaxing Station, then change to line 9 to west train station. It takes about 40 minutes on the way.
Asked by Corrius Vogel from SOUTH AFRICA | Dec. 19, 2019 06:52

Reply
Hi, looking for advice for a trip from Shuangliu Airport (Chengdu) Taoyuan Hotspring Hotel?
Any advice will be appreciated. Thank you
Answers (1)
Answered by Helen from USA | Dec. 20, 2019 00:54

0

0

Reply
Is your hotel located at downtown? I didn't find it yet. Would you mind providing the detailed address?
Asked by Pat from UNITED KINGDOM | Dec. 17, 2019 18:03

Reply
Taxi or train from Chengdu Airport CTU to Ya'an
Hello
Can you advise cost of taxi to Ya'an from CTU early morning around 6-6.30 am or public transport if easy
Can you recommend any car with driver hire company and daily rates ?
Thanks
Answers (2)
Answered by Ann from USA | Dec. 22, 2019 17:30

0

0

Reply
I don't think there will be a taxi driver would take you to Ya'an. The direct bus from airport to Ya'an departs at 11:00, 13:30 and 16:20 with CNY47.
Answered by Hongbin from CHINA | Apr. 18, 2020 07:40

0

0

Reply
You can also take trains from Chengdu West Railway Station (which has opened for 2 years) to Ya'an. There are 14 trains daily and the fastest train only takes 54 minutes from Chengdu to Ya'an.
Asked by kobi rudy from ISRAEL | Nov. 06, 2019 11:16

Reply
How far is Chengdu airport terminal 1 and Terminal 2, i have a connecting flight from CTU - Mum.
we schedule to arrive in T1 at 04:30am , and have a connecting flight in T2 at 08:30 is ut enough time? how far are the terminals ?
Answers (3)
Answered by Cameron from GERMANY | Nov. 08, 2019 00:16

0

0

Reply
The distance is not far. You can walk within 15 minutes. In addition, the transfer time is enough. Don't worry.
Answered by jacob rudy from ISRAEL | Dec. 27, 2019 00:50

0

0

Reply
is there an inside walking path or is it only outside?
Answered by Liz from SINGAPORE | Dec. 29, 2019 22:09

0

0

Reply
They are very near to each other. You can take free shuttle bus or take metro line 10.
Asked by Tung from VIỆT NAM | Aug. 27, 2019 00:56

Reply
Shuangliu Airport to Huapaifang St, Jinniu, Chengdu
I need to go to Huapaifang St, Jinniu, Chengdu (The Chengdu Masherbrum Outdoor Hotel), so how can I go there? I've searched on your site that I can go by MRT, Line 10, to Taipingyuan station, then catch Line 3, right? Then get off the train Qianfeng Road station and catch the taxi right? Or can I go by bus or taxi?
Answers (1)
Answered by Pagan from NEW ZEALAND | Aug. 29, 2019 19:31

0

0

Reply
After you take metro line 3, you can get off at Gangshengqiao station (Exit D), then take bus 34 to Ximenche station, and walk southeast of 500m to it. If you take taxi, the cab fare is around CNY60-70 with around 50 minutes.