Chengdu Shopping
Though not as famous as Hong Kong, Chengdu, too, is a shopping paradise characterized by the ancient culture of Shu which presents visitors a truly local flavor.


What to buy
Shu Brocade and Embroidery
The Chinese character Shu means silkworm breeding and mulberry growing. As early as the Tang Dynasty (618-907), Shu brocade was exported overseas to Japan and as far as Persia and in the period of the Three Kingdoms (220-280). It was a financial resource for the military. Shu Brocade features various colors and a unique technique for extracting colors from plants. Several hundred designs are used by the minority nationalities in southwest China. Silk-woven, but durable, the brocade has a soft feel.

As the other local craft from silkworm breeding and mulberry growing, Shu Embroidery has enjoyed a reputation for superb craftsmanship. With a unique technique and elegant colors, the products look like Chinese ink and wash paintings embroidered on satins. One masterpiece in the Great Hall of the People is called the Cottonrose Hibiscus and the Carp. Functional as well as artistic, Shu embroidery appears on quilts covers, pillow cases, clothes, shoes etc.
| | |
| --- | --- |
| Shu Brocade | Shu Embroidery |

Lacquer wares
With a history dating back to the Spring and Autumn Period (475B.C.-221 B.C.) and the Warring States Period (221B.C.-207 B.C.), Chengdu lacquer ware is renowned for its ability to resist corrosion and aging, and for its unique gloss. When the Mawangdui Han Dynasty Tombs were uncovered in 1972, a large number of exquisite Chengdu- lacquer ware pieces were discovered. Visitors are astonished that their brilliant appearance has remained for over 2,000 years. However, its durability doesn't come accidentally. Originally using wood as its roughcast base with the addition of plastic, bamboo and paper later, the complicated technique of lacquer-ware making has remained nearly unchanged to this day. No lacquer-ware piece is finished until 72 procedures are taken, not to mention the fact that the roughcast must have been in storage for 30-40 years before lacquering.
| | |
| --- | --- |
| Lacquer ware | Lacquer ware |
Silver Inlaid Products and Bamboo Products
Chengdu silver inlaid products is made with silver threads no thicker than 3mm (0.1 inch) inlaid on silver background. As a traditional area for silver inlaid technology, Chengdu shares its reputation with Beijing, which is famous for the applied weaving technique. Delicately shaped, the silver inlaid products appear on screens, tea wares and vases.
Bamboo can actually be woven around porcelain roughcast. This amazing technique can be seen in Chengdu; in various bamboo products, such as bamboo sticks, baskets and fans. With the warm climate and fertile lands stimulating the growth of bamboo, Chengdu bamboo products are not only household necessities but also decorations.

Local Products
Chinese alcohol, tea and local food also deserve a try. Wuliangye, Luzhou Lao Jiao, Quanxing Da Qu and Jiannanchun are all top-ranking alcohol brands. Jasmine tea, Maofeng tea, hot pickled mustard tuber, mix-flavoured horsebean, Lao Cheng Du (Old Chengdu), Dengying (shadow) dried beef (so thin that light can shine through it), Liu Yang Gou dried beef, etc, can be gifts for friends back at home. In particular, there is something special about Dengying dried beef. More than 80 years ago, a Mr. Liu made a living by selling picked beef. When his business dragged, he was forced to create new products. Thus a thin sliced dried beef came into being. Mr. Liu set up a stall, placing a lamp behind his sliced dried beef. This attracted people and the crispy hot beef became popular. (*Check your country's Customs restrictions before buying foods to take home.)

If you are a fan of Chinese dishes, do not forget the soul of Sichuan Cuisine- thick broad-bean sauce from Pixian County.


Where to buy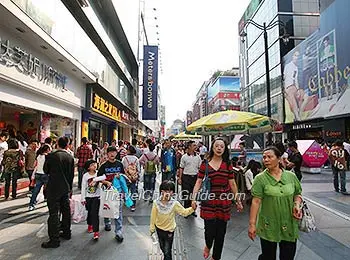 Chunxi Road
The city's shopping centers converge at
Chunxi Road
, Zongfu Road and Luomashi Area. Here you can shop for a huge range of wares, with everything from souvenirs and street stall items to supermarket and department stores goods on offer.
Shopping malls, department stores, supermarkets and especially small stands are widely scattered in the areas around Chunxi Road offering products ranging from souvenirs to living and travelling necessities. The following list may help you to have a pleasant shopping experience.
Going to Chengdu without visiting
Chunxi Road
is like going to Paris without visiting Champs Elysees, New York without 5th Avenue, or more locally, Beijng without Wangfujing, or Shanghai without visiting Nanjing Road. With a history of 70 years, Chunxi Road boasts the most typical and prosperous commercial pedestrian street in the city. Department stores, boutiques, modern cafes, a spacious square and pretty local girls will leave you pleasant memory about Chunxi Road.
Next to Chunxi Road is Yanshikou commercial circle. People's Department Store, Chengdu Department Emporium, and Renhe Spring Department Store and more are all concentrated here.
Local food specialties can be found at Hongqi Department Store, Shudu Avenue. You can buy Shu brocade, bamboo-woven crafts, preserved ham and alcoholic beverages such as Jiannanchun and Quanxing Da Qu.
Special recommendations
:
Handicrafts
Shu Brocade Factory
Address: No. 1, Caotang East Road
Sichuan Antiques Shop
Address: No. 6, Shaocheng Road, Shudu Avenue
Bamboo-weaving Arts and Crafts Factory
Address: No. 12, the 1st Section of Jiefang Road
Sichuan Arts and Crafts Store
Address: Sichuan Exhibition Hall, No. 16, Renmin Middle Road.
Lacquer wares Factory
Address: No. 81, Jinhe Street
Hehuachi (Lotus Pool) Distribution Center
Location: third section of Erhuan (the 2nd Ring) Road
Classics Bookstore
Address: the south end of the North section of Chunxi Road