Chengdu Nightlife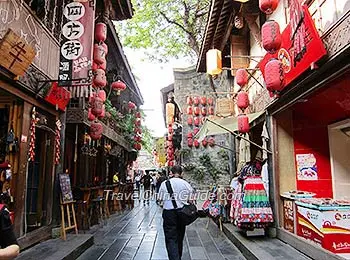 Old Street
Chengdu is famous for its thick characteristic of leisure and enjoyment. From traditional teahouses, theaters to modern pubs and clubs, people here know how to enjoy the night. Every corner in the city offers the warmest welcome.

Jinli, a recreational and cultural street
Location: Floor 1, No. 2, Xin Guanghua Jie, close to Yanshikou, the center of the city.

Opened on November 1st, 2004, Jinli is a street that reflects the diversity and beauty of Sichuan folk customs and culture. The street is located next to the Wuhou Temple. Numerous teahouses, guesthouses, bars, pubs and outlets selling tasty local delicacies and crafts make this attractive street a popular tourist destination.

Jinli's true beauty can be seen at dusk. The setting sun melts slowly onto the roofs of the houses and the red lanterns burn dreamily.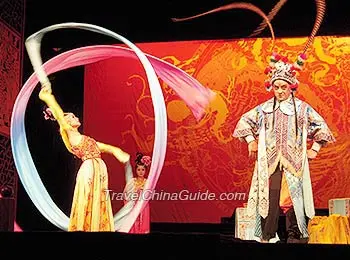 Sichuan Opera
Sichuan Opera
As a local opera popular in Sichuan, Yunnan and Guizhou Provinces, Sichuan opera is an important part of Chengdu culture. It began in the Qing Dynasty (1644-1911) as a combination of five operatic tunes introduced from other regions. Retaining the local dialect, the role of Chou (Clown) covers a comparatively large part of the performance; The opera often presents a charming witty atmosphere. Its varied performances, such as Bianlian (Changing faces), Gundeng (Rolling lamps) and Tuhuo (Spitting fire) are very popular; Bianlian (Changing faces) is famous even overseas for its mysterious techniques.

The famous Changing faces can be seen in the Sichuan Opera Theater, at No. 20, Zhuangyuan Street and also in Shunxing Old Tea House, third floor of Chengdu International Exhibition Center, No. 258, Shawan Road; in Shufeng Square inside People's Park, and in Shufeng Yayun Garden in the Culture Park.

Learn more about Sichuan Opera.

Tea Houses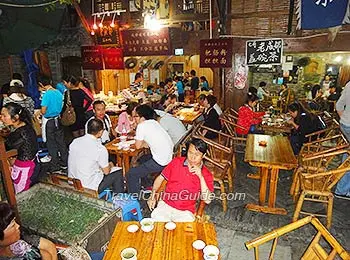 Teahouses on old street
As the saying goes, Tea houses of Sichuan rank first in the world, while those of Chengdu rank first in Sichuan. Tea houses play an important role in the lives of natives. Distributed throughout the city, tea houses are far more than places for drinking tea. They are places for relaxation and social activities, and even more, as a reflection of local life. Here one may enjoy such genuine Chinese teas as jasmine, Maofeng and Zhuyeqing, and Sichuan opera performances as well.
Yuelai Tea House, located on Huaxingzheng Street, provides free Sichuan opera performances from 14:00 to 16:00 every Tuesday and Saturday.
Heming Tea House, an outdoor teahouse located inside Renmin Park, is picturesque and quiet; service time from 6:00 to 19:00.
Dabei Temple Tea House enjoys a good reputation for its history and surrounding ancient architecture. Antique and Chinese calligraphy and painting exchanges often take place here.
Wenshu Monastery Tea House attracts the locals and visitors with its traditional tea services and inexpensive prices. It is located inside Wenshu Monastery, Middle Renmin Road.
Pubs and Clubs
While featuring the culture of ancient Shu, as a blooming business center and primary metropolis of Southwest China, Chengdu is endowed with modern flavours. Pubs and clubs are primarily in busy streets such as Renmin South Road and west of Yangshi Street. Cafes, discos, karaoke bars, ballrooms, and bowling alleys are also here. Kakadu Club, Glasshouse Pub, Gaomeigao in Lihua Street and Hongse Niandai (Red Ages) in Renmin South Road, among others, are well known among younger people. Bars like Muse, SOHO, and White Night in Jiuyanqiao Bar Street are also their favorites.

Kakadu Club & Disco
Location: No. 16, the third section, south of the first Ring Road
Dance music and theme parties.

Hongse Niandai (Red Age) Club
Location: Entrance of Nijia Bridge Road. Close to the American Consulate
It has ten or so KTV boxes of various styles, as well as restaurant and disco hall.
Highlights: passionate music, DJ competition, fashion shows.

Meigaomei International Recreational Club
Location: Floor 5, Yanshikou Square, Lihua Street
It is a KTV club with VIP box, disco hall, performance hall and sports bar.

Allen Story Cafe
Location: No. 107, Shuangyuan Street, Shuangnan Residential District
Highlight: The cafe offers telephone service among guests. One can make friends with other guests through a phone call.

Renhe Spring Cafe
Location: Floor 5, Renhe Spring Department Store, No. 59, Renmin East Road

The Coffee Beanery
Location: Floor 2, Gaobang Department Store, Chunxi Road

In addition to pubs and clubs, Bowling Hall in Chengdu Minzu (National) Hotel is another place for relaxation.
Location: No. 78, Yongling Road
Features: a top-ranking bowling house of province level. Competitions among provinces and cities held here. It has become a popular among white-collar workers as an entertainment and fitness center.