Chengdu Travel Tips
City Code: 028
Zip Code: 610000



Passport holders of 53 countries including the USA, Canada, UK, Germany, France, Australia, Russia, Netherlands, Switzerland, Spain, Portugal, Japan, etc. can enjoy 144 hours free transit via Shuangliu Airport.
Read details about 144-Hour Visa-Free Transit in Chengdu.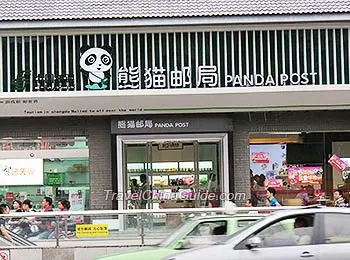 Post Office in Chengdu
China Post:
Visitors can have their postcards, common letters, and express mail sent directly all over the world. Printed matters, parcels and packages have to be sent through post offices.
Shuwajie Post Office: No. 25, Shuwa Beiyi Street
Mengzhuiwan Post Office: No. 346, Shuanglin Road
Shawan Post Office Branch: New No. 71, Shawan Road
Yiguanmiao Post Office Branch: No. 6, Yongfeng Road

Foreign Exchange: This can be done in Bank of China, available throughout mainland China.

Complaint:
Tourism: 028-96927, 028-86622065, 028-86764621 (Fax)
Public Bus: 028-85073535, 028-85076868
Taxi: 028-86636630

Internet Cafe: scattered in the streets and lanes of the city, especially around colleges and universities. The charge is CNY 1.5 to CNY 2 per hour.

Famous Universities:
Sichuan University
No. 24, the first section, south of the First Ring Road
No. 29, Wangjiang Road, Jiuyan Qiao
Sichuan Normal University
No. 5, Jing'an Road, Jinjiang District
Chengdu Institute of SISU (Sichuan International Studies University):
Yinhe East Road, West Hi-tech Zone
Chengdu University: Chengluo Road, Dong Shiling Town



Recommended Itineraries:
Chengdu Impression: 5 Days to Leshan - Mt. Emei
Memorable Trip: 6 Days of Chengdu-Jiuzhaigou-Huanglong-Dujiangyan
Giant Pandas Tour: 14 Days China cities discovery including Chengdu
More China Tour Packages

Festivals
Besides Chinese traditional festivals such as Spring Festival, Qing-Ming Festival and Mid-Autumn Day, the city has its own local festivals, including Huanglongxi Firedrake Festival, Lantern Fair and Flower Fair. These festivals showcase the very characteristic features of the city. So, they are often the highlights of a visitor's stay there and provide visitors with a deep understanding and appreciation of the city.
Huanglongxi Firedrake Festival
The Firedrake Festival originated from Huanglongxi Ancient Town in Shuanglong, Chengdu. In the Song Dynasty (960-1279), the local people have started to hold such a festival during January 1st to January 15th of the Chinese Lunar Calendar. The performances during the festival include Burning Firedrake, Dragon Dance, Lion Dance and Sichuan Opera appreciation and so on.
Lantern Fair
The festival is held in the city's parks on the fifteenth day of the first lunar month around the Spring Festival and lasts for one month. The festival features Sichuan folk opera, acrobatics, and other performances like kid's shows. Also, there are local snack vendors, blown candy figure making, windmill selling which always attracts the visitor's attention.
Flower Fair
It is a popular spring event held at Qingyang Palace (Gray Goat Palace) outside the west gate of the city during the Chinese second lunar month. Flower growers carry their flowers and exotic plants to exhibit and sell.
Longquan Peach Blossom Festival
The second lunar month is the best season for people to go for a walk in the countryside. The peach blossoms are flourishing on Longquan Mountain at this time of year. During this festival, people can not only enjoy the beautiful flowers but also the tea-tasting and home cooked dishes at the flower grower's house near the mountain.
Tianpeng Peony Fair
Pengzhou City, located to the north of Chengdu City, is named Tianpeng in the ancient times. It's renowned for producing a large number of peonies. From April to May each year, Pengzhou holds the Peony Fair. During the fair, many rare peony varieties can be seen. Besides, you can see the folk performances of the Sichuan region.
Xinjin Dragon Boat Race
The Dragon Boat Race is held in Xinjin County around Dragon Boat Festival (May 5th of the Chinese Lunar Calendar) annually. Xinjin takes advantage of the Nanhe River and makes the boat race spectacular. During the festival, besides the boat race, there are design performances of the dragon boats and the night cruise on the Nanhe River.
Singing Competition (at Wangcong Temple)
The Singing Competition is held in Pixian around the fifteenth day of May according to the Lunar Calendar. The competition place is at Wangcong Temple and the singers are all the local peasants. Most of them sing folk songs and most songs are composed by themselves.
Xindu Sweet-scented Osmanthus Fair
The Sweet-scented Osmanthus Fair is held in Xindu around the Mid-Autumn Day (the fifteenth day of the eighth lunar month). During the fair, people visit the sweet-scented osmanthus garden and the painting & calligraphy fair. What's more, many famous local snacks are on sale and the local folk dances and operas can be seen in the fair.
Getting to know more tips for visit in China, please visit China Travel Tips.
- Last modified on Nov. 19, 2021 -
Questions & Answers on Chengdu Travel Tips
Asked by JY from MALAYSIA | Dec. 17, 2019 23:22

Reply
Mobile Simcard
Hi, we are planning to travel in a small group and we are thinking of subscribing one of our home simcard for roaming (with data included) as it seemed to be a lot cheaper. However we do realised that we need a local simcard in order to get Didi. So we are interested to know about:

1. Which local/ Chinese simcard is recommended (for android phone)? We've looked up China unicom recently but we are still unsure.

2. Should we buy the simcard in Chengdu airport or wait until we reach the city?

3. Will we still be able to use google maps in China if we use our home simcard for data (on roaming)? Apparently we have been told that they only restrict Chinese simcards. We were also told that we can use Google in international hotels but I'm quite skeptical about both of these information.

Thanks in advance!
Answers (1)
Answered by Yuri from THAILAND | Dec. 22, 2019 18:35

0

0

Reply
1. China Unicom is a good choice.
2. It depends on you. They are no difference.
3. Google has withdrawn China market for many years. I think it might be inaccurate if you look up the transportation by Google map.
Asked by Jimm from PHILIPPINES | Feb. 13, 2018 03:56

Reply
I will got to Chengdu this March 18, 2018 via Shanghai
Hi, would like to ask if there's a flight going there in Pudong Airport.
Or how can I go there from PVG, Shanghai?
Answers (1)
Answered by Cecilia from ITALY | Feb. 13, 2018 20:03

0

0

Reply
Yes, there are many flights straight to Chengdu, and it takes about 3.5h.
Asked by Magda from CANADA | Dec. 12, 2015 19:55

Reply
Looking for the closest post office. I live in Jinniu District of Chengdu China.
I live near Chadienza and Yinbin Subway stations and I am looking for a post office to send a small package.


Answers (1)
Answered by Harry from INDONESIA | Dec. 12, 2015 20:57

0

0

Reply
The nearest post office is located No. 31 of Yuren North Road. It is about 0.9 mile walking distance from Chadianzi subway station, you can cover this distance for a few mins walk.
Asked by Jeroen from NETHERLANDS | Nov. 08, 2015 03:15

Reply
What is the best way to go the Leshan from Chengdu?
I want to take the bus to the Leshan Grand buddha sceneric area directly.
Is this possible?
Answers (5)
Answered by Leo | Nov. 08, 2015 03:29

0

0

Reply
There is no direct bus to the scenic area. You can take a long-distance bus from Xinnanmen Bus Station to Leshan Xiaoba Bus Station (about 2.5 hours and CNY 50); then change to city bus 13 (about an hour) to the scenic area.

Actually a better way is taking a high speed train to Leshan (1-1.5 hours and CNY 54), then change to the sightseeing bus to the Buddha. It saves you time.
Answered by Jeroen from NETHERLANDS | Nov. 08, 2015 04:01

0

0

Reply
Thanks for the fast reply, Leo. I just ask it because the other answers came from 2011. Bus 13 departure from the same Leshan bus station?
Answered by Jeroen | Nov. 12, 2015 04:07

0

0

Reply
Bus 13: What is the name of the bus stop we have to get of for the Buddha scenic area?
Bus 13 will departure from Leshan Xiaoba Bus station?
Answered by Leo | Nov. 12, 2015 19:08

0

0

Reply
You can get off at Big Buddha Temple (Dafosi in Chinese).
Yes, bus no.13 has a stop in Xiaoba Bus Station. Its stop is just beside the main gate of Xiaoba Bus Station and you can see it easily after exiting. No worry.
Answered by Jeroen from NEITHELAND | Nov. 21, 2015 05:23

0

0

Reply
Thank you. We went to the Leshan Buddha last Tuesday. It was very easy to find. Bus 13 have English bus stop announcement.
Asked by Nana from TURKEY | Sep. 26, 2015 21:57

Reply
How can I get to small and poor villages near Chengdu ?
I am interested to meest local people who is leaving not modern, poor people...
Answers (1)
Answered by Nelly from AUSTRALIA | Sep. 28, 2015 03:38

0

0

Reply
I am not familiar with such villages, but an ancient town may attract your attention - Pingle Old Town. It is located at Qionglai City, around 90km from CD City.