Top Chengdu Attractions
More Things to Do
Top 10 City Tours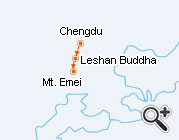 CD07: 2 Days Private Chengdu Tour to Leshan & Mt. Emei
From
$389
per person
Free Inquiry


Day 1
Chengdu - Leshan - Mt. Emei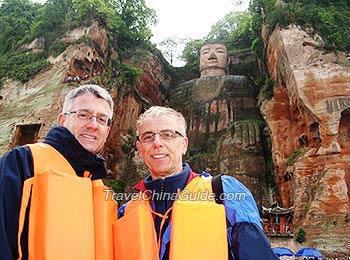 Our clients visting the Giant Buddha in Leshan
Leshan is the only city in China that owns three world heritage sites - Leshan Giant Buddha, Mt. Emei and Dongfeng Weir. It is situated near the mountains and rivers with fascinating natural landscape. In the morning, your tour guide and driver will pick you up from your hotel lobby at the appointed time. Then, this 2-day private Chengdu tour package will start with a comfortable ride to
Leshan
. Upon arrival, a cruise trip will be arranged for you so that you could enjoy the best view of the Leshan Giant Buddha, which is also the highlight of today's Chengdu to Leshan trip.
After that, your guide and driver will transfer you to the
Mt. Emei
, one of the Four Sacred Buddhist Mountains in China. Upon arrival, we will first visit the Baoguo Temple, which is located at the entrance to the piedmont plain of the Mt. Emei. The Baoguo Temple is the Buddhist activity center of the Mt. Emei, and the Mahavira Hall inside is one of the best preserved wooden-structure buildings in the south of the Yangtze River. Furthermore, there is a cultural relics collection room housing various kinds of ceramics, jades, literature and painting work, metal ware and unearthed weapons of the Warring States Period (475 - 221 BC), which is also well worth seeing.
After the visit to the Baoguo Temple, your guide will lead you to the nearby Hongzhushan Hotel and help you with the check-in procedure.
Meals: Lunch
Accommodation:
Building No. 5 of Hongzhushan Hotel





Mountain-view Room
Golden Summit of Mt. Emei
After breakfast, we will take the sightseeing bus for around 2 hours to Leidongping station first. Then continue to hike for about one hour to take the Jinding Cable Car to the 3,077-meter-high (10,095-feet-high) Golden Summit of the Mt. Emei, where the mountain's most brilliant temples and attractions are gathered. The world's highest gold statue of Samantabhadra Buddha sits in the Huazang Temple in the center of the summit, and the world's largest metallic building complex is located here, too. Shrouded in mist all year round, the imposing Golden Summit looks very mysterious and charming.
Your 2 days Chengdu tour to Leshan and Mt. Emei will come to an end after visiting the Golden Summit. Afterwards, we will drive 2.5 hours back to your hotel in downtown Chengdu.
Meals: Western buffet breakfast, Lunch

Our Friendly Tips
·
Because of the limited conditions in mountain area, the lunch of this 2 days Chengdu tour to Leshan and Mt. Emei would be relatively simple. Hence, you're kindly suggested to prepare some snacks by yourself in advance.
·
Mt. Emei, with its highest peak at 3,077 meters (10,095 feet) above sea level at the Golden Summit, is a high-altitude region. Please kindly consult your doctor if you are healthy enough to go to such a high place if necessary.
·
From November to March, the mountains would be covered with snow, and parts of the mountain roads would be icy. Therefore, it is recommended to prepare the antiskid shoes and warm clothes if you are going to travel during this period of time.
Price Includes
Hotel accommodation with breakfasts
Lunches as itinerary specifies
Private English-speaking guide
Private driver & air-conditioned vehicle
Entrance fees to tourist sites
Price Excludes
Airfares of arrival and departure
Entry visa fees
Personal expenses
Tips or gratuities for guide and driver
Itineraries you may also like: