Tianfu Square, Chengdu
Tianfu Square, the symbol of Chengdu, is located in the city center. Being the largest city square in southwest China, it enjoys similar position and fame in Sichuan as Tiananmen Square in Beijing. With an area of 105,687 square yards (88,368 square meters), the square is a special sight encircled by skyscrapers. It is said that one who fails to visit Tianfu Square doesn't even visit Chengdu.

Function
Tianfu Square
It is the busiest area in the Commercial and Business District (CBD) of the city, and popular with both the locals and the tourists. The city subway line 1 and line 2 meet here, making the square a transfer stop and gathering place for tourists. Paved with light-colored granite and lined with trees and flowers, the square is an open leisure place for people to have a rest and appreciate the modern development of Chengdu.

Layout
As it presents, the square is in the shape of a circle, which is divided into two equal parts by an s-shaped line. The overall view of the square is just like the Taichi motif. In the center of Tianfu Square is the Golden Sun Bird pattern, which is a ring-shaped piece of foil unearthed in 2001 from the Jinsha Ruins in Chengdu City. On the west square stands a statue, which is designed as a fountain. The east square is sunken, where a statue is located, too. The two statues are symmetrically opposite. A dragon circles the pillar of each of the statues, representing the civilization of the Yangtze River and the Yellow River – the cradles of Chinese civilization. Around the sunken square are many department stores where tourists can rest and go shopping.

Musical fountains are available on the square. When it comes to evening, the amazing music fountain show will come into tourists' eyes. With colorful neon lights, the whole square presents a romantic sight. The songs are all specially composed to eulogize the prosperity and rapid development of the city.

Attractions around the Square
There are many attractions and shopping malls around Tianfu Square, to a great extent facilitating travelers' stay.



Sichuan Science and Technology Museum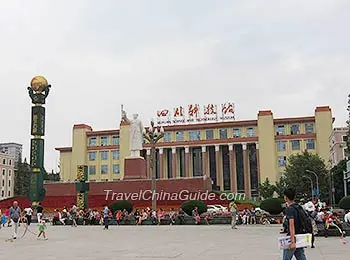 Sichuan Science and Technology Museum
To the north of the square is the Sichuan Science and Technology Museum. A huge stone statue of Chairman Mao stands in front of the museum, waving his hand to visitors. The museum, open to the public for free, offers a comprehensive exhibition of the latest development regards space exploration, aviation, machinery, robot, life sciences, ecology, and the environment.



Sichuan Art Gallery
Strolling to the northwest of the square and you can see the Sichuan Art Gallery, where excellent art exhibitions are held attracting many tourists.



Chengdu Museum
Located to the west of Tianfu Square, the museum will open by the end of 2015. Featuring precious archeological findings in Sichuan, the museum includes three sections - general history, folk customs, and shadow puppet. The display of shadow puppet is a highlight for tourists to know the interesting facts of this traditional Chinese folk art form.



Imperial Mosque
Also to the west of the square, and south to Chengdu Museum, lies the Imperial Mosque that has a long history dating back to 16th century. It is the largest mosque in Sichuan Province, and keeps many ancient buildings and Islamic scriptures.



Jincheng Art Palace
To the east of the square lies Jincheng Art Palace, where various art performances are held by troupes from all over the world.



Shopping Malls
Many high-end malls near the square make it convenient for tourists to go shopping. The most popular ones include Far Eastern Department Store, Moore Department Store, Renhe Spring Department Store, and Maoye Department Store.



People's Park
From the square, ten minutes' walk west takes you to the People's Park, which is the most famous historical and leisure park in the city. There you will find many local people resting, singing, and dancing in the park.



Other: Chunxi Road, Sichuan Theater, Sichuan Provincial Library

Transportation:
1. Take subway line 1 or line 2, and get off at the Tianfu Square Station, which is on the second floor of the east sunken square.
2. Take bus line 16, 45, 53, 61, 64 or aiport shuttle bus line 2, and get off at the Tianfu Square East.
3. Take bus line 13, 30, 43, 47, 64, 78 or 905, and get off at the Xiyu Street.
4. Take bus line 43, 47, 62, 104 or 334, and get off at the Dongyu Street.


Chengdu Bus / Subway Search
| | |
| --- | --- |
| Admission Fee: | Free |
| Opening Hours: | All day |
Travel Tip:
Visitors can take
Chengdu Sightseeing Bus
from here to other scenic spots, such as
Chengdu Research Base of Giant Panda Breeding
,
Wuhou Temple
,
Sanxingdui Museum
and
Dujiangyan Irrigation System
.