Leshan Giant Buddha
The Leshan Giant Buddha is a statue of Maitreya (a Bodhisattva usually represented as a very stout monk with a broad smile on his face and with his naked breast and paunch exposed to view) in sitting posture. The Buddha is located to the east of Leshan City, Sichuan Province, at the confluence of three rivers, namely, Min River, Qingyi River, and Dadu River. The statue makes itself the most renowned scenic spot in that city. In December, 1996, the location of the Buddha was included by UNESCO on the list of the World Heritage sites. Begun in the year 713 in the
Tang Dynasty
, and finished in the year 803, the statue took people more than 90 years to carve. During these years, thousands of workers had expended their efforts and wisdom on the project. As the biggest carved stone Buddha in the world, the Giant Buddha is featured in poetry, song and story.
Facing the river, the Buddha has symmetrical posture and looks which have been beautifully captured in its solemn stillness. It is 71 meters (about 233 feet) high, and has 8.3-meter-long (about 27 feet) fingers. The 9-meter-wide (about 30 feet) instep is big enough for one hundred people to sit on and the 24-meter-wide (about 79 feet) shoulder is large enough to be a basketball playground.
| | |
| --- | --- |
| Our Guests visit Giant Buddha | Head of Leshan Giant Buddha |
It was a monk called Hai Tong who initiated the project. His concern was for the safety of the long-suffering people who earned their living around the confluence of the three rivers. Tempestuous waters ensured that boat accidents were numerous and the simple people put the disaster down to the presence of a water spirit. So Hai Tong decided to carve a statue beside the river thinking that the Buddha would bring the water spirit under control. Besides, the fallen stones dropped during the carving would reduce the water force there. After 20 years' begging alms, he finally accumulated enough money for the plan. When some local government officials had designs on tempting this amount of money, Hai Tong said that they could get his eyeball but not the money raised for the Buddha. After Hai Tong dug out his eyeball, these officials ran away scared. The project was half done when Hai Tong passed away, and two of his disciples continued the work. After a total of 90 years' hard work, the project was finally completed.

The charm of the Buddha lies not only in its size but also in its architectural artistry. There are 1,021 buns in the Buddha's coiled hair. These have been skillfully embedded in the head. The skill is so wonderful that the 1,021 buns seem integral to the whole. Another architectural highlight is the drainage system. This system is made up of some hidden gutters and channels, scattered on the head and arms, behind the ears and in the clothes. This system, which helps displace rainwater and keep the inner part dry, plays an important part in the protection of the Buddha. The large pair of ears, each seven meters (about 23 feet) long, is made of wood and is decorated by mud on the surface. For craftsmen of thousands of years ago, it was not easy to fix these to the stone head.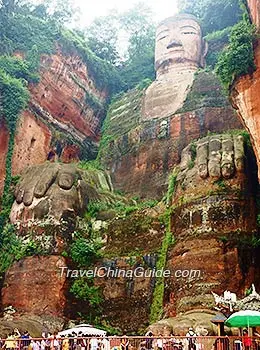 Having such a long history and such worldwide fame, the renovation of the Buddha has received extensive attention both at home and abroad. The Buddha was nearly destroyed by the erosion of wind and rain before 1963 when the Chinese government began the repairing work. At present, the maintenance work is in progress under the instruction of experts from UNESCO.

Transport:
Train:
One can take Chengdu-Leshan-Emeishan Intercity High-Speed Train from Chengdu to Leshan Railway Station, and then change to bus 3 to reach this site.
Bus:
It is 100 miles (about 162 kilometers) from Chengdu City to Leshan City if one travels by the expressway. Visitors can take a long-distance bus from Chengdu Xinnanmen Bus Station to Leshan Xiaoba Bus station, and then change to city bus 13 to this site.

With a distance of 31kilometers (about 19 miles), the city is also connected with Emei City by a freeway, and there is a regular bus every ten minutes. Besides, there are buses to/from Chongqing, Neijiang, Zigong, Yibin and Ya'an. Buses to nearby counties are also available.

Ship:
There are very many ferries to the site of Giant Buddha every day. Ferries to Yibin, Luzhou and Chongqing are available at the port of the city.
Air:
Chengdu Shuangliu International Airport (CTU) is 150 kilometers (about 93 miles) away from the city by freeway. Upon arrival at the ariport, one can take a train or long-distance bus to Leshan downtown, and then change to a city bus to get here.

| | |
| --- | --- |
| Admission Fee: | CNY 80 (Excluding CNY 70 for a boat trip) |
| Opening Hours: | 09:00 to 16:50 |
| Recommended Time for a Visit: | One day |

Recommended Tours including the visit of Leshan Giant Buddha:
5 Days Sichuan Visit: Chengdu - Wolong/Bifengxia - Leshan Buddha - Mt. Emei
Beijing-Sichuan-Yunnan Tour: 14 Days Beijing - Chengdu - Jiuzhaigou - Huanglong - Chengdu - Leshan - Mt. Emei - Chengdu - Lijiang - Dali - Kunming
- Last modified on Jun. 04, 2019 -
Questions & Answers on Leshan Giant Buddha
Asked by Rosa from GERMANY | Aug. 16, 2019 01:57

Reply
Ferry from Leshan to Chongqing
Hi, is there a ferry from Leshan to Chongqing city? Where can I find schedule? How long does it take? What is the price? How to book the tickets?
Asked by Jasmine | Aug. 11, 2019 13:59

Reply
Is there a luggage storage near the entrance to the buddha or at Leshan Railway Station?
Thank you
Answers (1)
Answered by Cameron from UNITED KINGDOM | Aug. 13, 2019 00:15

0

0

Reply
Yes, you can put the luggage nearby the entrance to the scenic area. :)
Asked by SULAK SRIPHIROM from THAILAND | Jun. 06, 2019 22:30

Reply
How far is from Leshan Railway Station to Giant Buddha? Can I take taxi and how much?
Answers (1)
Answered by Emma from UNITED KINGDOM | Jun. 11, 2019 23:07

0

0

Reply
It's about 12km. It takes about CNY40 by taxi.
Asked by Elisabet from SPAIN | May. 21, 2019 23:48

Reply
I'm planning on visiting Leshan Giant Buddha in September by my own from Chengdu.
Is Sunday a good day? Or is it better in the middle of the week?
Can tickets be bought online?
Thanks a lot!
Elisabet
Answers (1)
Answered by Jeniffer from AUSTRALIA | May. 22, 2019 23:44

0

0

Reply
It is better to visit on week days. The tickets can only be bought at the scenic area since the website is in Chinese. Have fun!
Asked by Cheryl from CANADA | May. 02, 2019 06:53

Reply
Can i purchase tickets for Giant Buddha entrance ticket, and boat ride, onlline?
Answers (1)
Answered by Amy from NEW ZEALAND | May. 06, 2019 01:23

0

0

Reply
The tickets booking websites only provide Chinese service so you can't book them online.