Leshan Railway Station
Covering an area of 14,300 square yards (12,000 square meters), Leshan Railway Station is the junction of
Chengdu-Leshan-Emeishan Intercity High Speed Railway
and Chengdu-Guiyang High Speed Railway (under construction). It is about 6.8 miles (12 km) from the
Giant Buddha
and 6.2 miles (10 km) from downtown Leshan. The station is about 87 miles (140 km) southwest of
Chengdu East Railway Station
and 18 miles (30 km) east of Emeishan Railway Station. Close to the station are Leshan Passenger Central Station and bus station.
Address: Jinzhan Avenue of Qingjiang New District

Schedule and Ticket Booking
The station mainly handles intercity high speed trains to/from Chengdu, Mianyang, Jiangyou and Emeishan.
(Last Update on Sep 11, 2019)
To
Trains
Duration
Ticket Fare (CNY)
First/ Second Class Seat

Emeishan

C6253, C6257, C6301, C6303...
9 departures from 07:06 to 20:21
0h15m - 0h23m
CNY 17/ 11
USD 3/ 2

Chengdu East

C6662, C6258, C6260, C6670...
22 departures from 07:26 to 21:35
0h46m - 1h27m
CNY 81/ 51
USD 12/ 8

Mianyang

C6306, C6310, C6354, C6302...
5 departures from 08:03 to 19:11
1h54m - 2h15m
CNY 159/ 99
USD 23/ 15

Jiangyou

C6306, C6310, C6302, C6314...
5 departures from 08:03 to 19:11
2h20m - 2h35m
CNY 184/ 115
USD 27/ 17

The above schedule is for reference only. For real-time schedule and ticket booking, please click the arrival stations.

See more
Leshan to Chengdu Train
Note:
It deserves to be mentioned that when Chengdu-Guiyang High Speed Railway is in operation in 2019, bullet trains to/from Guiyang, Guilin, Guangzhou and Shenzhen will pass through this station. By then, the journey from Leshan to Pearl River Delta will be reduced to 8 hours.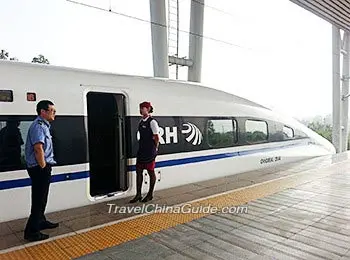 Bullet Train to Chengdu
Station Plan
The station mainly consists of a terminal building and a square in front. The terminal building resembles the open hands of Buddha, auspicious and poetic. Inside, there are three floors.

3F: staff office

2F: waiting hall

1F: ticket office, platforms
How to get to Leshan Railway Station?

Arrival by bus 1, 3, 22 and night line:
Passengers arriving by bus, or taxi, will be dropped off at the east side of the station. For those with a ticket, please enter the station directly. Then take the escalators to the waiting hall on 2F. For those without a ticket, go to a ticket office at the east side of 1F to obtain one first, and then go up to the waiting hall.

Arrival by taxi:
From the city center: fare approx. CNY25 for 30 minutes.
From the Giant Buddha: fare approx.CNY30 for 35 minutes.
Ticket Check and Boarding
There are 8 automatic ticket check points on the second floor. Passengers can check their tickets at any check point. Please note that the check points are usually opened 30 minutes before departure and closed 5 minutes before. Go to the platforms along the entry passageway.
How to exit and leave Leshan Railway Station
Upon arrival, all passengers will be led to 1F transfer hall for exiting. After exiting, passengers can follow the signs to find buses, taxis or sightseeing line to leave the station.

Leave by bus:
Passengers can go to the bus stop to the west of the station to find the bus they need to take.

Leave by taxi:
Passengers can go to the west of the station to take taxis.

Leave by sightseeing line:
Sightseeing bus lines are also to the west of the station. Passengers can go there to transfer.

Transportation to other places:
Giant Buddha: Take bus line 3 to get there.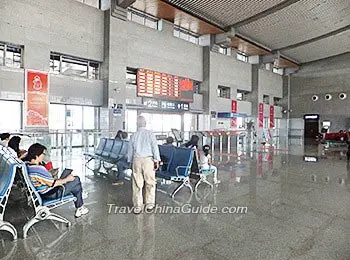 Waiting Hall
Facilities and Services

Ticket offices:
At the east side of the terminal building, the ticket office can be found. There are eight ticket windows including one barrier-free ticket window. Passengers can buy tickets there or use other services such as ticket exchange, ticket refund or ticket loss.

LED Screens:
LED Screens are available showing the train numbers, the departure time, check points, and boarding platforms in the waiting hall and arrival time, platforms, exits in the exit area.

Information Desk:
An Information desk is available for passengers to search for real-time train schedule, point out the different functional areas and help the old, weak, sick, disabled and pregnant to get onboard or leave the station.

Others:
Washrooms and hot drinking water are available in the waiting hall. The water is boiling hot, so take care.
Print

- Last modified on Jul. 10, 2019 -
Questions & Answers on Leshan Railway Station
Asked by Kieran from FINLAND | Jul. 10, 2019 04:01

Reply
The renovate of Giant Buddha is not completed?
Is the Buddha still covered?
Answers (1)
Answered by Lee from SINGAPORE | Jul. 10, 2019 18:43

0

0

Reply
Hi, I read that renovate is already finished. Passenger can visit there as normal already.
Asked by sev from FRANCE | Jul. 11, 2018 06:39

Reply
Is the train station and the bus station at the same place in Leshan?
I can not find the address on google maps
Thanks
Answers (3)
Answered by Homer from DANMARK | Jul. 11, 2018 20:35

0

0

Reply
Do you mean the city bus from the railway station to the Grant Buddha? It is on the station square
Answered by sev from FRANCE | Jul. 12, 2018 02:51

0

0

Reply
I was talking about the bus to go to Chengdu
Answered by Homer from DANMARK | Jul. 13, 2018 02:42

0

0

Reply
If so, they are not the same place. There seems more than one bus station in Leshan
Asked by Federico from UNITED KINGDOM | Apr. 24, 2018 17:08

Reply
What is the best way from Leshan rail station to the Buddha?
What is the best way and how long does it take to go from Leshan rail station to the Buddha?
Answers (1)
Answered by Benson from CHILE | Apr. 24, 2018 20:27

1

0

Reply
The easiest way should be taxi. It would take you around 30min usually. Or you can take city bus like K11 or 605. By city bus, the duration would be around 50 to 60min.
Asked by Igor from USA | Sep. 12, 2017 19:42

Reply
How busy is Leshan train station
How much time I need in Leshan train station to collect tickets; check-in and board the train? The trip is in the middle of October around 15:00 on Friday.
Answers (1)
Answered by Jackie from AUSTRALIA | Sep. 12, 2017 22:06

0

0

Reply
The national holiday should end already at that time thus should not be too crowded. Anyway, if you are not familiar with the rail system, it would still be better to reach there about 1 hour in advance.
Asked by Ana from SPAIN | Jul. 31, 2017 03:48

Reply
Luggage lockers
I'm planning to visit Leshan next August 2017 taking the high speed ride from Chengdu International Airport. Are there any lockers for the luggage in Leshan railway station? How much is the service? What's the time for the lockers?

How far is the station to the Giant Buddha? What's the best option (bus, taxi...)?

Thanks!!!! 😉
Answers (2)
Answered by Galvin from CANADA | Jul. 31, 2017 20:37

1

0

Reply
There is self-service luggage locker nearby. The price for small bag would be CNY5 for the first 6 hours and another CNY10 if more than 6 hours but less than 24 hours. If more than 24 hours, another CNY20 will be charged. For a large sized one, the price may doubled. You may check it after your arrival.

From the station, you can take bus No. 3 to the Buddha directly. Taxi is also easy to use.
Answered by Ana from SPAIN | Aug. 02, 2017 16:05

0

0

Reply
Thanks so much!!!