Leshan Travel Guide
Leshan Facts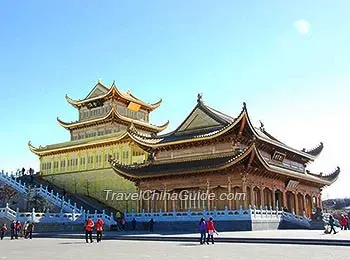 Golden Summit, Mount Emei
Chinese Name: 乐山 (lè shān)
Population: 3,495,000
Area: 12,720.03 square kilometers (4,911.23 square miles)
Location: in the southwest of Sichuan Province, southwest China
Administrative Division: 4 districts (Shizhong, Wutongqiao, Shawan, Jinkouhe); 4 counties (Jiajiang, Jingyan, Jianwei, Muchuan); 2 Autonomous Counties (Mabian Yi Autonomous County, Ebian Yi Autonomous County); 1 county-level city (Emeishan)
Area Code: 0833
Zip Code: 614000
GDP (2019): CNY 186.331 billion (USD 27.008 billion)
Famous for Leshan Giant Buddha & Mount Emei
Located on the southwestern fringe of the Red Basin in Sichuan province, Leshan is nearly 120 kilometers (75 miles) away from Chengdu. It is an industrial city with developed railway and port transportation.

The lofty Leshan Giant Buddha and Mount Emei are the two highlights of Leshan. The 71-meter (233-feet) high Leshan Buddha built from 713 - 803 is the largest carved stone sculpture in China. In addition to observing the Buddha from a close distance on the mountain, you can also take a boat to view the Buddha from a distance. Mount Emei shows picturesque scenery and is full of temples. Its impressive sunrise and the sea of clouds also attract a lot of tourists. In addition, you can also taste various local delicacies such as Spicy Hot Pot, Bobo's Chicken and Jellied Bean Curd in Leshan.
Leshan City is a renowned scenic resort as it boasts the 'No.1 Buddha under Heaven' - Leshan Giant Buddha scenic area (including the Giant Sleeping Buddha) and Mount Emei scenic area which is renowned for four spectacles - Sunrise, Cloud Sea, Buddha Rays and Saint Lamps. There are many Buddhist temples in these scenic areas including Wuyou Temple, Lingyun Temple, Baoguo Temple, Hufu Temple, Wannian Temple to name but a few. Notable scenic resorts in the surrounding area are: Wutongqiao (nicknamed 'Small West Lake') which is an ancient waterside town located 24 kilometers (about 15 miles) south of the city proper; Luocheng Ancient Town which is well-known for its ship like appearance located 60 kilometers (about 37 miles) northeast of Jianwei County. Moreover, the city is the hometown of Guo Moruo (1892-1978) a famous Chinese literary figure. The Former Residence of Guo Moruo located in Shawan District is also an attractive scenic spot.
| | | |
| --- | --- | --- |
| Leshan Map (Click to enlarge) | Giant Buddha | Giant Buddha |
Visitors coming to Leshan & Emeishan Scenic Areas will have no worries about transportation. There are Chengdu - Leshan - Emeishan Intercity High Speed Train and Chengdu - Kunming Train running through Leshan City. The sea route Leshan-Yibing-Luzhou-Chongqing is very convenient for traveling by water. Moreover, the highway network ensures convenient ways of getting to the city and reaching each of the scenic spots within it and its environs. Whether visitors travel by road, sea or train, they will have a pleasant journey.
Weather
-
Because of its advantageous location in the southwest of the Sichuan Basin, Leshan weather is fairly good and the two mountains Wuyou Mountain and Lingyun Mountain around the city are luxuriantly green. As well as a mountainous area, aspects of the terrain take the form of a plain and an area of hills. The southwest mountain area of the Sichuan Basin has three dimensions to its climate featuring a mild winter and a relatively cool summer, with rain in both early spring and the fall. This means that the mountain area of the city is highly suitable for the propagation of vegetation.

History: In ancient times Leshan was known as Jiazhou and was reputed as the place 'Where there is the most beautiful landscape in all Sichuan, there is Jiazhou'. It was famous for its abundance of the Chinese flowering crab-apple and long ago was given the title of 'Haitang (crab-apple) Xiangguo (fragrant city)'. Nowadays it is particularly well known as a city of National Key Attractions due to its natural landscape and wealth of cultural relics.



Further Reading:
- Last updated on May. 26, 2023 -