Mt. Emei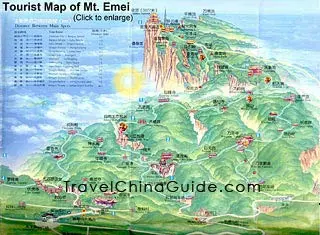 Map of Mt. Emei (Click to enlarge)
Mt. Emei is located in Leshan City, Sichuan Province. It is towering, beautiful, old and mysterious. It is like a huge green screen standing in the southwest of the Chengdu Plain. Looking its winding and beautiful figure, you will find that it resembles very much an eyebrow of a girl. It is the highest one among all the famous sight-seeing mountains in China.

On the mountain there are four scenic regions: Baoguo Temple, Wannian Temple, Qingyin Pavilion and Golden Summit. Its main peak, the Golden Summit, is 3079.3 meters (10,103 feet) above the sea level, seemingly reaching the sky. Standing on the top of it, you can enjoy the snowy mountains in the west and the vast plain in the east. In addition in Golden Summit there are four spectacles: clouds sea, sunrise, Buddha rays and saint lamps. In 1996 Mt. Emei was enlisted in the world natural and cultural heritage by the UNESCO.

Mt. Emei is a wondrous world. The trees are verdant almost all the year round; the waterfalls are splendid; the whole scenery is beautiful and quiet. The landscape varies according to the seasons, the height and the climate. The poet Tan Zhongyue living in the Qing Dynasty (1644-1911) once concluded the beautiful landscape in Emei Mountain into ten scenic sights. Today more and more new scenery has been discovered and given beautiful names such as Listen to the Spring beside the Tiger Brook, Plank Road above Longjiang River and Flying Waterfall Hanging over Dragon Gate. Go there and use your imagination, maybe you will discover a new sight by yourself.

Mt. Emei has a long history. According to the archaeological material, people in remote ancient times have lived in this place. As early as 5,000 years ago, the Emperor Xuanyuan paid two visits here to learn Tao thoughts. 1,900 years ago, a practitioner built the first monastery here, thus marked the mountain the birthplace of Buddhism in Yangtze Valley. Today the Buddhist culture has become the main body of Emei Culture. The Buddhist architecture, music, grottos and paintings in the mountain all reflect rich religious flavor and culture.
| | |
| --- | --- |
| Mt.Emei, Leshan | Wannian Temple |

About the ticket, Opening Hours and Best Visit Time:
Items:
High Season (Jan.16 – Dec.14)
Low Season (Dec.15 – Jan.15)
Entrance Fee:
CNY 160
CNY 110
Baoguo Temple:
CNY 8
Fuhu Temple:
CNY 10
Wannian Temple:
CNY 10
Opening Hours:
6:00 - 18:30
7:00 - 17:50
Best Time to Visit:
Spring and Autumn

Transportaion inside the scenic area:
Sightseeing Bus:

Stations:

Attractions to Visit:

Baoguo Temple P

assenger Transportation Center

Baoguo Temple, Mt. Emei Museum
Wuxiangang Staion
Qingyin Pavilion, Yixiantian, Joking Monkey Zone

Wannian Temple Station

Xixin Place, White Dragon Cave, Qingyin Pavilion
Dragon Cave Lake
Leidongping Station
Jieyin Palace, Golden Summit
Time
Running Time
Nov. - Apr. 25
7:00-16:00, every half an hour; every hour after 12:00
Apr. 26 - Oct. 30
7:00-17:00, every half an hour
Chinese Public Holidays
5:00-17:00, every ten minutes; every half an hour after 12:00
Cable Car
Time
Price and Opening Hours
High Season (Jan.15 – Dec.14)
Jinding Cable Car: CNY 65 (upper) / CNY 55 (lower)
Opening Hours: 5:30 - 18:00
Wannian Cable Car: CNY 65 (upper) / CNY 45 (lower)
Opening Hours: 6:40 - 18:00
Low Season (Dec.15 – Jan.14)
Jinding Cable Car: CNY 30 (upper) / CNY 20 (lower)
Opening Hours: 7:30 - 18:00
Wannian Cable Car: CNY 30 (upper) / CNY 20 (lower)

Transportation from Chengdu:
By Train: Take a Chengdu-Leshan-Emeishan Intercity High-Speed Train or Shuangliu Airport - Emeishan Train to Emeishan Station, and then change to bus 5A, 8 or tourism bus to this site.
By Long-Distance Bus: Take a bus from Xinnanmen Bus Station to Emeishan Tourism Bus Center (Baoguo Temple Bus Station) at the foot of Mt. Emei, and then walk to the entrance. The bus departs once full occupied from 07:20 to 19:35. Its duration is about 2.5 - 3 hours and ticket fare is CNY51.



Transportation from Leshan:
By Train: Take a train from Leshan Railway Station to Emeishan Station, and then transfer to bus to get here.
By Long-Distance Bus: Take a bus from Xiaoba Bus Station to Baoguo Temple Bus Station and then walk to the entrance. The bus departs once fully occupied from 07:30 to 18:00. Ticket fare is CNY11 and duration is about one hour.
By Chartered Bus: There are many private mini-buses sending passengers to this scenic spot from Leshan downtown or Giant Buddha scenic area. The fare is about CNY20-30 per passenger and duration is about one hour. Please note that Mt. Emei is not located in Emeishan City area and one should confirm the driver will send you to the mountain scenic area before boarding.



Further Reading:

Recommended Tours:
5 Days Sichuan Visit: Chengdu - Wolong/Bifengxia - Leshan Buddha - Mt. Emei
Beijing-Sichuan-Yunnan Tour: 14 Days Beijing - Chengdu - Jiuzhaigou - Huanglong - Chengdu - Leshan - Mt. Emei - Chengdu - Lijiang - Dali - Kunming
- Last modified on Sep. 05, 2019 -
Questions & Answers on Mt. Emei
Asked by Fiona from UNITED KINGDOM | Sep. 03, 2019 01:53

Reply
We plan to visit Mount Emei for the day using only cable cars.
To get to the golden summit, which cable cars and sightseeing buses do we need to take and how long does it take? Thank you! :)
Answers (1)
Answered by Sadie from USA | Sep. 05, 2019 18:38

0

0

Reply
You can take Jinding cable car and it takes around 30-40 minutes to golden summit.
Asked by Chai from MALAYSIA | Aug. 09, 2019 22:54

Reply
Time needed for a day trip in Mt. Emei?
We planned to visit Leshan and Emeishan. Could you roughly tell us how much time do we need to spend in Leshan visiting the Giant Buddha and any interesting sites nearby?
And we are going to stay in Emeishan for the night. The next day we planned to visit all the places on Emei mountain until the Golden Summit...Could you tell me roughly how much time is needed at the Emei mountain? Thank you very much.
Chai
Answers (2)
Answered by Henry from USA | Aug. 12, 2019 20:27

0

0

Reply
It takes at most 1 day to visit Leshan. You can play 2-3 days in Emei.
Answered by Chai from MALAYSIA | Sep. 01, 2019 07:28

0

0

Reply
Thank you so much for your guidance on the time needed for visiting Leshan n Emei Shan...
Asked by Genevieve from USA | Jul. 17, 2019 07:56

Reply
Hello! I was wondering how to get to the Golden Summit of Emei Mountain?
I saw that you posted about the sightseeing buses, do the buses go straight to the summit[how long will it take]? Then is it possible (if I wake up early) to do a 1 day trip to the summit from Chengdu?
Really appreciate the help, thank you !
Answers (1)
Answered by Achard from USA | Jul. 23, 2019 01:19

0

0

Reply
The bus can only take you to the cable car station. You need to take the cable car and then walk around 10 minutes to reach Golden Summit after you get off the cable.

I think it is better to stay one night in Emei mountain. One day is too tight.
Asked by Chanean from CHINA | Jul. 02, 2019 05:57

Reply
Hello, I am doing Leshan Buddha and Mt Emei in one day.
Please recommend a route for going from Leshan Buddha to Mt Emei?
For Leshan Buddha - I'm taking the metro to Chengdu East Railway St, to Leshan Railway St, to Giant Buddha Temple Stop.
Do I have to go back to Leshan Railway Station to get to Mt Emei?
Answers (1)
Answered by Sally from AUSTRALIA | Jul. 03, 2019 00:33

0

0

Reply
No, you don't have to. There are direct buses from 8:00-12:00, 13:30-17:30 and the bus fare is CNY12.
Asked by Daniel from AUSTRALIA | Jun. 19, 2019 20:08

Reply
What is climbing Emei Mountain like in the winter?
Is it still an enjoyable experience or is it best left to warmer months?
Thanks :)
Answers (1)
Answered by Fier from NETHERLANDS | Jun. 20, 2019 01:23

0

0

Reply
It is very beautiful but also extremely cold.