Four Features of Mount Emei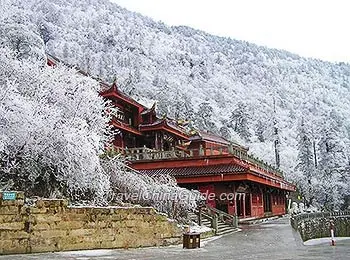 Mount Emei
covered by snow in winter
Mount Emei
is well-known for its enjoyable natural scenery, extensive Buddhist culture, abundant range of species and unique landform. Thus it gets such titles as 'Kingdom of Plants', 'Geological Museum', 'Animals' Paradise' and 'Buddhist Celestial Mountain'.

Florid Natural Scenery
Going into the mountain, you can see continuous ranges of peaks and tall trees covering on them. Water flows swiftly as if it were flying. Birds are singing and pretty butterflies are dancing. In spring, all the creatures are burgeoning and the whole mountain is in a fresh green coat; in summer, beautiful flowers are blooming one after another in a way of competition; in autumn, the entire mountain is decorated by the red leaves which make the site so amazing that it is far beyond your imagination; in winter, it is covered by snow like a pure bride with white wedding dress.

Profound Buddhist Culture
Mount Emei
is one of the four celebrated Buddhist Mountains in China. It is said that Buddhism was brought here in the first century BC. After nearly 2,000 years of development, the site has become a place rich in Buddhist heritage, which has made it an influential sacred place in China and even in the whole world. There are vivid and exquisite statues of Buddha made of clay, wood, jade, bronze and porcelain. As one of the three genres of Chinese martial art in China, Emeishan Mountain has gained its reputation both at home and abroad.
| | |
| --- | --- |
| Statue of Samantabhadra | Wannian Temple on Emeishan Mountain |

Abundant Resources of Species
Mount Emei is covered with green vegetation all the year round. Its plentiful rainfall, peculiar landform, varied climate and complicated structures of the soil provide a perfect environment for a great number of species' growth and propagation. Among the plants, here you can have the chance to admire the rare trees, many different flowers and herbs. These plants not only endow the mountain with beauty but also create a natural fairyland for the animals here. Among all the animals, monkeys are the most frequently seen ones.



Mysterious Geological Museum
The splendid Mount Emei was created by the Himalayan mountain-building movement and the later uplift of the Qinghai-Tibet Plateau. It contains geological features of all the periods following the Cambrian period. The special geological feature is the precondition of the growth of various species and beautiful sceneries.
Monkeys on

Mount Emei

Dried herbs from the mountain

Mount Emei


Four Features of Mount Emei


Four Scenic Regions of Mount Emei


Four Spectacles of Mount Emei
- Last updated on Apr. 08, 2021 -