Mount Emei Pictures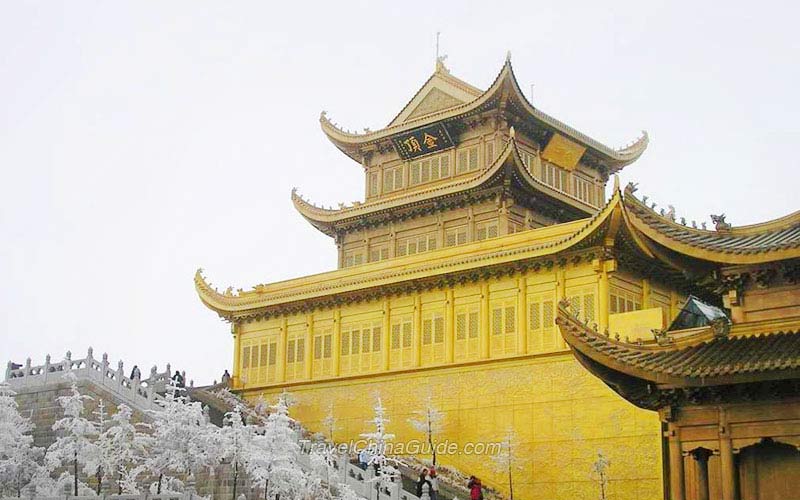 Situated in Leshan City, Sichuan Province, Mount Emei is one of the four most famous sacred Buddhist Mountains in China, along with Mt.Wutai, Mt.Putuo and Mt.Jiuhua. The towering mountain is magnificent with the Golden Summit as its main peak. The mountain is renowned for its natural beauty, especially its four spectacles: sea of cloud, sunrise, Buddhist halos and saint lamps. It was designated as a UNESCO World Natural Heritage site in 1996.
Attraction Intro:
Mount Emei
- Last modified on Oct. 09, 2019 -
Questions & Answers on Mount Emei Pictures
Asked by Linda from AUSTRALIA | Sep. 28, 2019 17:08

Reply
Leshan to Emeishan - Transport
We will arrive Leshan around 10am and we are not sure how much time we will take to tour the scenic area.If we cannot get train ticket to Emeishan as we putting a night there, can we get a taxi and how much will it cost and how long is the ride? How is the terrain of the road eg passing by rugged, winding mountain, tunnels? I m concern in terms of safety.

We only hv 1 night, n would like to take cable car up either evening after Leshan or next day morning. Which would be a better? How long would one need to spend up there to view the attractions up to the summit ? 3 hours enough? How much is the cable ride?

Is there intercity coach from Emeishan to Chongqing? How much and how long would it take? Thank you abundantly !
Answers (2)
Answered by Savannah from FINLAND | Oct. 09, 2019 20:22

0

0

Reply
1. From Emeishan to Leshan, if you want to take a taxi, the fare is CNY 200 to CNY300. And the duration is around 1.5 hours.
2. Generally speaking, you don't need to worry about the road condition.
3. You are suggested to tour around on next day morning. The suggested sightseeing time is 5-6 hours.
4. Yes, you can take a direct coach from Emeishan Tourists Transport Center. The bus schedules are 08:30, 09:00 and 11:00. The ticket fare is around CNY130 per person with the duration of 5 hours.

Have a nice journey!
Answered by Linda from AUSTRALIA | Oct. 09, 2019 20:39

0

0

Reply
Thank you Savannah!
Asked by Clint from USA | Apr. 16, 2016 17:09

Reply
My question is whether or not I will have time to reach the Golden Summit.
I arrive in Chengdu around 11:20 a.m. in the middle of June. I want to reach the Golden Summit, but I probably won't arrive at Emeishan until about 2:00 p.m. Will I still have time to reach the Golden Summit? Also, is there any way to get there besides taking the cable way? Can a taxi drive on Mount Emei?

Thanks!
Answers (3)
Answered by Matthew from DENMARK | Apr. 17, 2016 21:15

0

0

Reply
I have no idea which transportation you will take to arrive at Emeishan. But either by train to Emeishan Rail Station or by bus to Baoguosi Bus Station (available at the Xinnanmen Bus Station), your time shall be tight to Golden Summit.

The taxi is only allowed to reach the foot of the mountain or Leidongping. It takes at least 4 hours to hike to the summit from Leidongping by the way. Then my suggestion is to reach Leidongping first, walk around 20min to the cable car station and take it onto the summit.

Answered by Clint from USA | May. 07, 2016 00:18

0

0

Reply
Thanks so much! So could I conceivably take a taxi all the way from Chengdu airport to Leidongping? And then walk 20 minutes to cableway that takes me to summit?

Is this possible?

Thanks!
Answered by Eleanor from RUSSIA | May. 08, 2016 19:52

0

0

Reply
As I know, taxi is only allowed to reach the Yingbin Square at the foot of the mountain. You need to take a sightseeing bus to get to Leidongping.
Asked by Francesca from ITALY | Sep. 27, 2011 04:45

Reply
How can i reach emeishan from chengdu?
Answers (1)
Answered by jasmine | Sep. 27, 2011 04:48

0

0

Reply
Chengdu Xinnanmen Coach Center has many regular buses to Emei every day, It takes about 2 hours.
Asked by Mrs.EK from USA | Apr. 12, 2011 17:20

Reply
We will visit E Mei as part of a group already booked during late April. Is it still cold there at that time? Summit? Base?
Answers (1)
Answered by Mr.jamie | Apr. 13, 2011 04:36

0

0

Reply
That's fine. Need to wear thick clothes in the summit. Late April is a nice time. The azelea flowers come out at that time.