Mt. Jiuhua Photos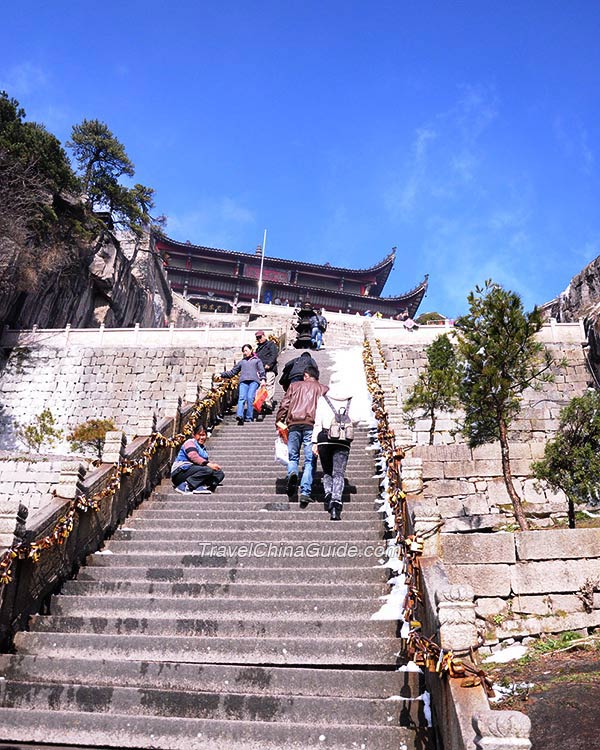 Located in the south of Qingyang County, Anhui Province, the Mt. Jiuhua is one of the four great sacred mountains of the Buddhism in China, along with
Mt.Putuo
in Zhejiang,
Mt.Emei
in Sichuan and
Mt.Wutai
in Shanxi. The temples on the mountain were originally built in the Tang Dynasty and were expanded in the following dynasties. The present famous temples are the Incarnation Hall, Huacheng Temple, Zhiyuan Temple and Longevity Hall. Attraction Intro:
Mt. Jiuhua
- Last modified on Feb. 02, 2017 -
Questions & Answers on Mt. Jiuhua Photos
Asked by WAI CHAN from MALAYSIA | Nov. 29, 2016 02:16

Reply
Which temples is Di Zhang's Bodhisattva's relics, shoes and foot print are located?
Answers (2)
Answered by Norman from UNITED KINGDOM | Dec. 01, 2016 21:17

2

0

Reply
As I know, the foot print can be admired at Baijing Platform and the Di Zang relic is shrined in Incarnation Hall.
Answered by WAI CHAN from MALAYSIA | Dec. 05, 2016 21:48

0

0

Reply
Thank you very much.
Asked by Mr.mokili | Feb. 22, 2011 02:34

Reply
how can i get to Hefei airport from nanjing or from hefei city? how long and how much will it cost me?
Answers (1)
Answered by Mr.Jamie | Feb. 22, 2011 19:32

0

0

Reply
At Hefei railway station, you could take the bus 11 (CNY1) to get to the airport directly. From Nanjing, you could take a train to get to Hefei Railway Station and then transfer to the airport. The train info could be search on this page: https://www.travelchinaguide.com/china-trains/
Asked by Mr.Sheena Toh from SINGAPORE | Jan. 18, 2011 03:02

Reply
Hi,
Four of us plan to go to Mt Jiuhua, Qingyang country, Anhui from Shanghai Pudong Airport at mid Apr 2011.
Appreciate your reply to our below questions.

1) Bus transportation - where is the bus station located, how many hour bus journey and how much is the fare?
2) Rail transportation - which rail station for boarding and alighting, travelling hour and how much is it? 3) Is it convenient to carry a 20" luggage with a haversack while travelling to our destination?
4) How is the weather and which is the best time to visit Mount Jiuhua?
Answers (1)
Answered by Mr.david | Jan. 18, 2011 21:59

0

0

Reply
1. There is no direct bus from Shanghai Pudong Airport(https://www.travelchinaguide.com/cityguides/shanghai/pudong-airport.htm) to Mt. Jiuhua. You have to take Shanghai subway line 2 from pudong airport to Hongqiao railway station to take a train to hefei (the train schedule can be got from Shanghai Train Timetable(https://www.travelchinaguide.com/china-trains/shanghai-schedule.htm)), and then take a bus to Mt. Jiuhua.
2. there seems to be no luggage limitation on the trains in China.
3. The best time to visit there is in Spring and autumn, when it is cool and pleasant.
Asked by Mr.chan from SINGAPORE | Mar. 13, 2010 10:06

Reply
If I do not want to fly from Hefei to Beijing, what is the cheapest and best way to travel to Beijing?
Answers (1)
Answered by Mr.Jay | Mar. 17, 2010 05:10

0

0

Reply
Hello,Mr.chan
You can take direct train with letter "Z" at the begining. It takes about 9.5 hours. The ticket fare for the hard seat is 81RMB; the soft seat is 136RMB.