Top 6 Places to Visit in December in China
In December, most places in China have entered into the chilly winter. But the low temperature also brings some unique scenery, like the ice and snow scenes in Harbin, sea of clouds on Mt. Emei. If you prefer warmer places, go to tropical Sanya to enjoy the bright sunshine, or Hong Kong and Macau to indulge yourselves in the shopping season around Christmas. Other top places to visit in December in China include Shanghai and Chengdu for various places of interests.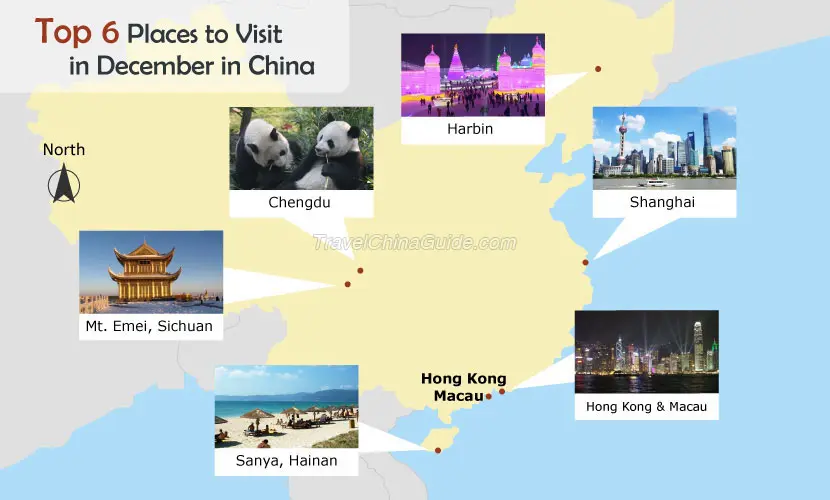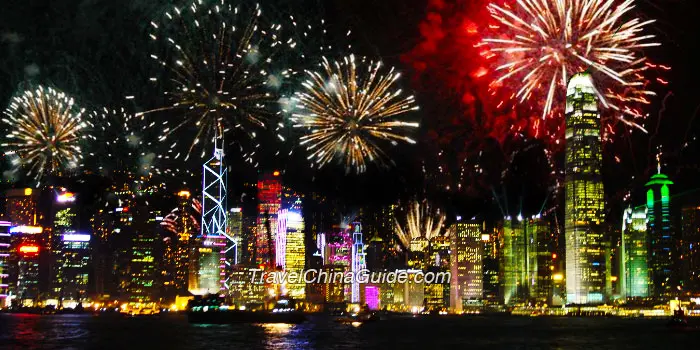 Location: Southeast coast of China
Hong Kong Temperature in December
: about 15°C ~ 21°C (59°F - 70°F)
Macau Temperature in December
: 14°C ~ 20°C (57°F - 68°F)
Weather: The weather is moderate and it is a little windy in December
Highlights:
Victoria Harbor
,
Victoria Peak
,
Disneyland
,
Tsim Sha Tsui
,
Mong Kok
, New Year Firework Show, Macau Casinos,
Ruins of St. Paul's
,
Macau Tower
Things to Do:
Hong Kong is one of the best places to travel in China during December. Due to the more than 100 years' colonial history, it is an international metropolis where Chinese and western culture is mixed together. Tsim Sha Tsui and Mong Kok are the typical shopping paradise with most of the international fashion brands and some local cheap accessories can also be found there. December is a perfect month for shopping as many sales promotions are put forward around Christmas and New Year's Day. Influenced by western culture, people here are also enthusiastic about the Christmas Day. Besides that, you cannot miss the gorgeous New Year Firework Show in Victoria Harbor. What's more, gambles in Macau casinos for entertainment are attractive.

Recommended Tour:

Hong Kong One Day Tours from

$132
2
Sanya: A Warm Coastal Resort
Location: South point of
Hainan Province
, South China
Sanya Temperature in December: about 19°C ~ 27°C (66°F - 81°F)
Weather: Warm and humid, cool in the morning and evening
Must-visit Places:
Wuzhizhou Island
,
Tianya Haijiao
,
Yalong Bay
,
Dadonghai
,
Sanya Bay
,
Nanshan Temple
, the First Market
Things to Do:
Sanya is one of the most popular places to visit in China in December. The first stop is the Wuzhizhou Island, where you can see the tropical scenery and enjoy water entertainments like jet skis and water parachutes. This is also a good place for diving and watching the sunrise. The Yalong Bay features the clearest water and beautiful beaches, and also contains many upscale resorts where you can play golf and enjoy spas. Appreciating strange stones in Tianya Haijiao is an interesting activity, too. For Buddhists, Nanshan Temple is a holy place and you must go and visit the 108-meter high Bodhisattva Statue which is amazing. Last but not least, taste some delicious sea food in the First Market.

Recommended Tour:

5 Days Haikou & Sanya Tour
3
Harbin: An Ice and Snow World
Location:
Heilongjiang Province
, Northeast China
Harbin Temperature in December
: about -20°C ~ -9°C (-4°F - 16°F)
Weather: Very cold, windy
Highlights:
Sophia Cathedral
,
Central Street
,
Ice and Snow World
,
Sun Island Scenic Area
,
Ice Lantern Garden Party
,
Yabuli International Ski Resort
Things to Do:
Harbin is worthy of the name of Ice World in December. Besides the famous Sophia Cathedral and Central Street with Byzantine architecture style, you can enjoy skating and skiing in the Sun Island Scenic Area. Also, you cannot miss the stunning ice sculpture exhibition in the Sun Island Scenic Area. However, the most expected thing in Harbin during December is the Ice and Snow World, which is the largest ice and snow art exhibition in the world so far. The colorful lights, spectacular ice and snow sculptures of the world's famous buildings and interesting performances form a magic fairyland.

Recommended Tour:

6 Days Harbin Tour to Snow Town & Yabuli
Location: East China
Shanghai Temperature in December
: about 2°C ~ 11°C (36°F - 52°F)
Weather: Cold, humid, more rainy days
Must-sees:
The Bund
&
Huangpu River
,
Disneyland Park
,
Nanjing Road
,
Yu Garden
,
Old City God Temple
,
Tianzifang
Things to Do:
In this period, although cold, Shanghai is still a charming city and one of the best places to travel in December. Roaming in the Bund and taking a cruise along the Huangpu River is a good way to appreciate the exotic buildings and skyscrapers. Enjoying the exquisite Yu Garden and tasting snacks around the crowded Old City God Temple can give you a unique experience. Shanghai Disneyland Park is the first Disney Park in mainland China and also the largest one in Asia. You can have a good time with families or friends here. Tianzifang is an interesting place where there are many special and creative shops and you can purchase some featured souvenirs.

Recommended Tour:

Shanghai Mini Group Day Tour to Zhujiajiao & the Bund
Location:
Sichuan Province
, Southwest China
Chengdu Temperature in December
: about 5°C ~ 11°C (41°F - 52°F)
Weather: A little cold, gloomy
Highlights:
Panda Base
,
Wuhou Temple
,
Jinli Street
,
Chunxi Road
,
Wide and Narrow Alleys
,
Sanxingdui Museum
,
Dujiangyan Irrigation Project
, Hot Pot
Things to Do:
In the cold winter, eating the spicy hot pot in Chengdu is undoubtedly an enjoyable thing, especially for those who are addicted to spicy food. However, if you cannot stand the spicy food, a clear soup hot pot will be a good choice. Besides the popular hotpot, Chengdu is also famous as the hometown of giant pandas and watching pandas is a must-do activity if traveling to Chengdu. Both Jinli Street and Wide and Narrow Alleys are ancient streets lined with local snacks and bars, which are especially suitable to enjoy night life. What's more, if you want to appreciate some historic relics, you cannot miss the Sanxingdui Museum and Dujiangyan Irrigation Project.

Recommended Tour:

Chengdu Day Trip to See Pandas and Sichuan Cuisine Museum
6
Mt. Emei: A Buddhism Mountain with Magnificent Winter Views
Location:
Leshan City
, Sichuan Province
Mt. Emei Temperature in December: about -7°C ~ 1°C (19°F - 34°F)
Weather: Cold, foggy and snowy
Highlights: Clouds Sea, Buddha Rays, Rime, Sunrise and Sunset
Things to Do:
Mt. Emei is one of the top destinations in December. As one of the four famous Buddhism Mountains in China, it enshrines many Buddhas from the mountain foot all the way to the summit. Besides, catching a sunrise or sunset on the summit can be very enjoyable. The white transparent rime scenery on the mountain is also impressing. Standing on the top of mountain, you will have an opportunity to enjoy the Clouds Sea, too. The clouds assemble together and roll with the wind forming various shapes. Another amazing view is the Buddha Rays, which is an aura with several colors appearing under the sunshine. It is seldom seen but appears more frequently in winter.

Recommended Tour:

5 Days Chengdu Tour to Leshan Buddha & Mt. Emei from

$759
- Last updated on Mar. 10, 2021 -