Sanya Travel Guide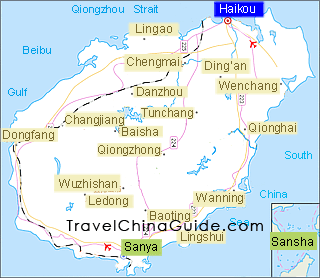 Sanya Facts
Chinese Name: 三亚 (sān yà )
Population: 614,647
Area: Land Area: 1,921 square kilometers (742 square miles); Sea Area: 3,500 square kilometers (1351 square miles)
Location: in the south of Hainan Province, southern China
Administrative Division: 4 districts (Haitang, Jiyang, Tianya, Yazhou)
Area Code: 0898
Zip Code: 572000
GDP (2019): CNY 67.786 billion (USD 9.825 billion)
Known as the "Hawaii of China"
Sanya is located in the south end of Hainan Island, adjacent to Lingshui County on the east, Ledong County on the west, Baoting County on the north and the South China Sea to the south. Sanya is the only city in China that can enjoy the tropical rainforest and ocean scenery at the same time. Surrounded by mountains on three sides, Sanya presents integrated beautiful sceneries of beaches, seas, mountains and rivers. Many hills also provide a commanding point for overlooking this city. Besides, the sea water is clear with high visibility and moderate water temperature, which is suitable for swimming all year round. Numerous egrets live in the evergreen mangroves on both sides of two rivers in the west and east of urban Sanya. All the above make Sanya a paradise for habitation, tourism and vacation.
Citizen from 59 qualifying nations is exempted from Chinese visa if he or she is received by a travel agencies in Hainan Province and has 30 days visa-free entry to Hainan.
For most travelers, Sanya is a noted tourist resort with mountains, rivers and the best seaview. The favorable climate is hot in summer but warm in the three other seasons so attracting large numbers of followers from both home and abroad every year. The whole city is related to the sea. Here you can enjoy a unique tropical oceanic landscape that is totally different from the other provinces of China. Sanya Bay, Dadonghai, Haitang Bay and Yalong Bay all golden seaboards of Sanya, are some of the first choices for visitors to spend their holidays. Instead of a busy and exhausting journey, you can relax totally here by strolling along the beaches and breathing the fresh air. If you are an enthusiast of exciting water activities, Wuzhizhou Island is your place to challenge the mysterious and changing sea. Additionally more than 20 ethnic groups including Han, Li, Miao, Hui inhabit there becoming a wonderful place to appreciate the various cultures of China. In Binglanggu Li & Miao Cultural Heritage Park and Yanoda Rainforest Cultural Tourism Zone, you can fully experience local ethnic customs.

See also: Top 10 Things to Do in Sanya
7 Most Beautiful Beaches in Sanya
| | |
| --- | --- |
| | Tianya Haijiao |
Recommended Tours
Beach Travel in Haikou & Sanya: 5 days to the beautiful beach resorts



More China Tour Packages

See also
Sanya Phoenix International Airport
How to Travel between Haikou and Sanya
Top 6 China Family Holiday Destinations

See also:
Best Time to Visit Sanya
Sanya Travel Tips

Further Reading:
Top 10 China Destinations for First Time Travelers
China Honeymoon: 10 Best Destinations for Couples
8 Major Cities in China for Enthusiastic Shoppers
10 Most Beautiful Cities in China
- Last updated on Aug. 08, 2023 -
Questions & Answers on Sanya Travel
Asked by Jade from KOREA | Aug. 07, 2023 21:31

Reply
visit china as an Irish person living in South Korea
Hello I am Irish living in South Korea as an English teacher. I want to visit Sanya, China, What steps and documents are required for this process?
Answers (1)
Answered by Alex | Aug. 08, 2023 19:38

0

0

Reply
If you only visit Hainan Island (where Sanya is located), you can make use of Hainna 30-day visa-free access. Just register with a local agency, and provide hotel and return flight orders. Recent feedbacks also say it is not necessary to register with a local agency anymore, which needs to be proved anyway.

If you also plan to visit other destinations in the mainland of China, then apply for a visa in advance in South Korea.
Asked by Mark wayne Cooper from UNITED STATES | Jul. 08, 2023 16:02

Reply
is this Hainan 30-day visa free visit a free 30 day visit with no visa??
Is this a non visa 30 day event? thanks
Answers (1)
Answered by Lara | Jul. 10, 2023 01:18

0

0

Reply
Yes, you understand it perfectly right. But return flight ticket and hotel reservation are required and you can only stay within Hainan.
Asked by Gito from UNITED KINGDOM | Jun. 08, 2023 10:35

Reply
DRIVING LICENSE IN SANYA
Hello

I am British and Mauritian citizen ,meaning holding two passports.
With Mauritius one I dont need a visa.
I have a British Driving License.
How do I get a Sanya Driving License in order to drive in Sanya legally

Need an answer urgently
Thanks a lot

Answers (1)
Answered by Molly | Jun. 08, 2023 20:08

0

0

Reply
If you just travel to Sanya, it is not recommended to get a Chinese driving licence. Because it takes much time to prepare exams and documents, generally over one week.
Asked by Quadflieg from BELGIUM | Apr. 26, 2023 08:31

Reply
planning to travel to Sanya late dec. 2023
Hi, we are planning to visit Hainan ...we are Belgium passport holders. Do we need a travel agent to get a VOA if we start from Hong Kong? if Yes, do we first have to visit a travel agent in Hong Kong or how does these things works? How is the weather late December? Which is the easiest way to get from Hong Kong to Sanya?
We are elderly people but still like to travel independent...we don't need a visa to travel to HK ...
Answers (1)
Answered by Anne | Apr. 26, 2023 23:52

0

0

Reply
Hi, according to the official policy, registering a local travel agency is must but you don't have to join a group tour. However, someone recently also reported that only round-trip tickets and hotel reservations are needed. It is still suggested to register a Hainan travel agency.
Asked by Ahmed Sameh | Jun. 28, 2020 07:27

Reply
Which beaches are free to swim at in Sanya?
Answers (1)
Answered by Emery from FINLAND | Jun. 28, 2020 20:52

0

0

Reply
Don't worry. There are many beaches in Sanya are free, such as Sanya Bay Yemeng Changlang Beach and Dadonghai Beach.