Hainan 30-Day Visa-Free Access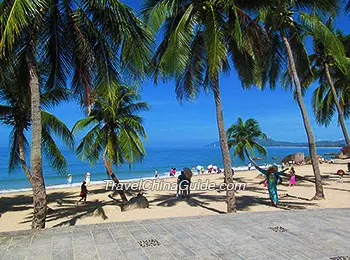 Tianya Haijiao Scenic Area in Sanya
Since May 1, 2018,
Hainan
has adopted new visa exemption access, which stipulates foreign citizens holding the passport of 59 qualifying countries can have 30 days visa-free entry to Hainan. With this new visa-free policy, individual passengers from these 59 countries can travel in all areas of Hainan Province for 30 days without a Chinese visa so long as they are received by Hainan travel agencies. This visa-free access will count its 30 days duration from 00:00 the day following the entry date. In other words, aliens can probably stay in the province for just over 30 days in practice.
Who Will Be Entitled to the Hainan 30-Day Visa-Free Access? -59 Qualified Countries
25 Schengen Agreement Countries: Austria, Belgium, Czech Republic, Denmark, Estonia, Finland, France, Germany, Greece, Hungary, Iceland, Italy, Latvia, Lithuania, Luxembourg, Malta, Netherlands, Norway, Poland, Portugal, Slovakia, Slovenia, Spain, Sweden, Switzerland

15 Other European Countries: Russia, the United Kingdom, Ireland, Cyprus, Bulgaria, Romania, Ukraine, Serbia, Croatia, Bosnia-Herzegovina, Montenegro, Macedonia (FYROM), Albania, Belarus, Monaco

6 American Countries: the United States, Canada, Brazil, Mexico, Argentina, Chile

2 Oceania Countries: Australia, New Zealand

11 Asian Countries: Korea, Japan, Singapore, Malaysia, Thailand, Kazakhstan, the Philippines, Indonesia, Brunei, United Arab Emirates, Qatar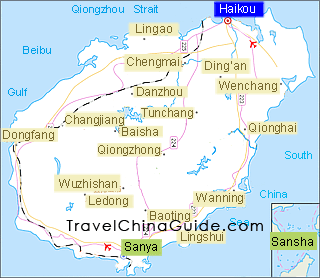 Areas Allowed to Stay
What Are the Areas Covered by the Arrangement?
Foreign passengers eligible for this 30 days visa exemption entry can only travel among the administrative areas inside Hainan Province, such as the famous cities of Haikou, Sanya, as well as Sansha, etc. Going to other Chinese areas from Hainan is not allowed if entering mainland China by using this Hainan visa-free regulation. It's also prohibited for qualified aliens' stayover time in this province to exceed 30 days.

Those wishing to extend their stayover time, visit other provinces and cities in China, or depart from Hainan prior to their scheduled departure time, can ask their travel agency to help them apply for a regular Chinese visa, stay permit or exit formality from the Exit and Entry Administration Department of the local Public Security Bureau.

Application for Hainan 30-Day Visa-Free Access
Requirements:

Valid passport/Travel Document valid for at least 3 months from the date of entry

Travel Itinerary to Hainan
Procedures:
You can submit an identity certificate and travel arrangement to Hainan agencies through a travel agency in your country, and then Hainan's travel agencies will apply for the visa-free entry on your behalf from Hainan public security organ and frontier inspection office.
What Are the Eligible Ports for Hainan 30-Day Visa-Free Access?
All airports and ship ports are qualified ports of this 30 days visa exemption. So long as you are picked up by a Hainan travel agency from any port, you can enjoy the 30-day visa-free policy.

There are many international flights arriving in Hainan from different countries or regions every day, such as Singapore, Hong Kong and Thailand. You can also reach Hainan directly by international cruise ships departing from Japan, the Philippines and so on.



Main Airports in Hainan
Highlights in Hainan
World-renowned Tourist Attractions
As a romantic tourist resort in south China with rolling hills and tropical rainforests, sea island of Hainan possesses gorgeous natural seaside sceneries. Especially the seductive
Yalong Bay
and scenic
Tianya Haijiao
of Sanya should not be missed.
| | |
| --- | --- |
| Yalong Bay | Wuzhizhou Island |
Boao Forum for Asia
Boao Forum for Asia's headquarters is located in Boao of Hainan. Annually in March or April, many state leaders come to Hainan together to negotiate for development of the world.
By utilizing this 30 days visa-free access, it's convenient for you to make a trip or take part in the business or official conference in Hainan.

Recommended Guided Tour:
5 Days Haikou & Sanya Tour
The 30-day Hainan landing visa is still issued at available ports in Haikou and Sanya, and it is permitted to exit mainland China from other Chinese ports. You can extend the Sanya visa on arrival if wishing to stay longer in China.



Further Reading: China Visa Policy