Yalong Bay (Asian Dragon Bay)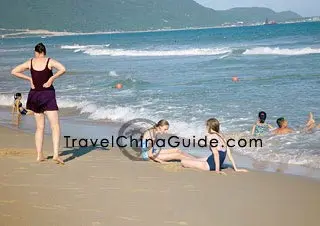 Yalong Bay (

Asian Dragon Bay

)


More Pictures
Yalong Bay
(

Asian Dragon Bay
) boasts unparalleled beauty. The 7.5-kilometer (4.7-mile) long, crescent-shaped bay with an area of about 18.6 square kilometers (7.2 square miles) is one of the famous scenic spots in Hainan Province.
With the average temperature of a pleasant 78 °F (25.5 °C) all year round, Yalong Bay is situated in the southernmost part of Hainan Province, about 25 kilometers (15.5 miles) away from the tropical seaside tourist city, Sanya. The scenery is amazing, with endless rolling hills, serene gulfs, clear blue sea and silvery sand beaches - three times as long as any in Hawaii. Home to several well-preserved coral reefs with tropical fish of varied kinds, colors and shapes, the ocean here is crystal clear, allowing visitors to view underwater sights up to 10 meters (33 feet) deep from the surface.
Yalong Bay boasts the five essential elements of modern tourism: sea, sands, sunshine, lush green plants and fresh air. In 1992, the Secretary - General of the World Tourism Organization once marked that this bay embraces the unique and unparalleled natural settings, sands, crystal sea water, endless seashore, unspoiled hills and pristine vegetation, making it a paradise for holiday travelers.
| | |
| --- | --- |
| Coconut grove | Go to drive a motorboat |
Because of the unbeatable environment, Yalong Bay Resort was authorized by the State Council in 1992. The unique state-level tourist resort is characterized by its tropical ambiance - the resort holds seaside parks, deluxe villas, conference centers, top-end hotels, golf-courses and so on. In recent years, with the perfection of facilities, thousands of travelers are attracted by its unique charm to swarm to this ideal place for vacation. And it is the first choice for people who conduct conferences and matches, including the New Silk Road Model Look China representing the top level model contests in China.
| | |
| --- | --- |
| Beach umbrellas | Play in the sand |
Tips
Be sure to sample the unique seafood and don't miss specialities like the crystal and pearl ornaments. For an easier time getting to the Yalong Bay, take a taxi when you arrive in Sanya. In the resort, there are hotels, such as Gloria Resort Sanya and Horizon Resort and Spa.


How to get to Yalong Bay
1. Buses 15, 24, 25, 27 are available. They respectively travel between Yalong Bay and Sanya Railway Station,
Tianya Haijiao
,
Taoist Fairyland Park
, and
Phoenix International Airport
.
2. Take a taxi to the destination. If you depart from downtown, the cost is around CNY 70. Remember you need to bargain with the driver.

Admission Fee & Opening Hours
The beach is open for free all day long.
---

Nearby Attraction
Near the beach, there is the Ailifang Seashore Park. In the centre of its square stands a Totem Pole of 89 feet (about 27 meters), on which the God of Sun, and Gods of Wind, Rain, and Thunder as well as those legendary animals such as Dragon, Phoenix, Kylin and Fish are engraved. The design of this square embodies the Chinese civilization of 5,000 years and has received recognition in winning the Luban Prize - awarded to the top level design of architecture in China.

The Shell Hall is another highlight in the park. With the shell as its theme, it is a comprehensive exhibition hall combining exhibition and shopping. When traveling through the hall, visitors will be surrounded by natural wonders dazzling each of the senses.

In the north of park is the Butterfly Valley, which presents the most precious species of butterflies in China and other countries as well.
Tips:
It's free to enter the park; now the valley is closed and the reopening time is unclear.



Further Reading:


7 Most Beautiful Beaches in Sanya


Where to Stay in Sanya - 6 Best Areas


Top 10 Things to Do in Sanya


Top 10 Things to Do in Hainan


15 Most Beautiful Places in China
- Last updated on Jun. 12, 2023 -
Questions & Answers on Yalong Bay (Asian Dragon Bay)
Asked by Jack Chang from USA | Jun. 11, 2023 16:44

Reply
visa to China
I understand that by booking with a chinese agency, a U.S. Citizen does not need visa to travel to China ?
Answers (1)
Answered by Candice | Jun. 12, 2023 02:00

0

0

Reply
You mean the Hainan 30-day visa-free access? Yes, you can enter Hainan without a visa as if you register a local travel agency, according to the official document. However, recent feedbacks from tourists say one can enter even without registering a local agency, just based on your return flight ticket and hotel orders. Nevertheless, you can only stay within Hainan, and it is not allowed to go to other mainland Chinese cities.
Asked by stella Corby from CANADA | Aug. 20, 2016 14:11

Reply
Is there an international school on the Sanya Island?
Answers (1)
Answered by Mint from INDONESIA | Aug. 20, 2016 20:59

0

0

Reply
As I know, there is a Sanya Foreign Language School specially for children of foreigners. It is located at Luhuitou Road. You can go there to check it out.
Asked by Pedro from BRAZIL | May. 27, 2015 09:54

Reply
Camping at Sanya
Hello,
I would like to know if there is any camping site or if its allowed to camp at some beach there?

All the beaches in the city have some fee to get in?

Thanks,
Answers (1)
Answered by Wendy from THAILAND | May. 27, 2015 21:46

3

0

Reply
Yes, in SY Bay, Dadonghai, Yalong Bay, Xidao Island Beach, you can camp there. These beaches as well others are all for free.

Personally, you can go to Dadonghai, it is a perfect free place for camping. Have a try there.
Asked by Eduardo from USA | Mar. 04, 2015 23:37

Reply
How much will cost to get in the motorboats at Asian Dragon Bay, Sanya?
Answers (1)
Answered by Lisa from FRANCE | Mar. 04, 2015 23:52

0

0

Reply
As I know, it is around CNY200-300 for 10 minutes.
Asked by Ak from CHINA | Dec. 22, 2013 19:53

Reply
I am staying in sanya... Kindly let me know the best way to travel from sanya bay to Asian dragon bay..
Answers (1)
Answered by Eda from NETHERLANDS | Dec. 23, 2013 00:39

0

1

Reply
Hi, there is bullet train service between Sanya city and Yalongwan and it takes no more than 10min. Besides, local bus no. 15 can directly take you there.