Tianya Haijiao (literally 'edge of the sky, rim of the sea')
Tianya Haijiao, a romantic and beautiful scenic spot, lies to the west of Sanya City, Hainan Province. It receives many visitors from home and abroad every year since its open in 1988. It also attracts thousands of young lovers from every corner of the world to hold their wedding ceremonies here.
Tianya Haijiao means 'the furthermost part of the sky and the sea' in Chinese, suggesting an unattainable place. In the past, Chinese people believed that the sky was square and the earth was round. Therefore there was definitely a furthermost part of the sky and the earth. Hainan Province, the southernmost part of China, was believed to be the location of Tianya Haijiao.
Story of the Thress Stones in Tianya Haijiao
The Tianya Haijiao Scenic Spot sits on Maling Mountain facing the sea. Walking along the seashore, you will see a stone carved with four characters Nan Tian Yi Zhu, which means 'a pillar standing in the southern part of the sky' in Chinese. The story goes that when the local fishermen's daily life was affected by terrible storms, and they could hardly catch the fish, two kind-hearted fairy maidens transformed themselves into two large stones and stood on the beach to shelter the fishermen. From that time fishermen were safe from storms whenever they went to sea. But the maiden's master, the Mother Goddess of Heaven, was so furious that she dispatched the Thunder God to drag them back to Heaven. The two maidens refused, so the Thunder God broke them in two. One of them was thrown into the sea and the other one was left here. Near the remaining one lies another stone carved with the Chinese characters Hai Pan Nan Tian, which means 'the sea and the sky joined together'. It is the oldest stone inscription to be found here.
| | |
| --- | --- |
| The elephant by the sea | Tianya Haijiao Scenery |
Walking on for a further 500 meters (1600 feet), you will see a stone carved with the characters of Tianya and another stone carved with the characters of Haijiao. There is a romantic Romeo and Juliet story about these two stones. In ancient times, two young lovers eloped when their parents disapproved of their marriage. Unfortunately, when they arrived in Hainan, agents, sent by their parents, were also there. Facing the sea, they had no escape. They were so sad that they just held each other as they jumped into the sea. Suddenly, there was a thunderstorm. They were hit by lightning and changed into two stones, with the agents turned into many smaller stones around. Now people regard these two stones as symbols of eternal and faithful love. Because of this beautiful and romantic story many young lovers choose this place for their wedding ceremony.
Things to Do in Tianya Haijiao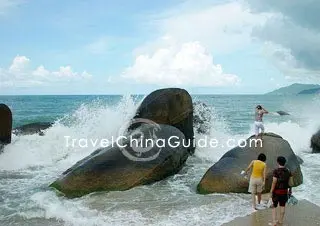 The sprindrift
Besides the three stones, modern facilities can be found such as a Shopping Center, the Li Ethnic Group Village and a Celebrity Sculpture. An international wedding festival is celebrated in Tianya Haijiao every year. Around the Mid Autumn Day, there is a Lantern Festival, which adds to the special atmosphere.
This area is a heaven for people who are head over heals in love, and also an ideal place for people who are deeply in love with the sea. You will definitely have fond memories after visiting this scenic spot.
How to get to Tianya Haijiao
You can take bus 16, 25, 26, 32, 55, 57 or Tourist line to Tianya Haijiao.
Entrance Fee
October - April: CNY 81
May - September: CNY 68
Half price for children between 1.2 - 1.4m (3.9 - 4.6ft);
Free for children under 1.2m.
Opening Hours
7:30-18:00

Further Reading:


7 Most Beautiful Beaches in Sanya


Top 10 Things to Do in Sanya


Top 10 Things to Do in Hainan

- Last updated on Nov. 12, 2021 -
Questions & Answers on Tianya Haijiao (literally \edge of the sky, rim of the sea\)
Asked by James from SINGAPORE | Mar. 05, 2018 08:37

Reply
From Jinjiang Inn (Sanya International Shopping Centre) to Tianya Haijiao & Nanshan Temple
Hi,

May I know how to travel from Jinjiang Inn to the 2 places?

I intend to visit Tianya Haijiao then to Nanshan Temple. Is it advisable to visit 2 places in one day?

Kindly provide me with the transportation by bus and the duration. Btw, where is West Station of Sanya City?

If I were to travel by taxi, how much will it cost roughly for each place?

Thank you!
Answers (1)
Answered by Black from SWEDEN | Mar. 05, 2018 21:14

0

0

Reply
You can take bus 26 to Tianya Haijiao and it takes about 1h, 4yuan.
To the temple, you can take bus 55 from Tianya Haijiao to Nanshan, and it takes about 70mins, 5yuan.
The west bus station is in the 225 National Highway, Tianya Dis., and you can take bus 16 from your hotel to Keyun Xizhan (West Bus Station).
Asked by abhay | Jan. 28, 2016 06:54

Reply
how can I reach tianya haijiao from luling lu.
bus would be preferred.
Answers (1)
Answered by Jennie from USA | Jan. 29, 2016 23:34

2

0

Reply
You can take bus no.25 from the Luling Road Crossing to get there directly. Have fun~
Asked by Jojol from SINGAPORE | Jan. 07, 2015 09:49

Reply
Tianya Haijiao (Wedding) for Wedding
Hi, as mentioned in the article above, people holds wedding ceremony at Tianya Haijiao. May I know how to book the place? Who do I contact? Thank you.
Answers (2)
Answered by Jason from RUSSIA | Jan. 08, 2015 01:40

1

1

Reply
You can have a try in the official website. I remember it has English version.
You can contact tianya

aitianya.cn, or just call 0086-898-88910131
Answered by Jojol from SINGAPORE | Jan. 08, 2015 06:50

3

2

Reply
thank you so much!! :)