Sanya Attractions - Things to Do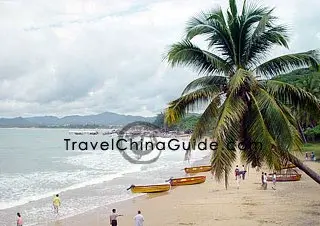 Tianya Haijiao
The view of bright sunshine, blue water and wide beaches at Sanya, the southernmost tip of Hainan Province, attracts many regular visitors from both home and abroad year upon year. It is said that Sanya has the most well-preserved and beautiful beaches in all of China. All of the local destinations are linked to water, hence it attains its reputation as being the 'oriental Hawaii'. Now, this city is well known and admired as a famous coastal tourist city, with a favorable climate that includes good sunshine, seawater, beaches, green vegetation and pure air.
Top Things to Do

Tianya Haijiao

Yalong Bay

Dadonghai

Sanya Bay

Wuzhizhou Island

Nanshan Temple

Haitang Bay
Tianya Haijiao (literally 'edge of the sky, rim of the sea'), which is 15 miles (about 24 kilometers) away from the downtown center, just as its name means that it will take you to the end of heaven and earth. Ancient history recalls a beautiful love story that relates to this particular beauty spot that is enhanced by a blue sky and pure, clear seawater of Tianya Haijiao. There are three famous huge rocks here that attract lots of visitors, and many who take photos in front of them, as the Chinese characters of Tianya, Haijiao and Nantian Yizhu are respectively engraved on them.
This place has never run short of beautiful bays for visitors to enjoy. The Yalong Bay (Asian Dragon Bay), Dadonghai and Sanya Bay are the top three holiday resorts there. According to their quite different natural beauties and appearance, the Asian Dragon Bay is praised to be a virgin and the Dadonghai represents an elegant lady and Sanya Bay is regarded to be an unadorned fisherman's daughter. You can definitely go to any of them to enjoy your holiday.
| | |
| --- | --- |
| Yalong Bay | Enjoy the sunshine |
Besides the above three bays, there is also Wuzhizhou Island, which is in Haitang Bay, north of Sanya City, attracting lots of the medium and high-end tourists every year. A gorgeous natural landscape, combined with various tourist facilities and well-developed entertaining events on the island support visitors and provide a paradise destination, just perfect for spending holidays at. The island is readily accessible. Visitors can take bus 28 to Wuzhizhou Island Wharf, or take a taxi to get there.
The Nanshan Temple in Nanshan Culture Tourism Zone is located 25 miles (about 40 kilometers) away from the west of city, and is certainly worth visiting. It is the most famous Buddhist temple in Hainan Province, and faces the South Sea and is encircled by mountains on both its sides. There are several ways to guide you to the temple, but the most convenient route is to take the buses that can reach there directly via the Jiefang Second Road in the city. The entrance fee is CNY150 per person.
Other Attractions

Luhuitou Peninsula

Monkey Island

Nanshan Culture Tourism Zone

Dongtian Park

Boundary Island

Binglanggu Li & Miao Cultural Heriatge Park

Yanoda Rainforest Cultural Tourism Zone

Atlantis Sanya
&
Aquaventure Waterpark

7 Most Beautiful Beaches
There are also some additional destinations there that eagerly await your visit. For example, the Luhuitou Park which is located in the Luhuitou Peninsula of Sanya is noted for its beautiful legend. And the Monkey Island is the only tropical island-type nature reserve for macaques. It also boasts many special scenic spots, such as a long oversea ropeway, unique rafts and a good sand beach. In addition to these well-known attractions mentioned above, up-rising stars such as Binglanggu Li & Miao Cultural Heriatge Park and Yanoda Rainforest Cultural Tourism Zone will impress you with enchanting tropical natural landscapes, accompanied by the rich culture of local ethnic minorities. Don't hesitate any longer, add Sanya as your 'must visit' holiday destination, and you can be assured of a very warm welcome and a great holiday!
| | |
| --- | --- |
| On the seashore | Edge of the sky, rim of the sea |

Further Reading:
Top 10 Things to Do in Sanya
- Last updated on Apr. 15, 2021 -
Questions & Answers on Sanya Attractions
Asked by Rinki from INDIA | Jul. 20, 2019 10:10

Reply
I am going to SANYA from Guangzhou for 4 days
where should I go first and then how I spend my days and where?
Answers (2)
Answered by Damon from USA | Jul. 23, 2019 19:27

0

0

Reply
If you want to enjoy beach time, you can go to Yalong Bay, Sanya Bay, Dadonghai, etc. And other attractions like Dongtian Park, Nanshan Temple are also worth visiting.
Answered by Nancy from KOREA | Dec. 07, 2019 05:28

0

0

Reply
Yes,Sanya is a great city.
Asked by Tracy AW from UNITED KINGDOM | Sep. 10, 2018 04:32

Reply
Which month(s) during 2019 would be best to visit Sanya - we like hot weather
Also, what clothes should we bring, is there a lot of rain / would we need any warm clothes or rain coats please? Also, can anyone help me in souring in China manufacturers of swimwear, beach wear, water shoes, ladies designer footwear etc. Water shoes that you can wear/use in the pool and at the waterparks to stop you feet from burning off the hot ground.
Answers (1)
Answered by Amy from JAPAN | Sep. 11, 2018 23:36

0

0

Reply
From May to September, the temperature is about 30C and it's not cold at all. You don't need to prepare warm clothes. Wearing a coat in the rainy days is enough. Preparing a rain coat or an umbrella is very necessary. You can buy those swimwear in any shops near the beach and in some large malls.
Asked by Mariann Duvald Sørensen from DENMARK | Feb. 03, 2017 05:47

Reply
Is it possible for foreign tourists to visit Wenchang Satellite Launch Center ?
My husbond and I plan to visite Hainan on our tour to China. We would like to visite the Wenchang Satellite Launch Center. Is that possible? Do we need any permission to visite the center?

Mariann Duvald Sørensen
Denmark
Answers (3)
Answered by David | Feb. 03, 2017 21:06

2

0

Reply
Presently, it is only open to Chinese citizens. I'm sorry for that.
Answered by Mariann Duvald Sørensen from DENMARK | Feb. 04, 2017 03:31

0

0

Reply
Thank You

Do You Think, it Will be possiblein the future?

Mariann
Answered by David | Feb. 04, 2017 03:40

2

0

Reply
I don't think it's possible in the near future, at least a few years. But hard to say in the far future.
Asked by vg | Dec. 01, 2016 00:35

Reply
Best hotel in Sanya for a family with kids prefarably near the beach. we need to escape winter.
Answers (1)
Answered by Lily from USA | Dec. 01, 2016 03:12

0

0

Reply
You may stay at Horizon Resort & Spa Hotel at Yalong Bay National Tourist Resort. It has a private bench. The hotel provides comfortable environment and good service. A standard room costs about CNY 1,000 per night. The reservation hotline is 86-0898-88567888. Have a try! :)