Sanya Transportation
Getting there
Air

Sanya Flights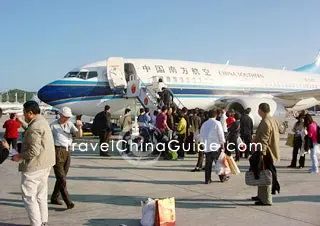 Getting there by Air
Phoenix International Airport is located to the northwest of central Sanya, provides flights to 80 cities in home and abroad.

Airport Transportation
: Airport Shuttle Bus and taxis can carry passengers to the downtown area as well as tourist attractions very conveniently.

Visa-Free Policy
:
1. Citizens holding ordinary passports issued by the following nations is exempted from applying for a visa if he or she joins international tourist group organized by any of the registered travel agencies in Hainan Province which is approved by China National Tourism Administration and stay up to 15 days: Australia, Austria, Canada, Denmark, Finland, France, Germany, Indonesia, Italy, Japan, Kazakstan, Malaysia, Netherlands, New Zealand, Norway, Philippines, Russia, South Korea, Singapore, Spain, Sweden, Switzerland, Thailand, U.K, Ukraine, U.S.
2. Visa-Free Policy with a validity of 21 days is available for travel groups of 2 or more members who hold passports of Russia, Korea and Germany.
Long-distance Bus
The city's Main Bus Station is located in Jiefang Erlu. There are nearly 100 long-distance buses to every county or city of Hainan as well as about 20 buses to some other provinces such as Guangdong, Guangxi, Hunan, and Jiangxi. Departure times range from 07:00 to 23:00 everyday.
The special express bus bound for Haikou departs every 20 minutes. It will take you about three hours from Sanya to Haikou via the eastern highway and about 3.5 hours via the western highway. The ticket fee is CNY79 for a deluxe bus and CNY49 for an ordinary bus.
Train

Sanya Railway Station
The station is situated in Yuxin Road in Jiyang District. It has only 5.5 miles distance with the airport. One can take Bus 8 from the airport and get off at Shui Li Da Sha Station. Then change to Bus 4 to the terminus, the railway station. If by taxi, it takes half a hour or so, and the taxi fare is around CNY50.There are trains runs to Haikou and Beijing. Except T201/2, all the trains there are high speed ones. Bus nos. 4, 5, 10 (Inner Ring), 20, 22, 30 can reach there.
In April 18th, 2007, the Western Railway in Hainan began operation after nearly two years' construction. The railway is 370 kilometers long (230 miles), winding along the western coastline of Hainan Province via several cities and scenic areas. You can now get on and off the fascinating island by train without making a lot of changes. Now, trains run direcly between the Railway Station and Guangzhou or Beijing via
Yuehai Railway
which is the the first cross-sea rail line in China. These passenger trains are air-conditioned and each has 18 carriages with excellent facilities. Passengers from Shanghai, Xi'an and Chengdu can take trains first to Haikou and then transfer to Sanya by train or bus.
| | | | |
| --- | --- | --- | --- |
| | Departure Time | Arrival Time | Runtime |
| Z202 (To Beijing West) | 17:20 | 06:42 (the third day) | 37h22m |
| Z201 (From Beijing West) | 17:56 | 08:55 (the third day) | 38h59m |
| Z386 (To Guangzhou) | 06:30 | 22:44 | 16h14m |
| Z385 (From Guangzhou) | 05:22 | 21:25 | 16h3m |

Major Rail Lines from Sanya to:
| | |
| --- | --- |
| Sanya Railway Station | On the Platform |
The high-speed Hainan Eastern Ring Railway which is the No. 1 project in Hainan Province has been in service since December 30, 2010, along with the new station building of Sanya Railway Station. Multiple unit trains are available between Haikou and this city. At the beginning, there are ten every day from Haikou Railway Station or Haikou East Railway Station, via Meilan, Wenchang, Qionghai, Boao, Wanning, Lingshui and Yalong Bay. The travel time from has been shortened from 3-4 hours into 1.5 hours. The earliest train D7301 leaves at 07:00 and the last (D7319) at 20:30 from Haikou East. Passengers can take D7305 and D7317 from either Haikou or Haikou East Station. The rest (D7301, D7303, D7307, D7309, D7311, D7313, D7315 and D7319) are only available from Haikou East Railway Station. From Haikou to this city, the ticket costs CNY114 for the first class seat and CNY95 for the second class seat. From Haikou East to here, the first class ticket is CNY105 and the second class is CNY88.

Getting around
City-bus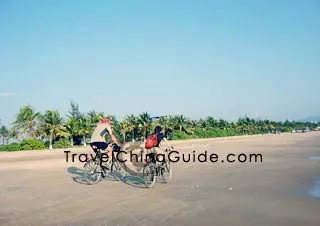 Cycling in the City
The bus traffic in this city is very convenient for a small city. There are buses to almost every county and tourist attraction. The main route is from Dadonghai to Civil Aviation Stop with the ticket fee ranging from CNY1-4 in accordance with the destinations you are bound for.

No. 2 and No. 4 can take you to Dadonghai via the Main Bus Station and the First Market with a fare of CNY1.
No. 104 can take you to Tianya Haijiao, Nanshan, and Ancient Yazhou City. The fare for a complete circuit is CNY6.

Tourist mini buses start from Western Bus Station and head towards Asian Dragon Bay, Tianya Haijiao, and Nanshan, etc. Taihe Bus will take you to Asian Dragon Bay via Dadonghai and Tiandu every 30 minutes. Buses to Tianya Haijiao and Nanshan run every 15 minutes and charge CNY4 per person.

In addition, you can also take double-decker sightseeing buses to some attractions. These buses depart every 10 minutes from Asian Dragon Bay at about 07:15 via Dadonghai, Sanya Bay and Hawksbill Island to Tianya Haijiao. The latest return run to Asian Dragon Bay is about 19:00. The tourist special bus will take you about 70 minutes for the whole journey. The fare from Asian Dragon Bay to Tianya Haijiao is CNY8.
Taxi
Traveling by taxi is a good way to get around as it is convenient and inexpensive. It is suggested to negotiate an exact fare with the taxi driver in advance for long distance travels.
The taxi charge in the city varies from car types. See details below:
Car Types
Price
Note
Flag-down Rate (for the first 2.5km (1.6mi))
Charge of Each Kilometer (0.6mi) Beyond 2.5km (1.6mi)
First Category (cars with the wheelbase shorter than 3.2m (10.5ft))
CNY11
CNY2.4
Between 23:00 and 06:00 the next day, extra 20% is charged for night-driving allowance.
Second Category (cars with the wheelbase longer than 3.2m (10.5ft))
CNY10
CNY2.2

Hereunder are taxi fares for your reference (all for single rides):
Airport – Downtown: CNY50-60;
Airport –
Dadonghai
: CNY60-80;
Airport –
Yalong Bay
: CNY80-100;
Downtown – Dadonghai: CNY30-50;
Dadonghai – Yalong Bay: CNY30-50.

Also read:
How to Travel between Shanghai and Sanya
How to Travel between Guangzhou and Sanya
How to Travel between Haikou and Sanya
- Last updated on Jun. 28, 2021 -
Questions & Answers on Sanya Transportation
Asked by Tanya from CHINA | Jun. 26, 2021 08:40

Reply
How do I get from Sanya Airport to Phoenix Island
I will live in Juejie Flat apartment
Answers (1)
Answered by Madelyn | Jun. 28, 2021 00:31

0

0

Reply
Sorry I didn't find the apartment on the map.
But to the island, you can take public bus no.8 and get off at Xinfeng Street. After arriving, take a taxi to the destination.
Asked by Alex from UNITED KINGDOM | Sep. 18, 2020 22:08

Reply
How do you pay for the buses?
Can you pay for the buses with cash or WeChat? They look like they only have an electronic card scanning system by the driver.
Answers (2)
Answered by Muhammad | Sep. 23, 2020 19:09

0

0

Reply
Don't worry. You can pay the buses with cash and Wechat.
Answered by Alex | Sep. 24, 2020 01:26

0

0

Reply
Hi, our Airbnb host gave us this account name to search on WeChat 腾讯乘车码 follow this account and you can then set up a scan code paying miniprogram that you use to pay the buses
Asked by Ed from BAY | Dec. 09, 2019 19:05

Reply
Is there a bus that goes between Dadonghai and Yalong Bay, and how often do the buses go?
Answers (1)
Answered by Daine from GERMANY | Dec. 12, 2019 00:54

0

0

Reply
The transportation is convenient. You can take public bus no.15/25 to transport between these two places. But I didn't find the frequency on the internet. You are suggested to consult the staff when you arriving there.
Asked by Uuganchimeg from MONGOLIA | Nov. 28, 2019 21:26

Reply
How to get Nanwan Monkey Island from Yalong bay?
Could you please name the bus number that we can catch from Jiyang to Nanwan Monkey Island?
Answers (1)
Answered by Lisa from THAILAND | Dec. 02, 2019 01:51

0

0

Reply
You have to interchange several times by public transport so it is suggested to hire a car.
Asked by Jessica from MALAYSIA | Nov. 06, 2019 04:40

Reply
Is there any Public Buses from Sanya Railway Station to Hotel Atlantis at Haitang Bay area?
Answers (1)
Answered by Nina from CANADA | Nov. 07, 2019 20:01

0

0

Reply
Yes, you can take bus No.35 to it directly. It takes 1.5 hours with CNY10.