Sanya Weather
Enjoying international fame as the 'Oriental Hawaii', Sanya's weather is summery all year round, with an annual average temperature of 25

C (77

F). The warm weather remains throughout the winter months. The highest temperature usually appears in June when the average temperature can be as high as 28

C (82

F). There are occasional typhoons in summer from May to September.



Best Time to Visit Sanya
The best time to travel there is between November and April. In Sanya, the tropical climate blends with the clear, fresh air to create a vacationer's paradise where flowers remain in bloom throughout the year, regardless of the season!
7-Day Sanya Weather Forecast
Averages for Sanya Weather
High/Low Temperatures of Sanya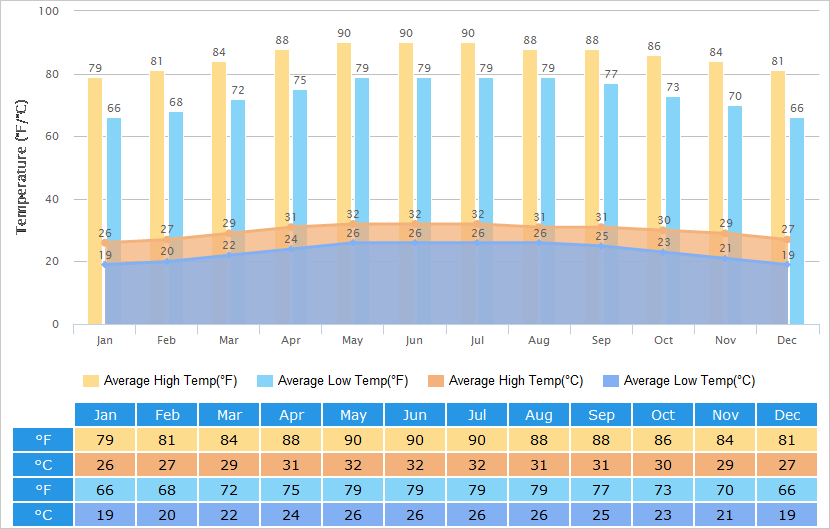 Average Temperatures of Sanya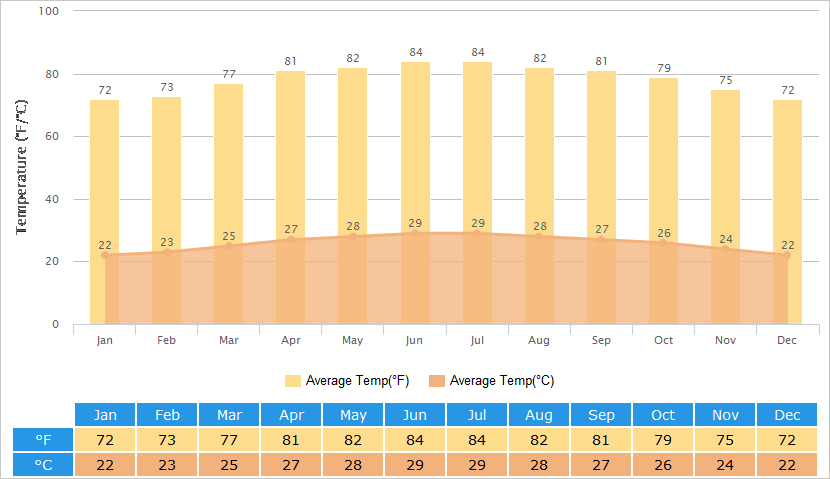 Average Rainfall of Sanya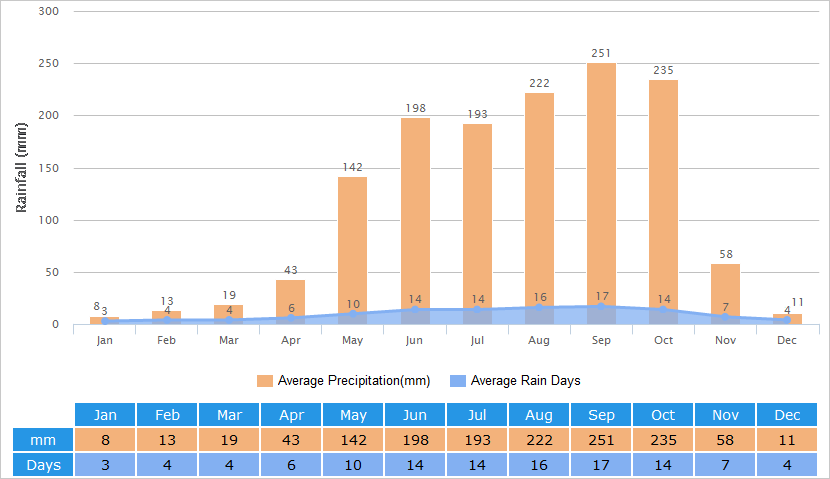 Air Quality of Sanya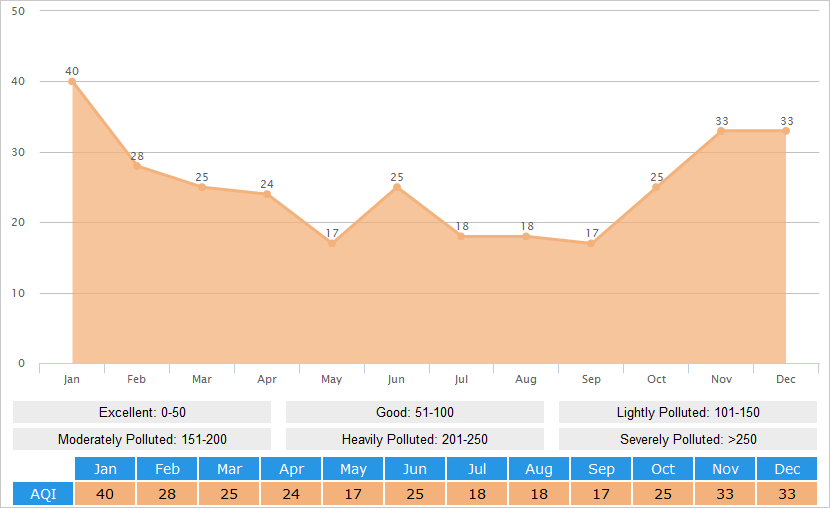 Sanya Climate - Seasons & Travel Advice
Sanya is a good tourism resort in all weather and all year round. The temperature comes to its climax in June when an average temperature of 28

C (82

F), but it still feels rather cool in the mornings and evenings thanks to the ocean breezes. Even in the coldest February, the temperature still remains around 20

C (68

F).
Spring
The temperature averages at 20

C (68

F) in spring from March to mid-May, when a short-sleeved shirt and skirt or pants is enough at the day. However, be prepared to wear more in the early morning and at night, when the weather is cool.

There is an important traditional festival of the local Li and Miao minorities on the 3rd day of March in the lunar calendar, when ethnic songs and dances are performed.
Summer
The climate of local summer, late May to mid-September, is a little hot and humid when the highest temperature can reach 36

C (97

F). A short-sleeved shirt and light skirt or pants are proper during this season. If you love to be in the ocean, it is strongly recommended that you bring several changes of clothes with you, because once your clothes are washed, they won't dry quickly due to the humid climate. Typhoons occasionally occur during this season, so also take rain wear with you.
| | |
| --- | --- |
| Sun Bathing in Winter at Sanya Bay | Enjoy the Sunshine |
Autumn
In autumn (late September to early December), both the humidity and the temperature drops, and most of the days are sunny. Long-sleeved shirts and sweaters are advisable wear during this season.

If you travel in November, you will encounter the national wedding celebration at Tianya Haijiao. On 9th of September in lunar calendar, Nanshan Leisure Cultural Tourism Festival is held in the city, which usually lasts for about a week.
Winter
Sanya weather in winter from mid-December to late February is cool and comfortable, with no frost or snow. In spite of the cold winter in other places, here you can still wear your sandals and T-shirt, roaming the seaside under the enjoyable sunshine. For swimmers and divers, it is advisable to be in the ocean between 11:00-15:00, since the temperature of the sea is cooler during winter mornings and evenings.



Tips: Strong UV sun rays in this coastal city can be quite damaging at any time of the year, so please ensure you use sunscreen with high SPF and water-proofing properties, and bring with you sunglasses, a hat and an umbrella for keeping off both rain and sunshine. Mosquito repellant is also advisable.
- Last modified on Aug. 28, 2019 -
Questions & Answers on Sanya Weather
Asked by Linda Wong from SINGAPORE | Aug. 24, 2019 22:33

Reply
I like to visit Sanya around 10-15 Sep. Where else can we visit?
Answers (1)
Answered by Downey from AUSTRALIA | Aug. 28, 2019 00:23

0

0

Reply
Well, you can visit places like Yalong Bay, Dadonghai, Sanya Bay, Nanshan Temple. You can find detailed information about attractions in this website. Hope helpful!

Asked by Ahmed from PAKISTAN | Jul. 31, 2019 17:49

Reply
Hi I would like to visit sanya on 2nd august , is it ok to visit sanya in the start of the aug?
Or there will be all rain and emergency situation all the time during moon soon rains.
Answers (1)
Answered by Zena from USA | Aug. 05, 2019 01:28

0

0

Reply
To be honest, August would not a good time to go there. People usually visit Sanya in the winter to enjoy warm and great weather. You might encounter rain or even typhoon at that time.
Asked by sakshi from INDIA | Jul. 04, 2019 20:02

Reply
Hello,i am thinking to visit Sanya in September,may be 18 September
Is it fine to visit the place that time?will there be typhoons that time too?
Answers (1)
Answered by Hill from NETHERLANDS | Jul. 04, 2019 23:48

0

0

Reply
Well, the temperature may be about 30C at that time and it may rain a lot. As for typhoons, it may appear from May to November so it is hard to say. It is better for you to pay close attention to the weather forecast before the trip.
Asked by AJ from IRELAND | May. 24, 2019 17:04

Reply
Hi, I was wondering if anyone has visited Sanya start of September
and what was the weather like? Thanks in advance.
Answers (1)
Answered by Penny from USA | May. 27, 2019 00:18

0

0

Reply
Sanya is in summer in September and it is aslo in the off season. The climate of local summer is a little hot and humid when the highest temperature can reach 36 C.
Asked by Yhoj Gatacilo from PHILIPPINED | Nov. 03, 2018 07:07

Reply
Hi, me and my ofc mates will be traveling on a cruise this coming December 4 onwards
and one of our stop overs is in Sanya China. Could anyone give me an idea in the weather and proper attire to pack? Also suggestions what places to visit? Thanks
Answers (1)
Answered by Fisia from USA | Nov. 05, 2018 19:45

0

0

Reply
The temperature in December may be about 27℃ based on the history weather data, and you may feel hot. Take your summer cool clothes, including the swimwear. Tianya Haijiao, Haijiao, Yalong Bay, Dadonghai , Sanya Bay, Wuzhizhou Island and Nanshan Temple are top attractions to see.