Sanya Weather in October
Sanya weather in October is still hot but not that hot like in previous months and the temperature fluctuates from 23-30°C (73-86°F). It is suitable to participate in outdoors activities and breathe more fresh air in the morning and afternoon.
Typhoon is possible in October; and due to Sanya's offshore location and the affection brought by typhoons, there is much rainfall in October. The average precipitation in October is 235 mm (9.2 in). If plan to visit Sanya in October, tourists are suggested to pay more attention on weather forecast.
Averages for Sanya Weather in October
Temperature: 26°C / 79°F
High Temperature: 30°C / 86°F
Low Temperature: 23°C / 73°F
Humidity: 89%
Rainfall: 235 mm
Rainy Days: 14 days
Sunrise: 06:32 ~ 06:41
Sunset: 18:10 ~ 18:31
Air Quality in October
Average AQI:25

What to Wear in Sanya in October
It is recommended to wear cool and breathable clothes during daytime, such as T-shirts, thin dresses, and thin shirts made of cotton and linen. If you worry about being sunburnt, thin long sleeved clothes are very useful. For nights, it is suitable to wear cotton linen fabric shirt and long dresses.


Where to Go in Sanya in October
Water entertainments are popular in Sanya in October due to the hot weather. Diverse maritime and beach activities are available at Yalong Bay, Dadonghai, and Sanya Bay, including diving sightseeing, windsurfing, beach volleyball and so on. Taste local cuisines in seafood restaurants in Wuzhizhou Island; enjoy undersea walking, practice undersea photography and appreciate various and rare fishes in Yalong Bay Underwater World. A night tour around Sanya Romance Park is also amazing.
Other Tips
It is recommended to visit Sanya after
National Day
Holiday from October 1 - 7, when there are usually more tourists than usual days. The sun shine is very strong, therefore, when going outside especially when playing on the beach, it is important to bring sun scream and smear yourself comprehensively to protect from sunburn.
What is the temperature in Sanya in October?
High/Low Temperatures of Sanya in October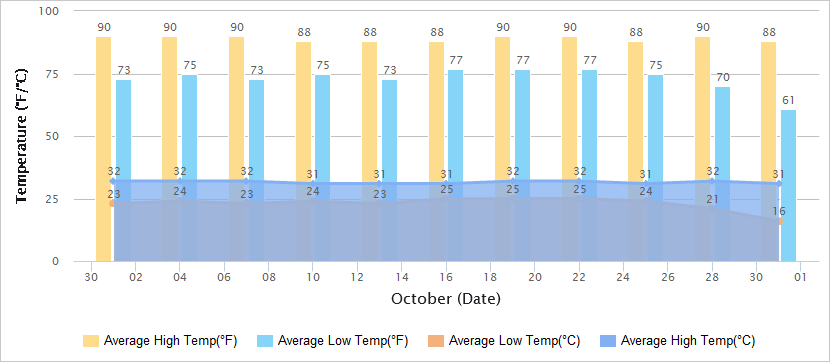 Air Quality of Sanya in October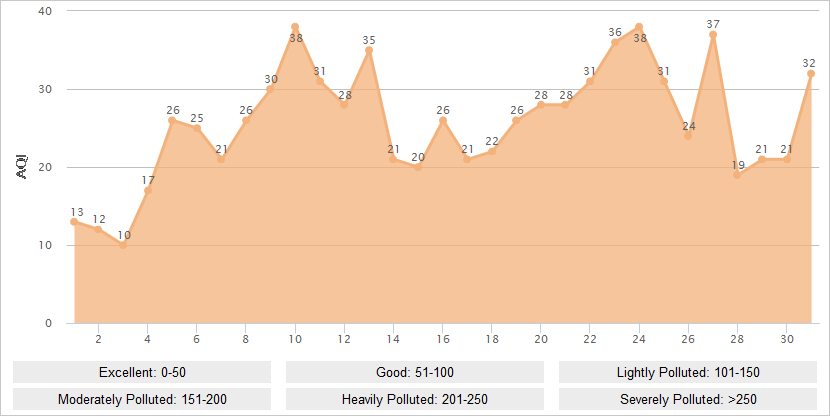 Historical Sanya Weather in October
Oct
Temperature
Sunrise / Sunset
Humi-
dity
(%)
High
Low
1
32°C / 89.6°F
23°C / 73.4°F

06:32

/

18:31

73
2
32°C / 89.6°F
24°C / 75.2°F

06:32

/

18:30

66
3
32°C / 89.6°F
25°C / 77°F

06:33

/

18:29

68
4
32°C / 89.6°F
24°C / 75.2°F

06:33

/

18:28

67
5
31°C / 87.8°F
22°C / 71.6°F

06:33

/

18:27

68
6
32°C / 89.6°F
24°C / 75.2°F

06:33

/

18:27

66
7
32°C / 89.6°F
23°C / 73.4°F

06:33

/

18:26

63
8
31°C / 87.8°F
23°C / 73.4°F

06:34

/

18:25

67
9
31°C / 87.8°F
24°C / 75.2°F

06:34

/

18:24

75
10
31°C / 87.8°F
24°C / 75.2°F

06:34

/

18:23

73
11
30°C / 86°F
22°C / 71.6°F

06:34

/

18:23

78
12
30°C / 86°F
22°C / 71.6°F

06:35

/

18:22

74
13
31°C / 87.8°F
23°C / 73.4°F

06:35

/

18:21

76
14
32°C / 89.6°F
24°C / 75.2°F

06:35

/

18:20

77
15
31°C / 87.8°F
25°C / 77°F

06:35

/

18:20

78
16
31°C / 87.8°F
25°C / 77°F

06:35

/

18:19

79
17
32°C / 89.6°F
25°C / 77°F

06:36

/

18:18

79
18
31°C / 87.8°F
24°C / 75.2°F

06:36

/

18:18

76
19
32°C / 89.6°F
25°C / 77°F

06:36

/

18:17

79
20
32°C / 89.6°F
25°C / 77°F

06:37

/

18:16

80
21
32°C / 89.6°F
22°C / 71.6°F

06:37

/

18:16

79
22
32°C / 89.6°F
25°C / 77°F

06:37

/

18:15

74
23
31°C / 87.8°F
24°C / 75.2°F

06:38

/

18:14

75
24
32°C / 89.6°F
24°C / 75.2°F

06:38

/

18:14

74
25
31°C / 87.8°F
24°C / 75.2°F

06:38

/

18:13

77
26
31°C / 87.8°F
24°C / 75.2°F

06:39

/

18:13

72
27
32°C / 89.6°F
24°C / 75.2°F

06:39

/

18:12

70
28
32°C / 89.6°F
21°C / 69.8°F

06:40

/

18:12

69
29
32°C / 89.6°F
21°C / 69.8°F

06:40

/

18:11

56
30
31°C / 87.8°F
19°C / 66.2°F

06:40

/

18:11

49
31
31°C / 87.8°F
16°C / 60.8°F

06:41

/

18:10

51
- Last updated on Jul. 25, 2022 -