Sanya Weather in January
By contrast with other tour destinations in the north of China, Sanya weather in January is quite warm with the average high temperature of 26°C (79°F) and the average low temperature being 19°C (66°F). Sunny days take place in most of the time, but visitors may encounter short-lasting rainfall occasionally. Although January is being in winter in Sanya, the sunshine is intense and brightly, which makes Sanya a comfortable coastal tourist city to escape the cold winter.
Due to the warm climate, many tourists would travel to Sanya in this month. So please book your air tickets and hotels in advance.
Averages for Sanya Weather in January
Temperature: 22°C / 72°F
High Temperature: 26°C / 79°F
Low Temperature: 19°C / 66°F
Humidity: 63%
Rainfall: 8 mm
Rainy Days: 3 days
Sunrise: 07:14 ~ 07:16
Sunset: 18:17 ~ 18:35
Air Quality in January
Average AQI:40

What to Wear in Sanya in January
Summer clothes, like dresses, short shirts, are advised for the warm weather during daytime. Visitors are still advised to wear a thin coat or long sleeve shirt in the evenings. Sunglasses and sunhats would be useful to keep away from intense UV rays.


Where to Go in Sanya in January
When talking about Sanya, Tianya Haijiao firstly comes into mind, a romantic scenic spot, which is meaningful especially for those who are in pursuit of eternal love. Walking along the seashore, visitors will watch the famous three stones with four characters. Besides, visitors could also enjoy modern facilities around this area, such as shopping mall and water sports.
Visitors could also pay a visit to Yalong Bay and Sanya Bay, where they could appreciate the view of blue sky, white clouds, blue seawater and fresh air. In addition,
Nanshan
in Sanya is a large-scale park displaying traditional Chinese Buddhist culture. There are many internal attractions, among them the 108-meter high Guanyin is one of the most deserved highlights.
Other Tips
January is the high travel season in Sanya, it's better to book hotels and tickets as early as possible. Visitors may prepare medication for enterogastritis because the dishes are mostly related to seafood. After eating sea food, it is not suggested to have cold drink, which may cause diarrhea.
What is the temperature in Sanya in January?
High/Low Temperatures of Sanya in January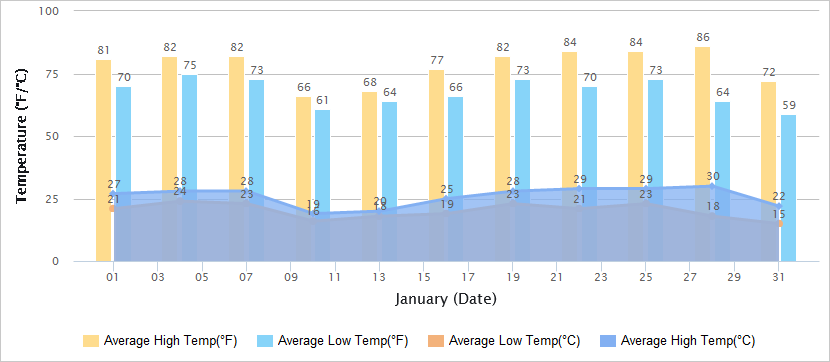 Air Quality of Sanya in January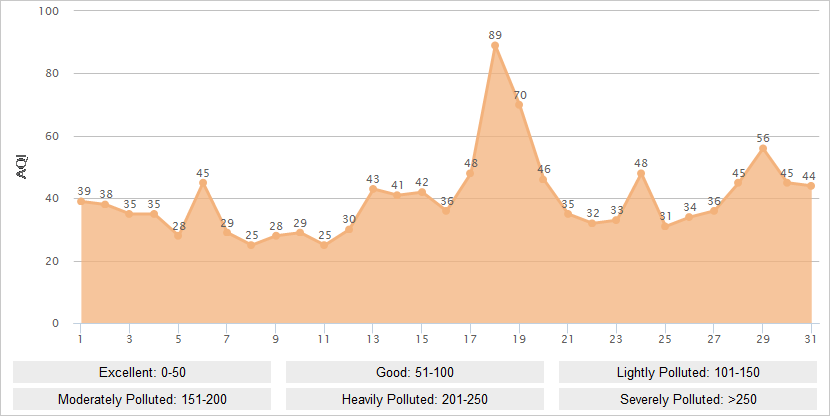 Historical Sanya Weather in January
Jan
Temperature
Sunrise / Sunset
Humi-
dity
(%)
High
Low
1
27°C / 80.6°F
21°C / 69.8°F

07:14

/

18:17

67
2
27°C / 80.6°F
21°C / 69.8°F

07:14

/

18:18

72
3
27°C / 80.6°F
22°C / 71.6°F

07:15

/

18:18

74
4
28°C / 82.4°F
24°C / 75.2°F

07:15

/

18:19

82
5
27°C / 80.6°F
23°C / 73.4°F

07:15

/

18:19

86
6
26°C / 78.8°F
24°C / 75.2°F

07:15

/

18:20

90
7
28°C / 82.4°F
23°C / 73.4°F

07:16

/

18:21

85
8
30°C / 86°F
19°C / 66.2°F

07:16

/

18:21

82
9
30°C / 86°F
16°C / 60.8°F

07:16

/

18:22

80
10
19°C / 66.2°F
16°C / 60.8°F

07:16

/

18:23

74
11
19°C / 66.2°F
17°C / 62.6°F

07:16

/

18:23

69
12
21°C / 69.8°F
17°C / 62.6°F

07:17

/

18:24

62
13
20°C / 68°F
18°C / 64.4°F

07:17

/

18:24

66
14
23°C / 73.4°F
19°C / 66.2°F

07:17

/

18:25

71
15
25°C / 77°F
19°C / 66.2°F

07:17

/

18:26

74
16
25°C / 77°F
19°C / 66.2°F

07:17

/

18:26

75
17
26°C / 78.8°F
17°C / 62.6°F

07:17

/

18:27

72
18
28°C / 82.4°F
19°C / 66.2°F

07:17

/

18:28

66
19
28°C / 82.4°F
23°C / 73.4°F

07:17

/

18:28

77
20
25°C / 77°F
22°C / 71.6°F

07:17

/

18:29

78
21
29°C / 84.2°F
22°C / 71.6°F

07:17

/

18:29

75
22
29°C / 84.2°F
21°C / 69.8°F

07:17

/

18:30

73
23
29°C / 84.2°F
23°C / 73.4°F

07:17

/

18:31

74
24
28°C / 82.4°F
22°C / 71.6°F

07:17

/

18:31

70
25
29°C / 84.2°F
23°C / 73.4°F

07:17

/

18:32

79
26
28°C / 82.4°F
23°C / 73.4°F

07:17

/

18:32

77
27
28°C / 82.4°F
19°C / 66.2°F

07:16

/

18:33

76
28
30°C / 86°F
18°C / 64.4°F

07:16

/

18:34

79
29
23°C / 73.4°F
18°C / 64.4°F

07:16

/

18:34

70
30
22°C / 71.6°F
18°C / 64.4°F

07:16

/

18:35

70
31
22°C / 71.6°F
15°C / 59°F

07:16

/

18:35

82
- Last updated on Dec. 11, 2019 -