Top 10 Things to Do in Sanya
Situated in the south end of Hainan Island, Sanya is an international tourist city boasting tropical scenery and coastal landscape. In this attraction-studded city, we have summarized top 10 things to do in Sanya for tourists who are spoilt for choice.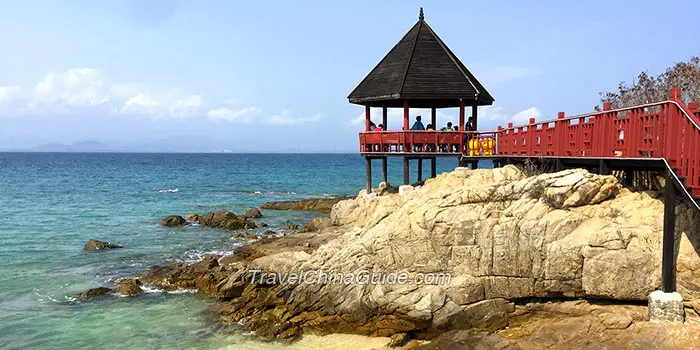 Visiting Wuzhizhou Island is for sure the top thing to do in Sanya for any tourist coming here. This island is famous for over 30 types of offshore and water entertainments. Once here, you can try water skiing, motor boat, parasailing, banana boat, electric ship, dynamic airship, sea fishing, fish pedicure and battery car sightseeing. The various entertainments are attributed to the crystal-clear water whose visibility reaches 6-27m (20-89ft). Also, the water here is abundant with luminous spirals, mackerels, colorful tropical fish, and so on, forming a colorful underwater world for divers. Besides, Sea Watching Promenade, Lover Island, Valentine Street and Valentine Bridge can be nice places spending time with your loved one.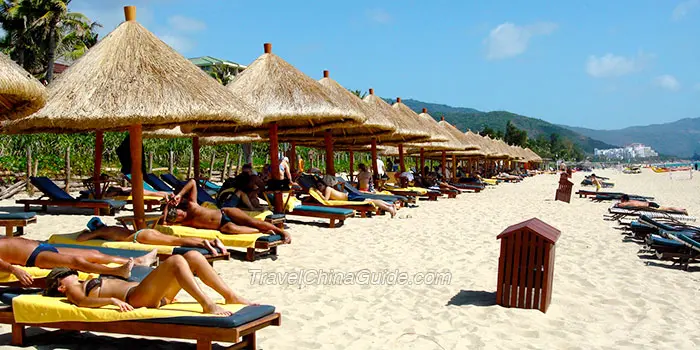 With the blue wave caressing the 7km (4.3 mi) long silver beach, Yalong Bay is acclaimed as 'Oriental Hawaii' for its perfect combination of tropical landscape and recreational facilities. Tourists who prefer a thrilling experience can try parasailing, motor boat, skateboarding, speedboat and boat diving. For those who crave relaxation, canoeing can be a good choice. Joining the bonfire party with different people worldwide will definitely be your unforgettable experience. In addition, there are many other attractions worth visiting in Yalong Bay including Yalong Bay Tropical Paradise Forest Park, Sanya Rose Valley and Butterfly Valley.

3
Seafood Feast at Sanya First Market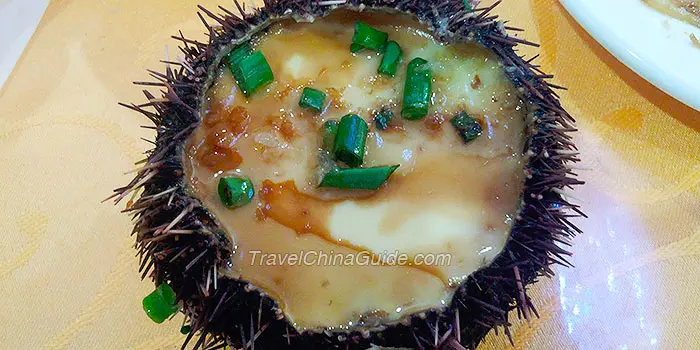 As the most popular place to buy and eat seafood, Sanya First Market will satisfy your needs for assorted types of fresh and cheap seafood including lobsters, sea urchins, mantis shrimps, squids… If you are a gourmet, visiting this market can be the most worthwhile thing to do in Sanya. After selecting your favorite ones, you can take them to a roadside restaurant to be cooked based on your own palate. Besides the seafood, in Sanya First Market, tourists can readily savor local dishes like Hainan Rice Noodles, Ching Bo Leung, Glutinous Rice Cakes, and Coconut Rice and tropical fruits like guava, jackfruit and lychee.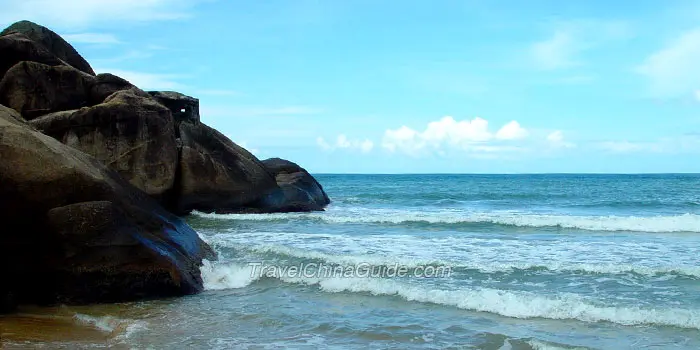 Tianya Haijiao features with lots of giant stones of various sizes and shapes on the beach. 'Tianya Haijiao' means the edge of sky and sea in Chinese, which has been quoted in uncountable poems and stories since ancient times. Now, the two huge rocks have also been the embodiment of permanent love. That's why this scenic spot is listed as a top thing to do in Sanya by lovers. Moreover, Nan Tian Yi Zhu Rock stands for fortune. Ri Rock, the rock of sun and Yue Rock, the rock of moon represent love, as well. In Tianya Haijiao sightseeing area, Ji Mu Tian Ya is the best platform for ocean viewing. Standing here, you can take photos within the panorama encompassing Guan Yin Bodhisattva, coastal beach and boundless South China Sea.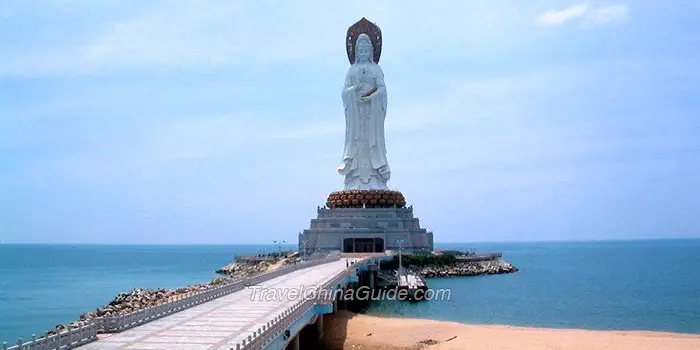 Nanshan Cultural Tourism Zone is the largest area displaying Buddhism culture in China. It is said that the renowned Buddhist monk Jianzhen once stayed here for one year and a half from 748 to 749 building temples and preaching Buddhism. The landmark here is the lofty Nanhai Guanyin Statue of 108m (354ft) high, which is the largest Gaunyin statue above the sea in the world. Another Buddha statue treasure is Nanshan Gold Guanyin; it has earned a place in Guinness Book of World Records for its deluxe ornaments like gold, jades, rubies, sapphires and pearls. Temple of Thirty-three Guanyin, the largest group portrait of Buddhist Guanyin worldwide is also worth worshipping. Other attractions here includes
Nanshan Temple
, Longevity Valley, Xiaoyuewan, and Nanshan Tree House. By the way, having vegetarian food is another characteristic activity to sample Buddhism culture.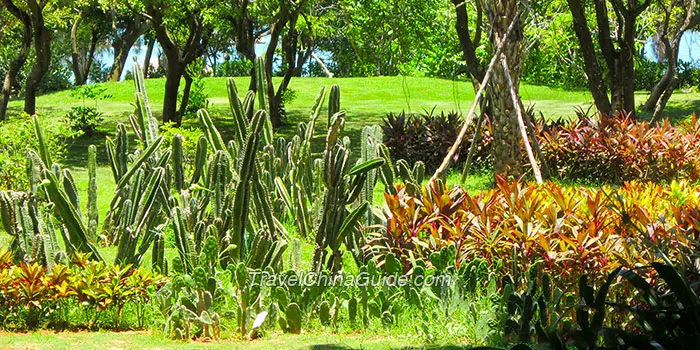 Yanoda Rainforest Cultural Tourism Zone is famous for its original tropical rainforest landscape. Tourists can wander through this natural oxygen bar made of old vines, banyans, gomuti palms, and appreciate the grotesque rocks and majestic waterfalls. In addition, Yanoda has been the habitat for several Chinese ethnic minorities such as Li people, Dai people and Gaoshan people. Thus, tourists can experience the diverse ethnical customs here. Yanoda also provides various entertainments like Cliff Swing, High-altitude Slip Rope, Rainforest Human CS, Treetops Adventure and Rock Climbing. Don't forget to stand on the Wa Ai Lu Glass Viewing Platform, where you can see overview the beautiful
Haitang Bay
, Wuzhizhou Island and
Nanwan Monkey Island
.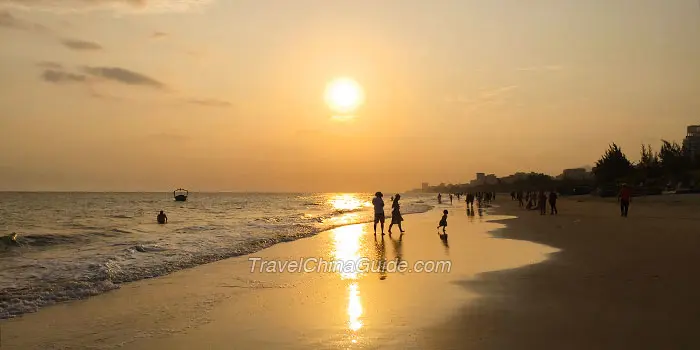 Adjacent to Sanya downtown, Sanya Bay is famous for the Coconut Corridor stretching for over 20km (12.4 mi). Roaming along the Coconut Corridor at dusk can be the most relaxing thing to do in Sanya. With coconut trees swinging gently, tourists can appreciate the crimson sunset, the ebb and flow in the moist sea breeze. In the evening, no one can resist the delicious barbecue aside the beach and the interesting street performances. Taking a night cruise along the Sanya Bay can also be a good option.

Boundary Island has over 20 natural attractions varying from tropical vegetation to steep cliffs and clusters of pinnacles. However, this island is most famous for the diverse water entertainments. Tourists can try dolphin diving, coral diving, off-lying sea diving, motorboat, dolphin cay sightseeing, underwater roaming, parasailing, and so on! Viewed from a distance, the Boundary Island bears a striking resemblance with a beauty nestling in the blue sea water. That's why this island is also called as Beauty Island.

Luhuitou is a high ground to overview Sanya city and a theme park of forever love. Luhuitong Sculpture, which is of 15m (49.2ft) high, is considered as the incarnation of a young girl in a local love legend, and thus can be the most symbolic attraction. Apart from this sculpture, Couple's Tree, Yue Lao Sculpture (the sculpture of matchmaker), Hai Ku Bu Lan Shi (the stone of unfailing love) and other various carved stones in together deepen the theme of love. What's more, Luhuitou Peninsula is a core natural reserve of tropical vegetation in Sanya, so it is recommended to walk among the lush vegetation with your loved one.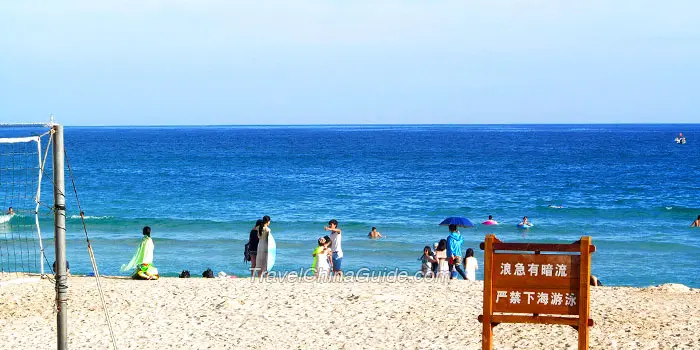 Dadonghai Beach is right in downtown, reputable for its warm water, white sand and flat beach. The boundless sea is as peaceful as a mirror, reflecting the blue sky, floating clouds and stretching mountains. Famous for well-preserved coral reefs and ornamental shoals, Dadonghai Beach has developed various marine entertainments for tourists to appreciate the beauty of ocean. Here, submarines, snorkeling, diving, off-lying sea diving, diving scooter are among the worth-trying things to do in Sanya. After experiencing the exciting water activities, why not take a walk in the Egret Park to feel the serenity of nature.

Further Reading:
Best Time to Visit Sanya
- Last updated on Jan. 29, 2023 -
Questions & Answers on Top 10 Things to Do in Sanya
Asked by Florian mai from AUSTRIA | Jan. 23, 2023 09:06

Reply
Visum
Hello, I have a Q2 China visum Single Entry. Am I allowed to make vacation in sanya
Answers (1)
Answered by Dave | Jan. 29, 2023 17:56

0

0

Reply
If it's issued after March 28, 2020, yes you can.
Asked by Daniel | Dec. 23, 2021 10:59

Reply
Is Covid test needed?
Hello, I will go to Sanya after Xmas. I am leaving from Qingdao which has no Covid cases. Is a Covid test necessary or not?
Answers (1)
Answered by Lori | Dec. 26, 2021 12:47

0

0

Reply
Yes get one just to be sure
Asked by Alexandre from CHINA | Dec. 17, 2020 23:42

Reply
Hello, I'm going to Sanya from Shanghai this weekend, do I meet NAT test?
Answers (1)
Answered by Zoe | Dec. 20, 2020 18:38

0

0

Reply
Yes, as I know, you need to do the NAT test.
Asked by Leeanne from CHINA | Nov. 14, 2020 03:11

Reply
We are foreigners living in Weihai, would we need to be quarantined if we travel to and from Sanya?
Answers (1)
Answered by Joshua | Nov. 15, 2020 18:26

0

0

Reply
As I know, you don't need to be quarantined. Just make sure you obtain the green healthy code.