Sanya City Pictures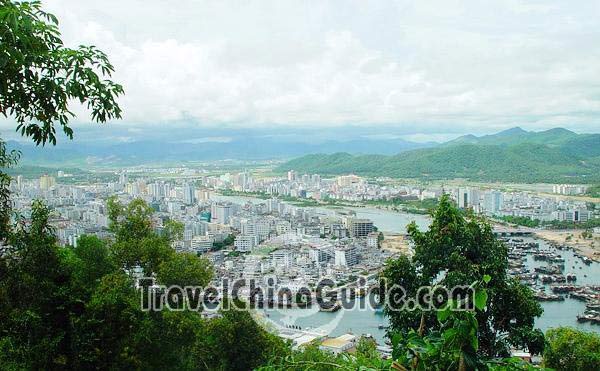 The City has become a modern tourist city since the reform and opening-up of China.
Sanya is a popular tourist destination renowned for its beach, tropical climate and landscape. It is an all-seasons holiday destination, not unlike Florida in the USA. The tourist industry attracts many international hotels chains, and makes the place a world known resort. City Intro: Sanya
- Last modified on Jun. 26, 2017 -
Questions & Answers on Sanya City Pictures
Asked by paras from NEPAL | Aug. 09, 2015 10:20

Reply
how much far is Sanya Gloria Plaza Hotel from Howard Johnson Hotel?
Answers (1)
Answered by Liana from VIETNAM | Aug. 09, 2015 20:50

0

0

Reply
I wonder if you refer to the Haitang Bay Gloria Resort. If so, it is around 36km/22mi between.

Asked by pheleia yeebahn from CHINA | Nov. 26, 2014 05:37

Reply
My trip to Sanya for 10 days.
hello am phelecia living in shanghai china my plan for this winter vacation to be in sanyan for ten days enjoying those beautiful sites. could u please tell how much cost a hotel per night not far from city center and close to many beautiful place to make my holiday a colorful one? prices of buses as well as taxi is also highly appreciated. thanks
Answers (1)
Answered by Nick from ISRAEL | Nov. 27, 2014 01:15

0

0

Reply
When exactly will you come to Sanya? You know, the hotel prices won't be cheap in winter, especially around Christmas Day. It's the peak season at that moment. What is your budget?
Asked by Mrs.Jess.H | Mar. 17, 2011 20:57

Reply
Hi, I'm jess from Malaysia, I booked flight for a 8Days trip to Haikou(Hainan) for 9pax which including my grandfather (80years old) which originally from Hainan, from 18OCT to 25OCT. =) I wish he can enjoy his trip, but I know nothing about Haikou(Hainan)at all, so can you please help me and give me so advise? Should I rent a car there or can we just take public transport? Where can we go and what can we do there? What is the temperature in Oct? Many thanks....
Answers (1)
Answered by Mr.Jack | Mar. 18, 2011 02:19

1

0

Reply
You can just visit the place by taxi. One taxi allows 4 adults, perhaps you may consider to rent a vehicle for 9 people. You should go Sanya. It is about 25-30C in Hainan in Oct. Here are some packages about Hainan tours, you can follow the one you like:
https://www.travelchinaguide.com/package/haikou.htm


Asked by Mr.Moses from MALAYSIA | Jan. 02, 2010 00:26

Reply
I will be in Hainan late May to early June, 2010 (6D5N). How's weather then? Have booked into(and paid)
Jasper International Hotel in Haikou for the 5 nights but considering doing a day trip to Sanya ,say
leaving early morning from Haikou and returning later in the evening - best way of doing it?
Answers (2)
Answered by Mr.VIGORHE from CHINA | Jan. 05, 2010 02:04

2

0

Reply
It is hot and strongly sunny then.You can take a coach or taxi.
Answered by Mrs.Fiona from CHINA | May. 05, 2011 23:23

0

2

Reply
Yep, it is very hot in daytime, but cool in the evening. I thought if you go to a Resort & Spa hotel, that will be very nice! If you come to HaiNan island, don't forget to visit Tian Ya Hai Jiao, Wu Zhi Zhou Island, Nan Shan Temple and so on. Of course, don't forget to taste seafood.
Asked by Mrs.jc from MALAYSIA | Sep. 07, 2009 04:23

Reply
Hi, Planning to go for a 5 day trip to Haikou Sanya in early Jan'10. Anyone can advise, how to go to Haikou to Sanya which is convinient like a cab and how much will it cost to & fro. Which hotel to recommend in Sanya that is really nice like near the beach & still not so far to the city area. As I saw some review, which is really shocking.. Any advise on shopping in either of the two cities, like ladies clothes/quality shoes lik Ecco brand. Thank you
Answers (1)
Answered by Mr.Jack | Sep. 10, 2009 04:54

0

0

Reply
Hi, if you travel alone, suggest you take bus from Haikou to Sanya in Haikou South Bus Station which will take you about 80RMB for three hours. If you travel with others, renting a taxi is a better idea. The taxi costs about 300RMB, you can negotiate the price, less then 80RMB per person. For living, stay at Yalong Bay is close to the beach or Dadonghai is cheaper and closer to the city center.