Tianya Haijiao Pictures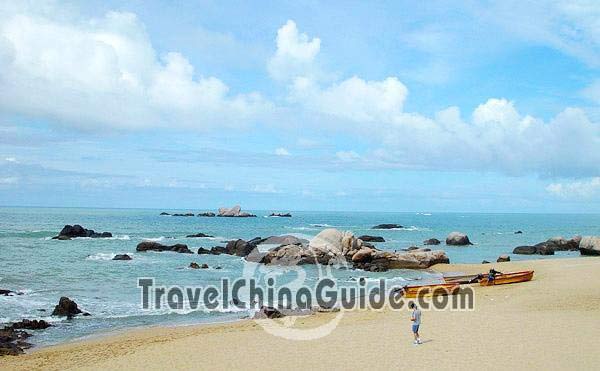 Tianya Haijiao literally means the Edge of the Sky and the Rim of the Sea.
At the southernmost point of the island province, there is Tianya Haijiao, a charming scenic spot dominated by huge stones. Chief among them is a spectacular stone with "Tianya (Edge of the Sky)" inscribed on one side and "Haijiao (Rim of the Sea)" on the other in large Chinese characters. Attraction Intro:
Tianya Haijiao
- Last modified on Jun. 28, 2017 -
Questions & Answers on Tianya Haijiao Pictures
Asked by Mrs.S.Dixon | Mar. 16, 2011 21:49

Reply
Can anyone tell me when will there be a direct flight from Bangkok to Hainan? My family and I live in England,UK,I have relatives in Bangkok and in Hainan.When we stay in Bangkok for a few days then we would like to visit our relatives in Hainan a few days as well.We travel on British passport.Will we need a visa to visit relatives in Hainan for 7 days.We can stay in Thailand for 30days without visa.
Answers (1)
Answered by Mr.Jamie | Mar. 17, 2011 01:52

18

0

Reply
No direct flight between the two places so far. You should make a transfer at Guangzhou. Yes you need Chinese visa to enter Hainan.
Asked by Ms.Paulsen from CHINA | Sep. 10, 2009 23:40

Reply
Hello,

I am thinking about visiting Sanya in the October holidays. I am currently living in Guangzhou. My question is how to get a hold of the train tickets to Sanya. I see that the train runs daily at around 21:00, but where and when can I buy the tickets? And should I buy the tickets a long time in advance because of the holiday? Thank you in advance.

Sincerely, Anneli.
Answers (1)
Answered by Mr.Thomas | Sep. 11, 2009 03:19

18

0

Reply
Usually, you could purchase the train ticket 3~10 days in advance at the ticket offices and 1~7days in advance at the railway station directly. You could find the ticket office close to railway station easily.
Asked by Ms.Williams from USA | Jul. 31, 2009 23:48

Reply
I would like to go to Sanya from August 10 to August 15.
Does it rain all the time? How about the thyphoons? are they dangerous?
Answers (1)
Answered by Mr.Jack | Aug. 04, 2009 01:54

7

0

Reply
Not rany all the time. Most are thundershower which will not last too long. It is the typhoon season but seldom happens. So, it is safe. The problem is herhas the temperature. It is summer and the temperature is about 25-33C, humid and hot, but breeze from the sea will release the hot feeling.