Nanshan Temple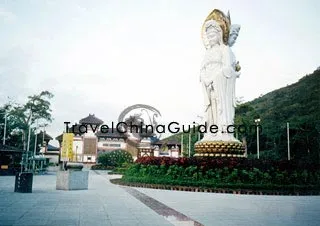 A Guanyin statue in the temple
Situated 40 kilometers (25 miles) from Sanya City, Hainan Province, the Nanshan Temple (South Mountain Temple) ranks as one of the attractions in the
Nanshan Culture Tourism Zone
. Occupying an area of 400 mu (66 acres), it is the biggest Buddhist preaching site established since the founding of the People's Republic of China.
Nestling at the foot of Nanshan Mountain, an auspicious region famous for Chinese Buddhist culture with emphasis on longevity-happiness, Nanshan Temple was completed on 12 April, 1998, the 2,000th anniversary year of Buddhism coming to China.
With its total floor space of 40,000 sq meters (10 acres), this temple boasts several replicas of Tang Dynasty (618-907) architecture. The Renwang Gate (Mountain Gate), the entrance to the temple, has two figures of Buddha standing there as guards. As well, seven Buddhist figures are enshrined in the Doushuai Adytum (or Hall). The Maitreya Buddha (Sanskrit, Mile in Chinese) is in the middle of the Hall with two Bodhisattvas on each side. Around these three Buddhist images stand the Four Heavenly Kings, who act as Buddhist guardians with duties to protect all living creatures and to bring favorable weather and ample harvest. From the Doushuai Adytum, a porch brings visitors to Jin Tang, also called in the time of the Tang Dynasty, Daxiongbaodian (Hall of Ceremony). Here are enshrined the three main Buddha images: the Sakyamuni, the Bhaisajyaguru (Chinese Yaoshiwang) and the Amitabha (Chinese Amituo). These two halls comprise the main parts of the Temple.
In addition, there are some other enchanting sights in Nanshan Temple.
Buer Famen Gate
The Golden Jade Guanyin Statue
This amazing national treasure is a 3.8-meter(13-feet) high Golden Jade Guanyin Statue. It is covered with 100 kg (221 pounds) of gold and silver, embedded with 120 carats of South African diamonds plus countless jewels, and containing two sacred Buddhist relics.
Sea Watch Terrace
Just in front of the tempel is a terrace directly facing the South China Sea, from which visitors can admire the vast seascape and meanwhile view the spectacular 108-meter (354-feet) high copper statue of the South China Sea Guanyin Bodhisattva.
Nanshan Temple is a comparatively new temple which combines Buddhist culture, garden architectures, and recreational facilities with the spirit of peace, tranquility, happiness and harmony. And it must be a wise choice for visitors who wish to pay their respects to Buddhist culture while traveling in Sanya.
Tips
The vegetarian food there is very famous, including many nutritious dishes made of wild fungus, konjak, and bean products.

How to get to Nanshan Temple
Take bus 25 to Nanshansi (Nanshan Temple) station; or bus 16, 55, or 57 to Nanshan station.
Entrance Fee
(covered by the ticket of the Nanshan Culture Tourism Zone)
October - April: CNY 129
May - September: CNY 108
Half price for children between 1.2 - 1.4m (3.9 - 4.6ft);
Free for children under 1.2m.
Opening Hours
08:00 - 17:30
Recommended Time for a Visit
1-2h
- Last modified on Dec. 18, 2018 -
Questions & Answers on Nanshan Temple
Asked by July from USA | Dec. 17, 2018 18:10

Reply
Can we visit Nanshan Temple with our carry on luggage?
We are thinking on doing it for one hour just before going to the airport to catch our flight.
Answers (1)
Answered by Elijah from ROMANIA | Dec. 18, 2018 00:47

0

0

Reply
Yes, you can. The Tourist Service Center of the scenic area also provides the left luggage service.
Asked by napa sadap from THAILAND | Dec. 03, 2018 21:30

Reply
How to Take the direct bus to Nanshan temple?
where is the bus stop near China Sanya Phoenix Island ? and How to get the direct bus stop from China Phoenix Island?

Answers (1)
Answered by Abagael from AUSTRALIA | Dec. 05, 2018 00:06

0

0

Reply
You can walk about 450 meters to Shengli Road bus stop to take the bus No.21 and get off at Nanshan Temple bus stop.
Asked by yvonne tan from SINGAPORE | Jul. 07, 2018 20:43

Reply
Staying at sanya meidu hotel, how long from sanya railway station to our hotel?
any railway station to nanshan temple ? or bus to go there from my hotel ? should i book in advance for our lunch at that restaurant in the temple?
Answers (1)
Answered by Tompson from CANADA | Jul. 09, 2018 01:44

0

0

Reply
If you take a bus, it takes about 40 minutes. Bus line 25/ 57 is available to get there and it takes about 2 hours. No need to book in advance.
Asked by Raghu from CHINA | May. 23, 2018 00:07

Reply
What is best medium to travel with FAMILY to Nanshan Temple directly from Phoenix Airport ?
Answers (1)
Answered by Gloria from FRANCE | May. 24, 2018 22:44

1

0

Reply
I think maybe the best way is to take a taxi. It takes about CNY 100.
Asked by Jason from MALAYSIA | Mar. 07, 2018 20:30

Reply
Transport to Nanshan Temple
Hi,

I came across some of the tour packages online (mafengwo, ctrip, etc) that offer transport + meal + tickets at around 200+ rmb. Anyone can share their experience? I read some tour guides will bring you to shop around and the entire trip ends around 3 pm which is kinda rush.

I googled and found that there is this Didi which is quite similar to Uber. Anyone tried using before?

Is it difficult to get taxi at the temple? I know the price from Sanya city to the temple is around 140 rmb.

Thank you.


Answers (1)
Answered by Martin from CHINA | Mar. 08, 2018 02:32

0

0

Reply
It is not hard to catch a taxi at the temple. And Didi is very popular in the city. The Didi App has English. You may have a try. In case you need to communicate with the driver, basic Chinese language is needed to grasp. Or you can ask a Chinese person to answer the phone for you.