Hainan Travel Guide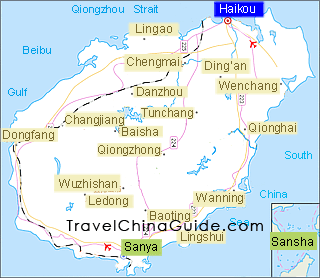 Click to enlarge the above map
Hainan Facts:
English Name: Hainan
Chinese Name: 海南(Hǎi Nán)
Abbreviation: Qiong
Administration Type: Province
Capital: Haikou
Location: 3°30' to 20°18' N, 108° 37' to 111°05' E
Climate: tropical monsoon climate
Average Annual Temperature: 23-25 °C (73 - 77 °F)
Average Annual Rainfall: 1,500 millimeters
Area: 35,000 km² (13,510mi²)
Population (2018): 9,343,200

Area Code & Zip Code

Hainan 30-Day Visa-Free Access

Weather

Best Time to Visit

Pictures
Cities in Hainan
Other Cities
Baisha
Baoting
Changjiang
Chengmai
Danzhou
Ding'an
Dongfang
Lin'gao
Lingshui
Ledong
Qionghai
Qiongzhong
Tunchang
Wanning
Wenchang
Wuzhishan
Recommended Hainan Itineraries
Famous Attractions

Top 10 Things to Do in Hainan
Hainan Introduction
Located in the tropical area at the southern end of China, this place is warm all year round and has no winter. Besides, it boasts soft beaches and beautiful tropical scenery, which make it a famous holiday resort in China. Its administrative regions are Hainan Island, Xisha archipelago, Zhongsha archipelago and Nansha archipelago. The whole province occupies a land area of 35,000 square kilometers (13,510 square miles) and a sea area of 2,000,000 square kilometers (772,000 square miles). The main island, Hainan Island, which is shaped like a giant elliptical pear, is China's largest island after Taiwan. The capital Haikou City is situated in northern part of the island. It is the political, economic, cultural and transportation center of the whole province. The other prefecture-level city of the province is Sanya, which is a hot destination for tourism.



Eastern Hawaii
Belonging to the northern part of the tropics and virtually at the same latitude as Hawaii, it has a tropical monsoon climate and is known as the 'Eastern Hawaii'. Its average annual temperature is 23-25°C while the average temperature of the coldest February ranges between 16-20°C and the hottest August between 35-39°C. When northern China is snowy and icebound, local people are able to swim in the sea and enjoy the warm sunshine on the beach. In addition, the island has beautiful soft beaches and tropical scenery such as Holiday Beach, Dongzhai Harbor Mangrove Natural Reserve Area, Dongjiao Coconut Plantation, Asian Dragon Bay and Wuzhizhou Island. All these help to make the island a holiday hot spot in China, especially in winters and for newly-married couples. A special mention must be made here of the fact that since 2008, the government has been making a great effort to develop this tropical island province into an international tourism destination. On December 30, 2010, the first high-speed rail of the area, Hainan Eastern Ring Rail was put into service. Now people can travel easily between the northern point of the island (Haikou) and its southern point (Sanya) in just 1.5 hours. Another effort made by the government is the Tax refund policy carried out since January 1, 2011. See tax free stores in Hainan.



Famous Festivals
This island is also called 'Coconut Island' for its production of coconuts. Each year in late March or early April, the islanders hold a 'Coconut Festival'. During the festival, visitors can go to Haikou to appreciate the coconut lanterns, travel to Wenchang to taste the delicious coconuts, head for Sanya to watch the dragon boat race and a folk martial art competition, approach Tongshi to attend the Sanyuesan carnival. Sanyuesan is a traditional festival celebrated on every March, 3rd of Chinese lunar calendar by the local Li people. On that day, the Li worship their ancestors and pray for a good harvest. It is also a 'love festival' for the young people to seek love. Visitors may also watch the traditional Li wedding ceremonies on that day.



Typical Local Food
In addition to coconuts, the island is rich in some other tropical fruits like bananas, lychees, papayas and pineapples as well as seafood, which are all musts to enjoy when traveling there. What's more, the island has some featured local delicacies. The most famous four local specialties are Hele Crab, Dongshan Mutton, Jiaji Duck and Wenchang Chicken. Some other most famous dishes include Hainanese Chicken Rice, hotpot, pumpkin rice of Li and Qiongshan tofu, etc.
- Last modified on Apr. 20, 2020 -
Questions & Answers on Hainan Travel
Asked by Andrew from SINGAPORE | Nov. 21, 2019 02:54

Reply
Is there a high-speed rail linking Haikou to 文昌市,昌政镇.
Intend to visit Hainan in December 2019. Is there a high-speed rail linking Haikou to 文昌市,昌政镇? If so, how long is this high-speed rail journey to 文昌市,昌政镇. If there is no high-speed rail from Haikou to 文昌市,昌政镇, what other forms of transport can I take and the duration of such journey from Haikou to 文昌市,昌政镇. Would appreciate it if you could help. THANKS!

Regards,

Andrew
Answers (4)
Answered by Justin from SINGAPORE | Nov. 24, 2019 17:34

0

0

Reply
You can take high speed train from Haikou East Railway Station to Wenchang Railway Station first, which takes 29 minutes on the way. However, I didn't find 昌政镇, there is a 昌洒镇 instead.
Answered by Andrew from SINGAPORE | Nov. 26, 2019 03:18

0

0

Reply
Hi Justin,

Thanks a zillion! I was told that in most part of China, they used WeChat payment mode. Wonder whether in Hainan, can I still used Credit Cards and Reminbi for payment at for the Hi Speed Rail, restaurants and road side vendors.

Warmest Regards,

Andrew
Answered by Justin from SINGAPORE | Nov. 26, 2019 18:15

0

0

Reply
Yes, and you are suggested to prepare enough cash in case some places don't accept credit card.
Answered by Andrew from SINGAPORE | Nov. 28, 2019 02:19

0

0

Reply
Hi Justin,

Thanks for your prompt reply.

Warmest Regards,

Andrew
Asked by Humayoon from PAKISTAN | Nov. 07, 2018 04:42

Reply
Do we get halal food in Hainan
Answers (1)
Answered by Lucy from CANADA | Nov. 07, 2018 22:36

0

0

Reply
Yes, here are some restaurants recommended to you.
Xi'an Laomajia, at Wudong Road, Haidian Island, Meilan District, Haikou city, near the New Yantai Hotel

Silk Road Flower Rain, at the second floor of Guofu Square, No.16-1 Yusha Road, Haikou city

Old Xinjiang Hotel, at No.23 Wuzhishan Road, Haikou city
Asked by Ramendu Majumdar from BANGLADESH | Sep. 16, 2018 23:59

Reply
How long it takes from Guangzhou to Haikou by air?
Answers (1)
Answered by Noah from USA | Sep. 18, 2018 01:10

0

0

Reply
Generally speaking, it takes around 1.5 hours on the way.