Dongjiao Coconut Plantation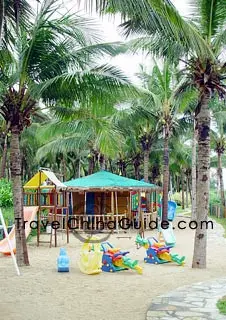 Coconut grove
When thinking about the charming seaside Province of Hainan, a lush image of leafy coconut plantations, blue waters and silver sands springs to mind. Known variously as the 'Kingdom of Coconuts', 'Golden Seashore', and 'Forest Park over the Sea', Dongjiao Coconut Plantation is a delightful choice for a holiday visit. Just imagine how nice it would be bathing in the tropical sea with the juices from sweet coconuts running down your chin.
Coconut Plantation
Dongjiao Coconut Plantation is located on the seaside of Dongjiao Town, Wenchang City in Hainan and is most well-known for its broad coconut plantation. There goes a saying that coconuts of Wenchang yield half of those grown in Hainan and the most famous is Dongjiao Coconut Plantation. The plantation is literally a forest with over 500,000 coconut trees including the red, green, well-bred, short, tall and other varieties. Some short arecas are immingled among them, which quite resemble the coconuts, so the Hainan people call them 'Trees of Lovers', coconuts the heroes and arecas the beauties. The trees not only provide a scenic backdrop and savory fruit, but they also act as a shield against the frequent typhoons here.
Walking along the shady paths in the forest, special scenic spots provide a feast for the senses.
Coconut Bayou
, whose scenery is pictured on the famous series of stamps named 'Seashore Scenery', engenders a peaceful and idyllic feeling of nature. In the
Coconut Park
, you'll be inundated in a sea of coconuts of different shapes and sizes, including the uniquely 'King Three Branches of Coconuts' named for the grotesquely large branches in the tree. Dongjiao is also home to a thriving fishing industry. Facilities have been established to ensure maritime safety including an
ancient beacon
to guide the passing boats. Also noteworthy is
Shuiwei Shengniang Miao
, a temple for praying to the believed goddess Shuiwei Shengniang to protect the fishermen.
Human and Cultural Sight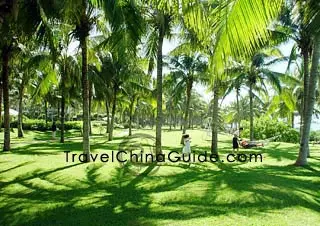 Coconut kingdom
The people who live in Wenchang City are known to be broad-minded and enterprising. The area is the birthplace of many well-known politicians, entrepreneurs and literati. Residents tend to be hospitable, easy-going and kind and you can usually find smiles on their faces. Interestingly, the talented wives of three of China's most famous leaders in the first half of the twentieth century were born here. Song Qingling, wife of Sun Yat Sen, Song Meiling, wife of Chiang Kai-shek and Xie Fei, wife of the old revolutionist and first Cochairman of the PRC Liu Shaoqi epitomize the heroines native to this region. Statues honoring this trio can be viewed at the
Hainan Prima Resort
inside Dongjiao Coconut Plantation. The
Former Residence of Song Qingling
is also nearby.
Entertainment and Food
The sea next to the Dongjiao Coconut Plantation is limpid and warm providing a natural bathing experience for tourists. There're a variety of activities available from rowing, bike riding and taking wavering umbrellas over the sea to picking shells or strolling barefoot on the silver sand. Small wooden cabins are accessible for rest and a respite from the sun. While enjoying the scenery, you can sip some fragrant Chinese tea as being gently touched by the sea breeze. This place is a wonderfully relaxing retreat from the hustle and bustle of city life.
If you want to let your appetite loose, Dongjiao will not disappoint you. Enormous varieties of seafood are available - in fact, you are allowed by the nearby restaurants to select your favorite directly from the fishing boats and ask them to cook them for you. After getting your fill of seafood, try some sweet coconuts to freshen your taste buds. If you want to buy some special product, like coconuts and seafood in Hainan here,
Coconut Plantation Long Street
is probably the best choice.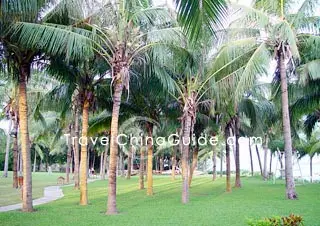 Dongjiao Coconut Plantation
Dongjiao Coconut Plantation was developed as Hainan Province's first tourist resort in 1989, the second year it was recognized as a province. Now, many docks, vacation resorts, seafood shops and hotels for tourists dot the area. With the gradual expansion and improvement of facilities, this enchanting place is sure to attract an increasing number of visitors.
How to get to Dongjiao Coconut Plantation
Take a bus from Haikou East Bus Station to Wenchang and then transfer to a bus to Wenchang Dongjiao Bus Station. Upon arrival, take a taxi to the plantation.
| | |
| --- | --- |
| Entrance Fee | Free |
| Opening Hours | 8:00 - 18:00 |
- Last updated on Sep. 26, 2019 -
Questions & Answers on Dongjiao Coconut Plantation
Asked by K from UNITED KINGDOM | Sep. 24, 2019 22:49

Reply
How long is it to travel from Haikou to the coconut plantation?
Answers (1)
Answered by Kathy from UNITED KINGDOM | Sep. 26, 2019 22:42

0

0

Reply
The coconut plantation is in Wenchang city. So you can take train from Haikou railway station to Wenchang railway station. It takes around 50 minutes.
Asked by min from SINGAPORE | Nov. 05, 2018 20:18

Reply
must see n do in Hainan
I have 4 days there in January and figuring out if I should stay in Haikou or Sanya. Where are the best shopping areas and beaches. Thanks.
Answers (1)
Answered by Julius from USA | Nov. 07, 2018 16:42

0

0

Reply
You are advised to spend a good time at Sanya. The duty-fee shop in town is quite popular. And its beaches are also known in China, such as Yalongwan Beach, Sanyawan Beach and Wuzhizhou Island.
Asked by nabil from OMAN | Apr. 18, 2013 19:45

Reply
are there any hotels in dongjiao?
Answers (4)
Answered by Niana from CANADA | Apr. 18, 2013 20:17

2

1

Reply
Yes, there are several hotels or resorts. During my trip there, I lived in Bailaima Resort.
Answered by Nabil from OMAN | Apr. 20, 2013 01:35

1

1

Reply
100000000 thanks Niana. I beleive it is the only resort in the named area. We are planning to spend 3 days there in our trip to Hainan, my question is: are there any food options in near the resort? and what is ur experience about the area and the resort? thanks again
Answered by Niana from CANADA | Apr. 20, 2013 03:02

0

2

Reply
Actually, the resort has a dining hall for its own. There you can enjoy the Canton Cuisine, Chaozhou Cuisine and other seafood.
Answered by Nabil from OMANNABIL | Apr. 20, 2013 04:11

1

1

Reply
thanks again Niana Bless You
Asked by Ms.Chong from SINGPAORE | Mar. 23, 2011 12:38

Reply
Has anyone visited the plantation? Do you have to pay or does it mean fee payable only during CNY?
Answers (1)
Answered by Ms.Cindy | Mar. 27, 2011 01:26

3

1

Reply
Do not have to pay for the entrance fee. Not only during the CNY.