Haikou Travel Guide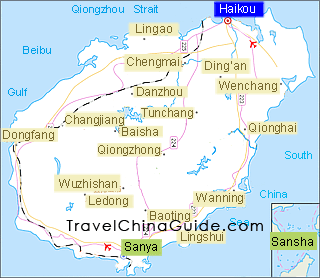 Haikou, known as the 'Coconut City', is the capital of Hainan Province, China's second largest island. The city features beautiful sunshine, crystal water and soft sand. It is the provincial administrative center of Hainan as well being the focus of the local economy, culture and transportation. It stands at the northern end of Hainan Island, on the west bank of the Nandu River estuary. This river is the longest on the island and the city's name appropriately means 'Mouth of the Sea'.

Haikou has evolved from a simple sightseeing city to an attractive seaside resort and business center. The services for visitors to the city are being extended with the aim of establishing the city as Southern China's key center for tourism.

Hainan visa-free policy with a validity of 30 days is applicable for travelers holding ordinary passports issued by the 59 qualifying countries, but the aliens should be received by a travel agency in Hainan.

With the sea on three sides, Haikou enjoys a long coastline that features excellent bathing beaches and sea side resorts. Holiday Beach is the most popular of these, while Xixiu Beach is where the national sailing and windsurfing teams train and hold competitions. Dongzhai Port Nature Reserve in the northeast of Haikou is a typical tropical jungle and a heaven for birds.

Besides its natural resources, Haikou has a number of important sites of historical interest. The Temple of Five Lords (Five Official's Temple), the Tomb of Hai Rui and the Xiuying Emplacement each serve as reminders of the historical importance of the city.
Recommended Tours
Beach Travel in Haikou & Sanya: 5 days to the beautiful beach resorts



Haikou Tours

More China Tour Packages
| | |
| --- | --- |
| City Scenery | City street lined with coconut palms |
As for transportation, don't worry! Hainan Meilan Airport, railway station, ship and expressway links cities of China and the whole world. The downtown area of Haikou has an excellent environment with streets lined with coconut palms. Here there are modern and convenient public transport facilities and all that is best in a tropical seaside city that is pollution free and that meets the needs of the tourist in a friendly and welcoming way.
More info:
- Last modified on Sep. 29, 2019 -
Questions & Answers on Haikou Travel
Asked by Robert Loo from SINGAPORE | Nov. 17, 2019 20:42

Reply
"Travelling from Hotel Renaissance 海口万丽酒店 to Longgun 龙滚镇 by taxi possible? and the charges?
Asked by Wilfrid van Dorsser from AUSTRALIA | Sep. 27, 2019 05:59

Reply
Take train from Haikou of 19.05 on a Monday, what time in Sanya?
Answers (1)
Answered by Freddy from UNITED KINGDOM | Sep. 29, 2019 02:20

0

0

Reply
It takes around 2 hours on the way by intercity train.
Asked by Albert from AUSTRALIA | Sep. 10, 2019 06:28

Reply
My family and I will be traveling to Taipei from Sydney, with transit in Haikou in 10 days time.
I have just been informed today that our return flight on China Airline from Taipei to Haikou on 2 Oct has been cancelled. It has been changed to 30 September. But our flight from Hailou to Sydney by Hainan Airline , on 2 Oct has not changed. So we will be required to transit in Haikou for 50 hours waiting for connecting flight back to Sydney. We hold Australian and Malaysian passports. Would appreciate advice on the following

1. Do we need a Visa for transit in Haikou for 50 hours?
2. If so, what type of Visa is required?
3. Does it need to involve an agent?
4. What document(s) is required for the application?
5. What is the cost for the Visa and how long will it take.

Thank you and would be grateful for any assistance on the above.
Answers (1)
Answered by Aidan from CANADA | Sep. 15, 2019 19:01

0

0

Reply
You can apply for a China visa on arrival. When you get to the VOA office at the border, just complete the application form, take a photo and pay the fee. The visa will be issued within 5 to 10 minutes. You may need to wait longer if the room is busy. It costs CNY 168 for applicants of most countries.
Asked by Sheryl from USA | Sep. 05, 2019 17:32

Reply
Is there luggage storage at the Haikou East station?
Price and length of time can we leave luggage?
Answers (1)
Answered by Paisley from UKRAINE | Sep. 05, 2019 18:12

0

0

Reply
Yes, you can find several place to storage the luggage. Generally speaking, you can put your luggage for a few days. But I didn't remember the exact fare. It won't be expensive. Don't worry.
Asked by Heather Carey from AUSTRALIA | Aug. 23, 2019 18:41

Reply
Long Layover Haikou Airport
We are 4 older Australians with a long layover in Haikou. Arrive 2.30 pm and net flight is 1.30 am. We do have a Chinese Visa. Is it advisable to tax to the city and have a look around, and possible a meal. Or are the hotels that we can book a room and perhaps shower and rest? Your advice would be greatly appreciated. Cheers Heather Carey
Answers (1)
Answered by Rex from SINGAPORE | Aug. 27, 2019 19:52

0

0

Reply
It depends on your plan and body condition after your arrival. It will be great to look around the city. But if you are tired, there are some hotels around the airport you can have a rest.