Haikou Shopping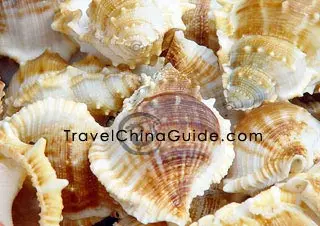 Beautiful shells for sale
Haikou is the commercial center of Hainan Province, and as such goods from around the whole island gather here. In addition to the Le Pu Sheng Emporium, the No.1 Department Store, and Shengsheng department store, new shopping centers are developing rapidly in this area. Traditional folk trade markets are also available to shop and cultivate local customs.

What to Buy
Using local materials, Hainan's featured artwork and souvenir are created with an ocean theme, rural style and national flavor. Generally there are about ten categories, into which fall over a hundred different kinds of products that are created to appeal to tourists.

Pearl
There are many shops within Hainan that sell many kinds of pearls, but the seawater pearl is the specialty of Hainan Province. If you are interested in purchasing pearls, to avoid the risk of imitations you are best to buy in larger jewelry stores.

Crystal
These glistening gems are very popular among young girls. DIY shops allow you to use your imagination and create your own unique gift for your friends.

Li Brocade
This is a featured cloth handmade by the Li people using cotton inside the capsule of kapok. Particularly renowned during the Spring and Autumn Period (770 BC - 476 BC), the Li Brocade is China's oldest cotton textile. The Li Brocade includes a column skirt, headband, bed sheet, quilt and so on. Designs of flowers, grass, animals and human beings are exquisitely made.

Coconut Shell Sculpture
These sculptures are carved on coconut shells into various figures including cute babies, delicate key buckles, tea boxes, pigs, and other craftwork such as pictures. Remember to bring one home!

Seashell
The DC Department Store on Haixiu Road is worth a visit. Local shell-made wind bells and toys cost very little but are definitely distinctive local folk artworks. Be sure to handle the damageable shell craftworks with care.

Pepper
Hainan abounds in pepper, black pepper and white pepper. They can be divided into pepper pellets and finished pepper. The pepper is not only used as seasoning but also as a stomach-warming ingredient.

Cultural souvenirs of the Li Minority are also sold in big shopping malls. They are very unique and distinctive gifts for friends and family.

Where to Buy
Haixiu Avenue is the most bustling commercial street in the city. The tourist souvenir shops around the Haikou Hotel also converge at this avenue.
Getting There: Bus No.9, 17, 24

Dongmen (East Gate) Market: gathering place for dried seafood, a tasty present for friends and families.

Wholesale Fruit Market: on Bailong South Road you will not want to miss the tropical fruits of Hainan Province. Products for sale include mangos, pineapples, jackfruits, coconuts, betel nuts, pawpaw, longan and lichee, loquat, naseberry, passionflower, wampee, carambola, etc. Many of these products are unique to Hainan, and are seldom found in other areas. In addition, if you are courageous enough, try a taste of Liu Lian (civet durian), the king of tropical fruit. It has an offensive odor but a very pleasant taste!
Getting There: Bus No.3, 11, 16

Here are some of the large local shopping malls which feature commodities such as clothes, home appliances, jewelry, and artworks.
No. 1 Department Store of Hainan: Waihai Shopping Center, No.8, Haixiu Road
Sheng Sheng Department Store: Zhujiang Square, Binhai Avenue
DC Department Store: No.10, Haixiu Avenue
Le Pu Sheng Emporium: No.7, Haixiu Road
Tailong Department Store: No.4, Datong Road
Tourist Street: Haixiu East Road
- Last updated on Jun. 07, 2022 -
Questions & Answers on Haikou Shopping
Asked by Lan from SINGAPORE | Oct. 06, 2023 03:45

Reply
wholesale
Hi, may know where is Haikou wholesale clothing and garment market? Thank you.
Answers (1)
Answered by Gloria | Oct. 06, 2023 18:07

0

0

Reply
There are many clothes wholesale markets available around the De Shengsha Road, Longhua District, Haikou City and you can find one there.
Asked by Kean from SINGAPORE | Jul. 11, 2016 12:06

Reply
I would like to find out where I can buy large seashells in Haikou?
Answers (2)
Answered by Sally from NEW ZEALAND | Jul. 12, 2016 03:11

1

1

Reply
You can find large seashells at Xingang Port on Duhai Road. Take bus line 14, 22, 27, or 50 to get there. :)
Answered by Kean from SINGAPORE | Jul. 12, 2016 05:17

0

0

Reply
Thanks Sally :-)
Asked by Cheah from MALAYSIA | Dec. 02, 2015 01:14

Reply
buy wushu dresses/taiji uniform in Sanya or Haikou, where?
Answers (1)
Answered by Hinda from DENMARK | Dec. 03, 2015 02:04

0

0

Reply
I seemed to see Taiji uniform at the Jiefang Road Pedestrian Street in Sanya. You may go for a try!
Asked by Jody from AUSTRALIA | Aug. 29, 2015 17:28

Reply
Buy gem, crystal jewellry in China
Hi I'm travelling to China for a holiday and would like to buy some genuine crystal jewellry, Larimar, lapis lazuli just to name a couple. Any contacts for where? I'm going to Shanghai and xian
Answers (2)
Answered by Lily from INDIA | Aug. 29, 2015 20:43

2

1

Reply
In Shanghai, I suggest you go to the Old City God Temple commercial Streets, which is near the Yuyuan Garden. It is one of the best markets for jewelry shopping, and you can find a lot of stuffs like gem, crystal jewelry, which will definitely dazzle your eyes.

In Xi'an, there is a Shuyuanmen Jewelry City, located at No. 115 of Shuyuanen. You can also go there to check if they have something you want.
Answered by Jody from AUSTRALIA | Aug. 30, 2015 02:24

0

0

Reply
Thanks Lily, I'm so excited!