Haikou Attractions - Things to Do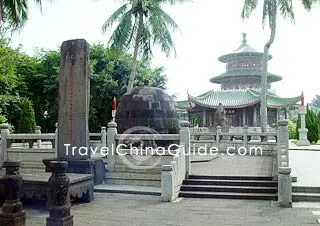 Tomb of Hai Rui
Haikou, the capital city of Hainan Province, is home to elegant seascape and historical sites as well as dozens of newly-developed tourist regions and attractions.
Top Things to Do in Haikou

Dongzhai Harbor Mangrove Natural Reserve Area


Holiday Beach


Temple of Five Lords

The Temple of Five Lords (Five Officials' Temple or Wugong Ci in Chinese) was built in memory of five historical celebrities of the Tang and Song dynasties who lived within Hainan Province. The temple is actually a more like a building complex and is praised as 'the No. 1 Building in Hainan'.

Tomb of Hai Rui is the tomb for Hai Rui, an upright official from the Ming Dynasty (1368-1644). Hainan-born Hai Rui punished treacherous court officials campaigned for the rights of common people. Hai Rui was an official of incorruptible integrity, an outstanding politician, and has been greatly respected by the generations who followed.

Dongzhai Harbor Mangrove Natural Reserve Area, located in Qiongshan District, Haikou, is a good heaven for mangroves and birds. About 159 species of birds inhabit the reserve, including many rare migratory birds.

Other Attractions:

Dongjiao Coconut Plantation


Nanli Lake


Qiongtai Academy


Shimei Bay


Tomb of Hai Rui

Qiongtai Academy was established in 1705 in memory of Qiu Jun, a famous scholar during the Ming Dynasty. Its main building is a two-storey structure of typical Chinese brick-and-wood construction.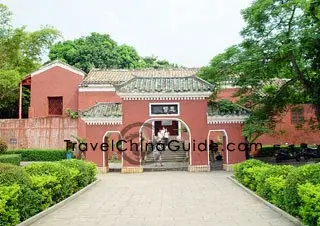 Wugong Temple
As one of the renowned sights in Hainan, Dongjiao Coconut Plantation boasts an elegant and scenic environment. As its name indicates, it holds all sorts of coconut trees, such as red coconut, high coconut, water coconut and blue coconut, etc. With its own beach, sand sports and water sports can also be done here. The shallow sea of the area is also full of lobsters, prawns, groupers and abalones. This scenic spot attracts numerous tourists to its unique combination of coconut and sea, local cuisine, and species of seafood.
Holiday Beach, west of Haikou City, has beautiful natural and man-made scenery. Verdant plants, autumnal breezes, pure sand, sparkling seawater and fine sunlight create a sweet and appealing picture. Here the beach is divided into four functional regions (ranging form east to west): Sports District, Ocean Dining District, Beach Sunbathing District and Relaxation & Holiday District. Concentrating on aquatic sports, beach sports, and tourist attractions Holiday Beach embodies everything expected of an international seaside tourist city.
Shimei Bay is a place with tropical sunlight, wide open sea and mysterious and alluring primitive scenes. The bay contains a beach where six kilometers of long white sand is smooth and soft to walk on and the seawater is so clear you can see the bottom. A short distance away by sea is an island, Jiajing Island, covered with lush and vibrant plants. Under the water surrounding the island lives a rainbow of colorful corals. The area is a paradise for scuba diving enthusiasts. The farmhouse villages of Li People are found scattered around the island, where they can be found still their primitive life cultivating and fishing.
| | |
| --- | --- |
| Beautiful Beach | Coconut Trees in the City |
Ma'an Ling Volcanic Vent, one of the most well-preserved extinct volcanic vents in the world, is called the 'Natural Volcano Museum of China' by geologists. The south and north peaks rise highly while the area between them sinks down deeply, resulting in a shape that has given the volcanic vent the name of Ma'an Ling (Saddle Mountain).
Nanli Lake is another famous scenic site of the city. Take a boat on the lake, tourists will feel refreshed and relaxed. There are 13 islands of varied shapes and five peninsulas covered by lush trees and pretty flowers in the lake.
In addition to the fascinating sights above, the area's parks and zoos are also worth a visit. These include the People's Park, Jinniu (Golden Ox) Ling Park, Binhai Park, and Tropical Safari Park.
Attraction around the city:
Five Finger Mountain
The Five Finger Mountain (Wuzhi Shan) is situated in Wuzhishan City, near Haikou. A visit to the mountain will reward people wonders of high peak, impressive waterfalls and customs of Miao and Li minorities.