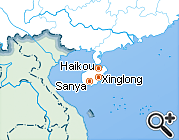 Haikou & Sanya Private Tours
HK01: 5 Days Haikou - Xinglong - Sanya
Our English-speaking guide will meet you at Haikou Meilan Airport and transfer you to the hotel. The remainder of the day is at leisure for you to have a good rest or explore the city. You may enjoy the beautiful night views by yourself.

Meals: No meals, advice freely available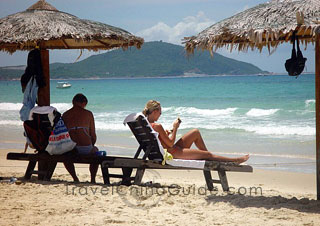 Yalong Bay, Sanya
After breakfast, we will transfer you to Xinglong and overlook Wanquan River on the way. As the third largest river in Hainan Island, Wanquan River runs for 163 km (101 miles) from Wuzhi Mountain to its outlet to the South China Sea. The charming tropical rain forests, unique landforms and the uncontaminated scenery make the river known as the 'Chinese Amazon'. After arriving at Xinglong, you will visit the Tropical Botanical Garden, where you will see numerous tropical plants, including tropical cash crops, rare fruit trees and garden plants. When walking around the garden, you can also have a taste of the self-produced free coffee, coconut milk, cocoa and tea. Then continue driving to Sanya and we will help you check in the hotel to have a short rest once arriving. Later, you will proceed to the Miao Minority Village to enjoy the simple but tranquil tropical village, and learn about the unique culture of the Miao minority.

Meals: Western buffet breakfast, Lunch
After a full-day private trip yesterday, you may feel a little tired, so the morning is free for you to have a good rest or have a leisurely stroll along the beach near your hotel. In the afternoon, visit
Tianya Haijiao
. Located at the foot of Maling Mountain about 14 miles from downtown area, Tianya Haijiao boasts rows of coconut trees, crystal sea, sandy beach, grotesque rocks and clear sky. The two huge rocks measuring over 33 feet tall attract most visitors' eyes. They are carved "Tianya" and "Haijiao" respectively, both of which mean the remotest corners in the earth. Nowadays, many new couples will come here to make their vows, romantic indeed. Then pay a visit to
Nanshan Temple
to learn more about the Chinese Buddhist culture.
Meals: Western buffet breakfast
Beach scenery
The day is free for you to explore the tropical coastal city. You may walk along the beach to enjoy the beautiful scenery of blue sky, crystal seawater, high coconut trees and the soft golden beaches. You may also take a ferry or yacht from Xiaoqi Wharf to the West Island, where you will find a 400-year old small village, dense tropical plants and gorgeous beaches. Diving, motorboat-driving and other aquatic recreational activities are also available on this picturesque island. Please keep safety in mind while you are entertaining yourself.

Meals: Western buffet breakfast
Day 5
Departure from Sanya
Today you will visit the 'Oriental Hawaii',
Yalong Bay
. As one of the most beautiful beaches, Yalong Bay is endowed with mild climate, rich tropical vegetation and charming natural landscape of silver soft sands, crystal seawater, undulating mountains and grotesque rocks. Afterwards, we will see you off at the airport for your return flight. We hope our service gives you a pleasant Hainan tour and wish you a nice trip home!
Meals: Western buffet breakfast, Lunch

More Related Itineraries: