Haikou Meilan International Airport
Airport Code: HAK
Location:
Meilan Village, Qiongshan City, a crow-fly distance of 15 kilometers (9 miles) southeast from Haikou City.
Brief Intro:
Opened in 1999 to replace the former Dayingshan Airport, the Haikou Meilan International Airport has had an amazing growth of 13% in its annual passenger handling capacity. As one of the top ten busiest civil airports in China, it is capable of serving 9,300,000 passengers every year, with 4,016 per hour at its peak. Having been expanded during 2003-2005, it has one of the highest air traffic control towers in Asia (70.34m/231ft) and a specially designed terminal building which resembles the houses of the local Li people and covers 99,300 square meters (25 acres) to meet the capacity. Dense with greenery, the garden-like airport is also famed for its well-equipped facilities and first class services.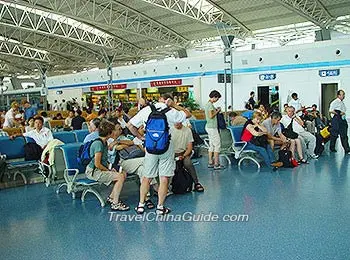 In Haikou Airport Terminal
Transportation

By Airport Shuttle Bus:
Airport→Civil Aviation Hotel, at Mingzhu Square of city downtown
Stops: Longfeng Hotel, East Bus Station, Hainan Provincial Government
Operating hours: from the first flight to the last flight arrival
Duration: 35 minutes
Ticket fare: CNY15
Civil Aviation Hotel, city downtown→Airport
Stops: Haihang Building, Changmao Garden, Jinlin Garden, Longfeng Hotel
Operating hours: every 30 minutes from 05:30 to 21:00
Duration: 35 minutes
Ticket fare: CNY15

By City-bus
No.41: Meilan Airport – Ling Shan Buddhism Garden – Lingshan Market Intersection - Lingshan Town - Liuhe Market–Hainan Vocational College of Political Science and Law–Longfeng Hotel–Chengdong Market -
Wugong Temple
- East Bus Station – Lantian Intersecrion Minsheng Market - Exit and Entry Frontier Inspection - Mingmen Square - Jianghang Hotel - Haikou Hotel–Mingzhu Square –Guobin Hotel - Hainan Overseas Chinese Middle School - Nanzhuang Restaurant - Jinniuling Park–Fenghuang New Village–West Bus Station–Jinjing Mansion - Port Maket - Xiuying Port- China Maritime Safety Administration – Dongfangyang
Operating Time: 06:30~22:40
Ticket Fare: CNY1~CNY6
No.21: Meilan Airport –Ling Shan Buddhism Garden–Lingshan Town–Qiongshan Meat Packing Plant- Hainan Vocational College of Political Science and Law–Liuhe Market - Longfeng Hotel – Qiongshan Overseas Chinese Middle School – Nanbei Fruit Market – Fengxiang Villa–China Town –Changmao Garden–Longquan Fishing Village–Huayin Building–Jinlong Market - Golden Coast Hotel –Wangfu Building–Wanlv Garden–Funan Building–Jialing Building–Landmark Garden–Hainan University – Baishamen
Operating Time: 06:30~22:30
Ticket Fare: CNY1~CNY5

By train
Arrival at the airport, you can reach the underground Meilan Railway Station with ten minutes walking, where you can take a bullet train to
Haikou Railway Station
or
Haikou East Railway Station
. There are 22 departures per day from 08:10 to 21:32 with the travel time of only about 10 minutes.

See more
Sanya - Meilan Train

By taxi
It costs around RMB50 to get to city downtown area from Meilan Airport within 30-40 minutes.
It costs around RMB60 from Meilan Airport to the city's South Bus Station within 40 minutes.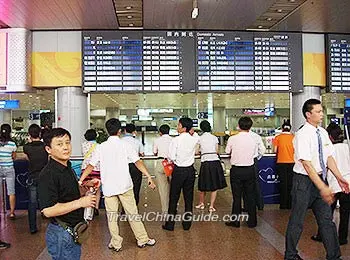 Haikou Meilan Airport

From HAK to Sanya City:
1.Hire a taxi at the price of CNY300-CNY400

2.Take a taxi to South Bus Station with CNY50-CNY70, and then take the coach to Sanya. The bus fare is CNY53/person for a normal bus and CNY78/person for a delux bus. Arriving at the Sanya Bus Station, it costs about CNY50 to Yalong Bay, CNY10 to Dadonghai and CNY7 to downtown Sanya by taxi. Taxi fares are a little bit more expensive at night.

3. After arriving at HAK, passengers can directly go to Meilan Airport Railway Station via the conjoint channel without go out of the airport. Then take the high speed train from there to Sanya.

Visa on Arrival:
1. Passengers holding citizenship of the countries which have foreign relations or official trades with PRC can enjoy the facility of a Visa on Arrival (VOA) at in this airport.
2.
Hainan 30-day visa-free access
is available for travel group or individual who hold passports of the 59 countries, i.e. USA, Singapore, Japan, Malaysia, Italy, Thailand, Philippines, Indonesia, UK, France, Austria, Switzerland, Sweden, Spain, Netherlands, Finland, Denmark, Norway, Canada, Australia, New Zealand, Ukraine and Kazakhstan and so on.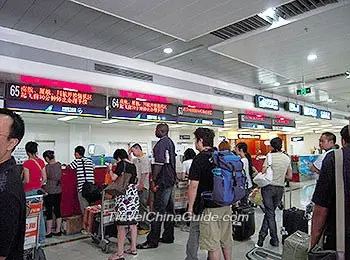 Check in
Facilities

Lounges: Decorated with unique ornaments, carvings and brocades of the local Li people, the lounges here provide not only considerate services but vivid representations of the local culture. Well located on both the Departures and the Arrivals Levels, the lounges are open for a charge of CNY150 per person.

Restaurants
:
Ajisen Noodle: The restaurant is located in the Departures Hall (near Gate 3), providing such Japanese food and snacks as noodles, fried rice, grilled eels and more.
Opening Hours
: 06:00-the last flight
Spice Restaurant
: Located near Gate 3 in the Domestic Departure Hall (Level 2 airside), the restaurant serves traditional dishes from south China, such as Sweet and Sour pork, Spicy Pork local style and one of Hainan specialties, Wenchang Chicken.
Opening Hours
: 11:00-14:00, 17:00-21:30
Tel
: 0898-65751822

Hainan Welcome Café
: A relaxing place to enjoy tropical fruits, savory snacks, barbecues and drinks.
L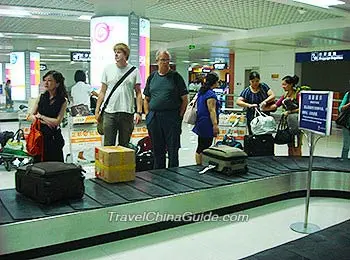 Pick up baggage
ocation
: the Arrivals Hall (Level 1)
Opening Hours
: 10:00-the last flight
Coconut Café
: As its name implies, the restaurant serves authentic Hainan-flavored food. A wide range of fresh fruit juices and platters, steamed rice in coconut shells and local rice noodles can be found on the menu.
Location
: the Domestic Departures Hall (landside, near Gate 3)
Opening Hours
: 09:30-22:00
Tel
: 0898-65751838

Sports Bar
: drinks, snacks, fast food
Location
: the Domestic Departures Hall of the airside, near Gate 6
Tel: 0898-65751878

2 Go Trolley
: breads, sandwiches, drinks, coffee
Location
: the Domestic Arrivals Hall
Opening Hours
: 06:00-the last flight

Car Parking
:
Location
: in front of the terminal
Tel
: 0898-65751374, 0898-65751104
Daily Car Park (CNY)
Overnight Car Park (RMB)
Small cars or mini vans (under 12 seats or 1 ton)
6 within an hour and 3 per hour is to be charged hereafter.
20 per night
Middle cars or vans (13-24 seats or 1-5 tons)
8 within an hour and 5 per hour is to charged hereafter.
25 per night
Buses or vans (over 25 seats or 5 tons)
15 within an hour and 8 per hour is to be charged hereafter.
30 per night
Bus monthly parking
800 per month
Taxi monthly parking
300 per month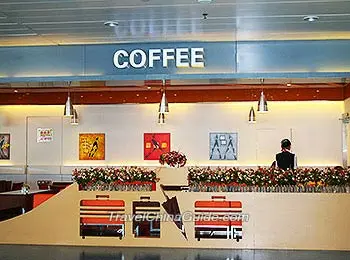 Cafe
Services

Airport Hotlines
: 0898-65760114

Medical Center
: 0898-65751920

Luggage Inquiry
: Opposite the Domestic Luggage Collection Hall (Level 1), 0898-65751528, 0898-65757313 (China Southern Airlines)

Luggage Claim
: 0898-65760631

Left Luggage
: 0898-65751111

Complaints
: 0898-65751315

Special Services
: Online reservations for wheelchairs, stretchers or care for unaccompanied children can be made 24 hours before the departure.
- Last modified on Sep. 29, 2020 -
Questions & Answers on Haikou Meilan Airport
Asked by Maria Lopez Spain | Sep. 25, 2020 16:40

Reply
Rapid train to Meilan Airport
Goes the rapid train from Sanya direct to the airport Haikou Meilan? Or I must to take another train or bus?
Answers (1)
Answered by Harper | Sep. 29, 2020 19:44

0

0

Reply
Don't worry. There are direct rapid train from Sanya to the airport.
Asked by Layla Embleton from UNITED KINGDOM | Jan. 13, 2020 10:25

Reply
I am staying in Haidian Haikou & have an early flight (6.20).
Will it be possible to find a Taxi at about 4am or will I need to book a night at the hotel at the airport?
Answers (1)
Answered by Kira from CANADA | Jan. 14, 2020 19:58

0

0

Reply
You can find a taxi at 4am. But you better book one in advance in case you are late.
Asked by Sal from U.S | Dec. 03, 2019 20:29

Reply
How do I get from Haikou to Bo'ao?
I will be landing at 10:30pm. I was thinking about staying one night and then heading out to Bo'ao the next morning. Any advice? Thank you!
Answers (1)
Answered by Brenda from USA | Dec. 05, 2019 19:27

0

0

Reply
I think you can take bus 21 to Haikou East Railway Station first, then take train from there to Bo'ao Railway Station.
Asked by Joanne from AUSTRALIA | Nov. 25, 2019 23:13

Reply
can I get a taxi for 6 passage + 6 luggage in Meilan airport?
Answers (2)
Answered by Elvira from SINGAPORE | Nov. 27, 2019 23:03

0

0

Reply
No, I am afraid not. According to the situation, you need to take two taxis.
Answered by Joanne from AUSTRALIA | Nov. 28, 2019 11:17

0

0

Reply
Thank you for your suggestions
Asked by Paddy from SINGAPORE | Nov. 08, 2019 14:31

Reply
Hiw di i walk from meilan international arrival hall to Meilan Railway Station?
Answers (1)
Answered by Niki from THAILAND | Nov. 11, 2019 01:37

0

0

Reply
The distance around them is only around 700m so you can follow the clear signs in the airport to it.