Taiwan Travel Guide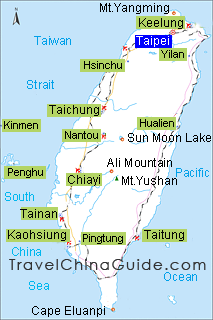 Taiwan Facts

Location: Taiwan lies like a spindle in the southeast of Asia. Geographically separated from Mainland China, this precious island is known as Typhoon Island from whence its name.


Physical Features: It is a rare tropical mountain-island in the world, two thirds of which is covered with high mountain ranges. The most famous of the mountains, Ali Mountain, is the symbol of this charming island.



Area: 13,973 square miles (36,192 square kilometers)


Population: 23,492,074


Nationalities: Han, Gaoshan


Religion: Buddhism, Taoism, Protestantism, Catholicism


Administrative Division: six municipalities (Taipei, New Taipei, Taoyuan, Taichung, Tainan, Kaohsiung); 3 cities (Keelung, Hsinchu, Chiayi);
11 counties (Hsinchu, Miaoli, Changhua, Nantou, Yunlin, Chiayi, Pingtung, Yilan, Hualien, Taitung, Penghu, Kinmen, Lienchiang)
Cities in Taiwan

The island has another Portuguese name, Formosa, which means 'beautiful island'. In addition, it has many wonderful man-made tourist recourses, such as the famed Matsu Temple.

Located in the subtropical ocean, Taiwan offers visitors comfortable weather and has no winter all the year round. With the pleasant climate, it can sustain vast biology resources. It is a place worth visiting for its natural sights, such as the high and steep mountains and the dense atmosphere of seashore holidays.
How to Get to Taiwan

Overlooked from Fujian Province, this island is neighbored by Japan in the north and Philippines in the south. Unsurprisingly, the island has become a hub for travel between places in Asia and is one of the tourist destinations with the most convenient transportation in the world.

Taiwan Train

Taiwan Taoyuan International Airport

Taipei Metro (MRT)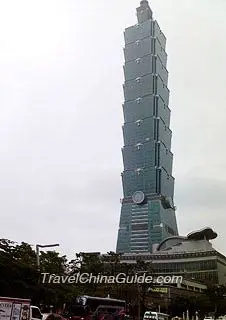 Taipei 101

During the past decades, Taiwan's economy emerged as a miracle. As of today, it is the primary source of foreign capital for South-East Asian countries, thus allowing them to provide complete and high-quality tourist services and facilities.

If you have an opportunity to visit the southeast of Asia, make sure to include Formosa in your itinerary. The beautiful island will offer you an appealing trip that you will find it hard to tear yourself away from.



Local Highlights: Concurrently home to different groups mainly from the southern Fujian Province, Hakka and the local people, Taiwan also features various colorful human cultures. You will detect the harmonious and prosperous atmosphere in its religions, architectures, languages and dining.



Food: Visitors should take special care not to miss the dainty dishes here - in fact, the island is dubbed the 'Kingdom of Delicacies' by gourmets.



See also Dragon Boat Festival in Taiwan
- Last modified on Oct. 01, 2019 -
Questions & Answers on Taiwan Travel
Asked by izaidah from MALAYSIA | Oct. 01, 2019 18:57

Reply
3F., No.2, Sec. 3, Bade Rd., Songshan Dist., Taipei City 105, Taiwan (R.O.C.) can you find this road
i need to go for visit gloria tech. the address is 3F., No.2, Sec. 3, Bade Rd., Songshan Dist., Taipei City 105, Taiwan (R.O.C.), can you find the place for me?
Answers (1)
Answered by Betty from TAIWAN | Oct. 01, 2019 20:16

0

0

Reply
Here is Chinese address. You should be able to find the location from google map
105台北市松山區八德路三段2號3樓
GLORIA Project Office
Project Planner
+886-2-2577-4249#375 (Michelle Hu)
gloria

gloria.org.tw
3F., No.2, Sec. 3, Bade Rd., Songshan Dist., Taipei City 105, Taiwan (R.O.C.)
Asked by Carissa from AUSTRALIA | Sep. 02, 2019 19:09

Reply
Hi i need to find out the post code for this address in Taiwan:
No.58,Lan 20, Da Fu Rd. Shen Kang 429 Taichung, R.O.C
Answers (1)
Answered by Barbara from FINLAND | Sep. 04, 2019 01:00

0

0

Reply
Sorry, I didn't find Dafu Road. Would you mind recheck the road name?
Asked by annie from USA | Aug. 28, 2019 10:57

Reply
what is the postal code for 103 tafeng rd kang in hsiang taichung taiwan
Answers (1)
Answered by Selma from USA | Aug. 29, 2019 20:50

0

0

Reply
Sorry, I haven't found your address. Could you confirm your spelling and standardize the address writing?
Asked by Peter from SINGAPORE | Aug. 24, 2019 01:07

Reply
High Speed Train Network - Taiwan
Can anyone help me with the e-mail address for the Taiwan High Speed Train network...
please?
Answers (1)
Answered by Molly from AUSTRALIA | Aug. 28, 2019 23:12

0

0

Reply
The telephone number is 4066-3000 or you can go to their official website to send an e-mail.