Taiwan Travel Guide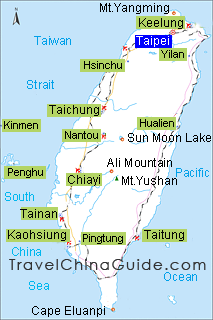 Taiwan Facts

Location: Taiwan lies like a spindle in the southeast of Asia. Geographically separated from Mainland China, this precious island is known as Typhoon Island from whence its name.


Physical Features: It is a rare tropical mountain-island in the world, two thirds of which is covered with high mountain ranges. The most famous of the mountains, Ali Mountain, is the symbol of this charming island.



Area: 13,973 square miles (36,192 square kilometers)


Population: 23,492,074


Nationalities: Han, Gaoshan


Religion: Buddhism, Taoism, Protestantism, Catholicism


Administrative Division: six municipalities (Taipei, New Taipei, Taoyuan, Taichung, Tainan, Kaohsiung); 3 cities (Keelung, Hsinchu, Chiayi);
11 counties (Hsinchu, Miaoli, Changhua, Nantou, Yunlin, Chiayi, Pingtung, Yilan, Hualien, Taitung, Penghu, Kinmen, Lienchiang)
Cities in Taiwan

The island has another Portuguese name, Formosa, which means 'beautiful island'. In addition, it has many wonderful man-made tourist recourses, such as the famed Matsu Temple.

Located in the subtropical ocean, Taiwan offers visitors comfortable weather and has no winter all the year round. With the pleasant climate, it can sustain vast biology resources. It is a place worth visiting for its natural sights, such as the high and steep mountains and the dense atmosphere of seashore holidays.
How to Get to Taiwan

Overlooked from Fujian Province, this island is neighbored by Japan in the north and Philippines in the south. Unsurprisingly, the island has become a hub for travel between places in Asia and is one of the tourist destinations with the most convenient transportation in the world.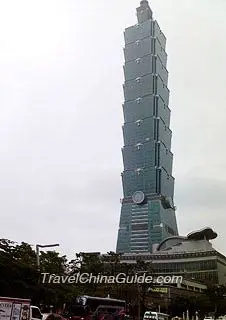 Taipei 101

During the past decades, Taiwan's economy emerged as a miracle. As of today, it is the primary source of foreign capital for South-East Asian countries, thus allowing them to provide complete and high-quality tourist services and facilities.

If you have an opportunity to visit the southeast of Asia, make sure to include Formosa in your itinerary. The beautiful island will offer you an appealing trip that you will find it hard to tear yourself away from.



Local Highlights: Concurrently home to different groups mainly from the southern Fujian Province, Hakka and the local people, Taiwan also features various colorful human cultures. You will detect the harmonious and prosperous atmosphere in its religions, architectures, languages and dining.



Food: Visitors should take special care not to miss the dainty dishes here - in fact, the island is dubbed the 'Kingdom of Delicacies' by gourmets.



See also Dragon Boat Festival in Taiwan
- Last modified on Dec. 16, 2019 -
Questions & Answers on Taiwan Travel
Asked by Dung from VIETNAM | Mar. 17, 2020 19:14

Reply
I need postcode for:2F no.9 Ln.60, Songjiang St, Banqiao Dist, New Taipei city 220, Taiwan ROC
Answers (1)
Answered by Emily from FINLAND | Mar. 21, 2020 00:23

0

0

Reply
22047
Asked by Alma from USA | Feb. 07, 2020 13:38

Reply
I need the 5 digit zip code for this address: 3F-3, No. 6, Lane 18, Lane 95,
Ziyou Road, East District, Hsinchu City 300, Taiwan
Answers (1)
Answered by Marilyn from POLAND | Feb. 09, 2020 18:54

0

0

Reply
30041
Asked by MARLA GALVAN from PHILIPPINES | Jan. 27, 2020 20:40

Reply
What are the tourist attractions or must see in Taiwan? Arrival will be at Taoyuan Airport. Thank u
Can you suggest itinerary for 5 days 4 nights? Thank you :)
Answers (1)
Answered by Harriet from DENMARK | Feb. 02, 2020 17:02

0

0

Reply
Oh, you can arrange your tour in the following way:
Day 1: Taipei Ximending Area,
Day 2: Taipei National Palace Museum, Yangming Mountain, Shilin Night Market
Day 3: Ali Mountain, Sun Moon Lake
Day 4: Hualien Chingshui Cliff, Seven Star Lake, Yushan National Park
Day 5: Taichung Kaomei Wetland, Rainbow Village

Have a nice trip!
Asked by Penny Marie Blumenschein from US | Jan. 27, 2020 13:11

Reply
What is the Zip Code for 4F, No. 16, Lane 120, Sec1, Neihu Road, Taiwan, Taipei ROC
Answers (1)
Answered by Jacob from CANADA | Feb. 01, 2020 20:09

0

0

Reply
11446
Asked by Ren from PHILIPPINES | Jan. 16, 2020 16:46

Reply
is there any hostel near the taoyuan airport?
since the transpo service is only til 12mn and my arrival is around 2am. so im looking for nearby hotel to stay
Answers (1)
Answered by Nick from SINGAPORE | Jan. 16, 2020 18:55

0

0

Reply
Well, you can stay in the hotel named City Suites (Taoyuan Gateway), located at No.442, East Zhongzheng Road.