Taiwan Travel Guide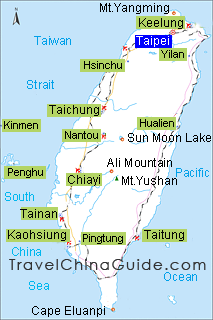 Taiwan Facts

Location: Taiwan lies like a spindle in the southeast of Asia. Geographically separated from Mainland China, this precious island is known as Typhoon Island from whence its name.


Physical Features: It is a rare tropical mountain-island in the world, two thirds of which is covered with high mountain ranges. The most famous of the mountains, Ali Mountain, is the symbol of this charming island.



Area: 13,973 square miles (36,192 square kilometers)


Population: 23,492,074


Nationalities: Han, Gaoshan


Religion: Buddhism, Taoism, Protestantism, Catholicism


Administrative Division: six municipalities (Taipei, New Taipei, Taoyuan, Taichung, Tainan, Kaohsiung); 3 cities (Keelung, Hsinchu, Chiayi);
11 counties (Hsinchu, Miaoli, Changhua, Nantou, Yunlin, Chiayi, Pingtung, Yilan, Hualien, Taitung, Penghu, Kinmen, Lienchiang)
Cities in Taiwan

The island has another Portuguese name, Formosa, which means 'beautiful island'. In addition, it has many wonderful man-made tourist recourses, such as the famed Matsu Temple.

Located in the subtropical ocean, Taiwan offers visitors comfortable weather and has no winter all the year round. With the pleasant climate, it can sustain vast biology resources. It is a place worth visiting for its natural sights, such as the high and steep mountains and the dense atmosphere of seashore holidays.
How to Get to Taiwan

Overlooked from Fujian Province, this island is neighbored by Japan in the north and Philippines in the south. Unsurprisingly, the island has become a hub for travel between places in Asia and is one of the tourist destinations with the most convenient transportation in the world.

Taiwan Train

Taiwan Taoyuan International Airport

Taipei Metro (MRT)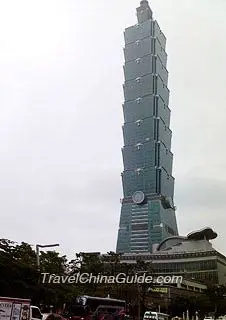 Taipei 101

During the past decades, Taiwan's economy emerged as a miracle. As of today, it is the primary source of foreign capital for South-East Asian countries, thus allowing them to provide complete and high-quality tourist services and facilities. If you have an opportunity to visit the southeast of Asia, make sure to include Formosa in your itinerary. The beautiful island will offer you an appealing trip that you will find it hard to tear yourself away from.



Local Highlights: Concurrently home to different groups mainly from the southern Fujian Province, Hakka and the local people, Taiwan also features various colorful human cultures. You will detect the harmonious and prosperous atmosphere in its religions, architectures, languages and dining.



Food: Visitors should take special care not to miss the dainty dishes here - in fact, the island is dubbed the 'Kingdom of Delicacies' by gourmets.

Further Reading:

Dining

Shopping

Nightlife
- Last modified on Nov. 15, 2018 -
Questions & Answers on Taiwan Travel
Asked by Kristine from VIETNAM | Nov. 15, 2018 04:02

Reply
What is the 5 zip code for no 31 Lixing road, Shihlin District, Taipei, Taiwan?
Answers (1)
Answered by Delaney from USA | Nov. 15, 2018 23:10

0

0

Reply
Dear, I cannot find the road on the map so please recheck the address.
Asked by Sarsha Tan from MALAYSIA | Nov. 14, 2018 01:03

Reply
We plan to visit Taiwan in March 2019 for 10 Days. Please advise the best itinerary & hotels
Please advise the best itinerary and budget hotels for 6 persons around Taiwan (round island tour) for 10 days sight seeing & shopping trip for the family.
Answers (1)
Answered by Felicity from SINGAPORE | Nov. 14, 2018 19:33

0

0

Reply
Day 1: The Dome of Light, Ruifeng Night Market
Day 2: Gushan Ferry Station, Cijin, TaKao Railway Museum, Liouhe Tourist Night Market
Day 3: Tokai University, Luce Memorial Chapel, Fengjia Night Market
Day 4: Jhongjheng Park, Port of Keelung, Miaokou Night Market
Day 5: Chiufen (Jiufen Old Street), Chiufen Shengping Theater
Day 6: Tamsui Fisherman's Wharf, Lover's Bridge, Danshui Old Street, Fort Santo Domingo, Aletheia University
Day 7: Presidential Building, Red Pavilion Theatre, Shilin Official Residence, National Palace Museum, Shilin Night Market Taipei
Day 8: National Dr. Sun Yat-sen Memorial Hall, Chiang Kai-Shek Memorial Hall, Da-An Forest Park, Shi-Da Night Market
Day 9: Ximending, Sugar & Spice
Day 10: Go home
Asked by Annie Tan from SINGAPORE | Nov. 12, 2018 23:42

Reply
Advise what to wear during Dec 15 to 19 in Taiwan
Travelling on 15/12/18 to 19/12/18 for Yilian resort and taipei. Advise what to wear how is the weather?
Answers (1)
Answered by Rachel from UNITED KINGDOM | Nov. 13, 2018 18:54

0

0

Reply
There is about 10C of temperature difference between the north and south. And the average temperature of Taipei is about 15℃. But It is humid in this city. In the north of Taipei, thick coat is necessary and if you are afraid of the cold, you'd better the down coat. If you go to the south, a coat is enough except for on the mountainous areas or the seaside.
Asked by vincent from MALAYSIA | Nov. 07, 2018 22:07

Reply
I plan to visit Taiwan on 25/12/18 to 30/12/18. Please advice the best itenary for these days.
Answers (1)
Answered by Juana from AUSTRALIA | Nov. 08, 2018 18:37

0

0

Reply
Day 1: Taipei 101 Mall
Day 2: Yangmingshan National Park - National Palace Museum - Chiang Kai-Shek Memorial Hall - City Walk - Eslite Bookstore - National Dr. Sun Yat-sen Memorial Hall - Ximending - Hive House Capsule Inn
Day 3: Maokong - Presidential Building
Day 4: Cingjing Farm - Sun Moon Lake
Day 5: Taroko National Park
Day 6: Swallow Grotto - Bruwan - Eternal Spring Shrine - Taroko Tourist Center
Day 7: Huatung Valley
Asked by Fran from AUSTRALIA | Nov. 05, 2018 21:16

Reply
I want to visit Kaoshiung for a day trip, can you suggest what to do there?
Answers (1)
Answered by Susan from SINGAPORE | Nov. 07, 2018 00:56

0

0

Reply
You are advised to visit Love River, Boer Art District, Former British Consulate at Takao, National University. At night, have a taste the local food.