Taiwan Travel Guide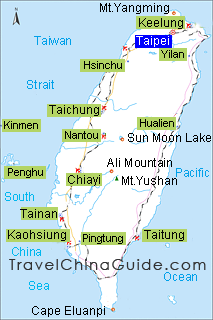 Taiwan Facts
Chinese Name: 台湾 (tái wān)
Population: 23,600,000
Area: 36,000 square kilometers (13,900 square miles)
Location: in the southeast of China
Administrative Division: 6 municipalities (Taipei, New Taipei, Taoyuan, Taichung, Tainan, Kaohsiung); 3 cities (Keelung, Hsinchu, Chiayi); 11 counties (Hsinchu, Miaoli, Changhua, Nantou, Yunlin, Chiayi, Pingtung, Yilan, Hualien, Taitung, Penghu, Kinmen, Lienchiang)
GDP (2019): CNY 4,210 billion (USD 610 billion)

A Treasure Island in Southeast China
Taiwan is located in the southeast of mainland China, facing Fujian Province across the Taiwan Strait. The vast plains of western Taiwan bring together all major cities, of which Taipei City is the most prosperous. The vast mountain ranges cover a large area in central and eastern Taiwan. They also form many natural places to enjoy the mountains and the distant sea. The long and narrow island of Taiwan spans tropical and subtropical regions, which also makes Taiwan extremely rich in natural resources and scenery. Taipei's natural geothermal hot springs, the primitive forest vegetation of Alishan, the unique mountain and sea wonders of Hualien, and the enchanting tropical scenery of Kenting are the first reasons for tourists to come to Taiwan.

Countless Taiwanese snacks and noisy food night markets should not be missed. The warm and kind Taiwanese welcome visitors from all over the world. Various temples and worship activities can be seen all over the island. Among them, the Mazu Temple is the most popular.
Cities in Taiwan

The island has another Portuguese name, Formosa, which means 'beautiful island'. In addition, it has many wonderful man-made tourist recourses, such as the famed Matsu Temple.

See more about:
Top 10 Things to Do in Taiwan

Located in the subtropical ocean, Taiwan offers visitors comfortable weather and has no winter all the year round. With the pleasant climate, it can sustain vast biology resources. It is a place worth visiting for its natural sights, such as the high and steep mountains and the dense atmosphere of seashore holidays.



See also: Best Time to Visit Taiwan

How to Get to Taiwan

Overlooked from Fujian Province, this island is neighbored by Japan in the north and Philippines in the south. Unsurprisingly, the island has become a hub for travel between places in Asia and is one of the tourist destinations with the most convenient transportation in the world.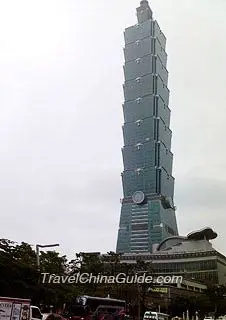 Taipei 101

During the past decades, Taiwan's economy emerged as a miracle. As of today, it is the primary source of foreign capital for South-East Asian countries, thus allowing them to provide complete and high-quality tourist services and facilities.

If you have an opportunity to visit the southeast of Asia, make sure to include Formosa in your itinerary. The beautiful island will offer you an appealing trip that you will find it hard to tear yourself away from.



Local Highlights: Concurrently home to different groups mainly from the southern Fujian Province, Hakka and the local people, Taiwan also features various colorful human cultures. You will detect the harmonious and prosperous atmosphere in its religions, architectures, languages and dining.



Food: Visitors should take special care not to miss the dainty dishes here - in fact, the island is dubbed the 'Kingdom of Delicacies' by gourmets.



See also Dragon Boat Festival in Taiwan
- Last updated on Sep. 07, 2023 -
Questions & Answers on Taiwan Travel
Asked by Talia Orr from TAIWAN | Sep. 23, 2023 07:18

Reply
6F., No. 52, Ln. 2, Sec. 6, Zhongshan N. Rd., Shilin
Answers (1)
Answered by Sarah | Sep. 25, 2023 00:25

0

0

Reply
The post code is 111032.
Asked by Vincent from TAIWAN | Sep. 06, 2023 19:31

Reply
Hello, do you have the postal code of this adress? N° 119, Zhengzhou road, Datong District, Taipei
Answers (1)
Answered by Irene | Sep. 07, 2023 00:59

0

0

Reply
It's 10349.
Asked by ivan from ITALIA | Sep. 06, 2023 00:55

Reply
What is the zip code of 5F-1,NO.12, LANE 219, SECTION 1 FUXING S RD, DA'AN DISTRIC7,106 10666 TAIPEI
5F-1,NO.12, LANE 219, SECTION 1
FUXING S RD, DA'AN DISTRIC7,106
10666 TAIPEI CITY TAIWAN

Answers (1)
Answered by Ivy | Sep. 06, 2023 20:00

0

0

Reply
It's 106082.
Asked by Katy from ISRAEL | Aug. 14, 2023 12:18

Reply
Ferry from China to Taiwan
Hi
How can I book tickets for overnight ferry from Xiamen to Keelung?
Answers (1)
Answered by Andy | Aug. 14, 2023 19:18

0

0

Reply
As I know, the ferry service between the two cities seems to not open yet.
Asked by Rissa from USA | Jul. 29, 2023 08:10

Reply
What is the postal code of No.99 Section 4 Neihu District 19A floor taipei Taiwan? TIA
Answers (1)
Answered by Amber | Jul. 31, 2023 02:11

0

0

Reply
It is 114017.