Taiwan Train
The train is one of the most convenient ways to travel around Taiwan. There are mainly two kinds: one is the high speed trains as fast as 186 mph (300 km/h) running along the western coast of the island; the other is the round island trains with the highest speed of about 95 mph (152 km/h).
| | |
| --- | --- |
| Taiwan High Speed Train | Business Class Carriage of Taiwan Train |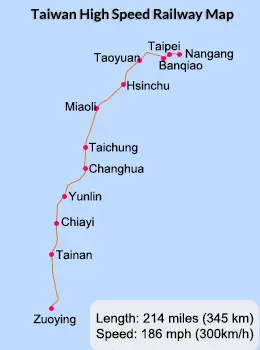 Taiwan High Speed Railway Map
They travel along Taiwan High Speed Rail between Taipei and Kaohsiung. A complete single ride takes about 1.5 hours. The total running distance is 214 miles (345 km) and the top running speed is 186 mph (300km/h).

High Speed Railway Stations
Taiwan High Speed Rail adopts Japanese technologies. Altogether it has 12 stations on the route, including Nangang and Taipei Stations in Taipei; Banqiao Station in New Taipei, Taoyuan, Hsinchu, Miaoli, Taichung, Changhua, Yunlin, Chiayi, Tainan Stations, and Zuoying Station in Kaohsiung. Taipei Station and Zuoying Station are not far from city centers and connected with local metro lines. Others are a little far from city centers, but have buses running there and to nearby scenic spots.

Seat and Ticket Types
All seats on these bullet trains in Taiwan can be rotated to face the direction of travel, and they are classified into three types:



Business Class Seats: They are set up in coach no.6 and each row has four seats. The seat is wide and soft and facilities there are more advanced. Seats Nos. A and E are by the window and C and D are by the aisle.



Standard Seats: They are in coaches nos. 1-5 & 7-9. There are five seats in each row, three on one side and two on the other. Also, seats nos. A and E are by the window.



Non-reserved Seats: The seat is exactly the same as a standard seat. "Non-reserved" means passengers can sit down in any seat of any allowed coaches. Usually, coaches nos.10-12 and sometimes additional coaches no.8-9 are reserved for non-reserved passengers. If all seats are occupied, the later passengers need to stand in the aisle, but this seldom happens if it is not a holiday, Friday evening or Sunday afternoon. Ticket price of a non-reserved seat is about 70% of a standard seat, but the ticket is only available and valid on the day of travel.



Note: Coach no.7 is equipped with special facilities for the physically challenged passengers, like an obstacle-free toilet and an area for wheel-chairs.
| | |
| --- | --- |
| | |
How to Buy Ticket
The ticket is put on sale at most 28 days before the departure date. The most convenient way is to book on its official website, which has an English version. After booking, the paper ticket can be picked up at the high speed railway stations or local convenience stores including 7-ELEVEN, Family Mart, Hi-Life and OK Mart. One can also directly purchase a paper ticket from the high speed railway stations and convenience stores. Booking via phone is also accepted and the hotline for international calls is +886-2-4066-0000.

Discounted high speed rail tickets are on sale, including early-bird tickets, group tickets, multiple-ride tickets, and periodic tickets. Children below 3.8 feet (115 cm) or less than six years old can enjoy free rides and children less than 12 years old can enjoy half-priced rides.

Taiwan Round Island Trains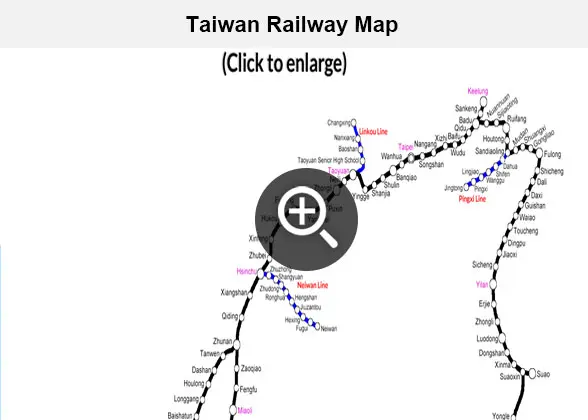 Taiwan Railway Map
(Click to enlarge)
They are conventional trains traveling along Taiwan Railway circling the whole island, both clockwise and anticlockwise. Along the rail, scatter many famous scenic spots and some railway stations themselves are scenic spots in tourists' eyes, so many visitors travel around the island by Taiwan train.

The Taiwan Railway has several branches, including the Pinhsi, Jiji, Neiwan, and Shalun Lines. They run from coastal areas to the inner island and have been top choices for day trips.

Railway Stations
The railway stations along this railway are mostly in downtown areas, so it is easier to transfer between. Some of the stations are shared by bullet trains, like Taipei Station and New Zuoying Station; but mostly they use their own. Make it clear beforehand.

One thing worth mentioning is that Taiwan railway mealboxes have been its "special feature" and a must for its passengers. They can be bought from the platforms of the railway stations and the most famous ones include the Fenchihu, Chishang and Fulong railway mealboxes.

Train and Ticket Types
There are mainly four types of trains: Tzechiang Express, Chukuang Express, Fuhsing Semi Express, and local ordinary trains. Tzechiang is the fastest with the least intermediate stops and the highest ticket price, then Chukuang, and then Fuhsing. Local trains are the slowest running for short-distances and stop at all stations on the way.

There are also Puyuma and Taroko expresses traveling along the northeast coast line. They belong to the Tzechiang type but faster than the regular Tzechiang types. As there are only a few each day, it's advised to book their tickets in advance.

The tickets are divided into two types, standard seat tickets and non-reserved seat tickets.

How to Buy Tickets
The pre-sale time of these normal train tickets is 14 days. The tickets can be bought on the official website, at railway stations along Taiwan Rail, and at convenience stores (7-ELEVEN, Family Mart, Hi-Life and OK Mart). The online bookings can also be collected at related railway stations and the convenience stores.

If you are going to take the branch railways for day trips, the day-pass will save you a lot, as it allows passengers unlimited "hop on and off"along that route within that day. They are sold at the related railway stations.

They are like the Eurail Pass and recommended to those who travel around the island frequently within a short time. Only those holding a Taiwan tourist visa can buy it and it can only be bought from overseas agencies. Generally, your local agencies operating tour itineraries to the island have these products.
There are several kinds:

For high speed rides, the 3-day pass is available. It has two kinds: one for 3 consecutive days, and one for any 3 flexible days within the 7-day valid period.

For frequent rides on conventional trains, Taiwan Rail Pass, or TR-Pass is available. It has two versions, student version for those less than 30 years old and general version. The student version has 5-day, 7-day, and 10-day three kinds, allowing passengers to take Taiwan Railway unlimitedly for 5 days, 7 days, and 10 days respectively. But they cannot be used to take reserved seats on Chukuang or all Tzechiang expresses. The general version does not save much and is not recommended.

There is also Taiwan High Speed Rail & Taiwan Railway Joint Pass for overseas passengers. It allows foreign passengers to take the normal trains unlimitedly within the 5-day validity period and take the high speed ones unlimitedly within 2 of the 5 days. The business class seats and reserved seats on Chukuang, and Tzechiang expresses are not included.



Further Reading:
Taiwan Travel Guide
- Last updated on Aug. 09, 2023 -
Questions & Answers on Taiwan Train
Asked by Patricia Hui from SINGAPORE | Nov. 17, 2023 07:28

Reply
From Kaoshiung, where to take the south line train to and from Fangliao and Taitung?
Answers (1)
Answered by Lily | Nov. 19, 2023 22:16

0

0

Reply
It is suggested to search for proper itineraries or book train tickets at its official website: www.thsrc.com.tw
Asked by Josephine Ho from CANADA | Aug. 09, 2023 15:24

Reply
Train travel in Taiwan
Is it possible to help us buy the train tickets in Taiwan? there are four of us travelling in November. We will be arriving in Taoyuen International Airport on November 6, 2023. We need to go to Taichung, then from Taichung to Tainan, Kaoshiung and onto Hualien. We go go back to Taoyuen on November 14. We are happy if you can get us all the tickets preferably with reserved seats.
By the way, when do we need to get the tickets from Hong Kong to Guangzhou to Zhongshan onto Macau, then back to Hong Kong from November 16th to November 24th.
Answers (1)
Answered by Daisy | Aug. 09, 2023 19:09

0

0

Reply
1. It is a pity that TravelChinaGuide doesn't have any Taiwan train booking service at present.

2. You can book these train tickets of Chinese mainland cities and Hong Kong at anytime with TravelChinaGuide.
Asked by La Fawn from USA | Jul. 11, 2023 21:26

Reply
Fast train from Hualien to Taipei
What information is needed to purchase a train ticket.

Thank you.
Answers (1)
Answered by Rosy | Jul. 13, 2023 00:05

0

0

Reply
Generally, your passport number is needed.
Asked by Agnes from PHILIPPINES | Jan. 16, 2020 07:49

Reply
How to get to Tainan Train Station from Tanzi Train Station?
Answers (1)
Answered by Carl | Jan. 16, 2020 18:14

0

0

Reply
There should be two direct train frm Tanzi to Tainan.
Asked by Adam from SINGAPORE | Jan. 09, 2020 22:32

Reply
From Kaohsiung international airport,which and how to get to nearest THSR to chiayi?
Answers (2)
Answered by Carl | Jan. 16, 2020 18:08

0

0

Reply
There is a high speed train station called Zuoying in Kaohsiung. You can take KRT Red Line from international airport to reach Zuoying Station directly. Then you can go to Chiayi by high speed train.
Answered by Adam from SINGAPORE | Jan. 17, 2020 03:23

0

0

Reply
Thank you for your reply.