Taiwan Dining
Giving priority to the dining style of Southern Fujian and Guangdong provinces, and being combined with the dining features from China mainland, Taiwan created a splendid dining culture over the years. Chinese style food was mainly introduced to this island from provinces of China, especially from the development of Fujian and Guangdong dining cultures, which focus on the cooking of seafood and restorative soup. You can also find some representative dishes of Chinese cuisines, but the tastes may be not as original as you had in the mainland. Some say that local snacks are more popular than the local dishes since they are featured in the local tastes and the local products. Taiwan snacks are more representative and appetizing. Have a try of the light and fresh local cuisine when you are numb with the peppery heat of the Xiang (Hunan Province) and Chuan (Sichuan Province) dishes.
(The restaurants recommended below are not your only choice. There still are many famous and popular one which we will not list one by one here.)
Traditional Dishes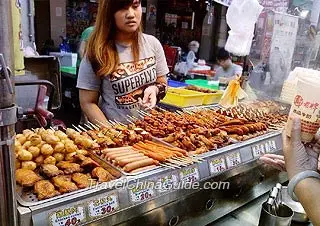 With a light taste, fine appearances and materials of mainly seafood, the traditional dishes of Taiwan cuisine are merged with Min (Fujian Province), Yue (Guangdong Province) and Hakka cooking styles, developed with local products and dining customs to be a special cuisine also influenced by Japanese culture. The tastes of the traditional dishes tend to be natural and original since the weather of the island is muggy. No matter what the cooking style is, it emphasizes the light and fresh, which constitutes a unique school in Chinese cuisines.
Three- Cup Chicken (San Bei Ji)
It is a typical homely dish in Taiwan style. One cup of soy, one cup of oil and one cup of rice wine are the basic condiments for the palatable dish. Put the chicken pieces with salt together into a stone pot and then mix them round. Pour the three cups of flavorings into the pot and scatter some pieces of ginger and garlic. Then the pot should be put on roaring fire until the liquids are boiling. At this time, the fire can be slowed until the meat cooked and the flavoring juice dry. At last, basil (also called Jiu Ceng Ta in Chinese, is a very popular flavoring on this island) is a kind of necessary seasoning. And then the dish can be served. Three-Cup Chicken tastes tough and chewy, and it goes very well with rice and alcohol.
Fried Dried Radish Omelet (Cai Fu Dan)
It is a very simple dish in Taiwan style. Firstly quick-fry the pieces of dry radish with garlic, and then put them aside. Fry the egg mixed together with the dry radish pieces until it looks golden. It is simple, economic and goes well with rice and porridge.
Braised Meat with Bamboo Shoot (Sun Gan Hong Rou)
It should be the seasonal bamboo shoot. After one day pot-stewed, the meat can be continued to braise together with the fresh bamboo shoot until the meat is thoroughly cooked. It tastes soft but not oily.
Shinyeh Restaurant is famed for its Taiwan style dishes, if you are interested in, you can have a try there.
Shinyeh Restaurant
Address: 34, Shuang Cheng Street, Taipei City
Shinyeh Restaurant (Jungshiau Branch)
Address: 2/F, 112, Jungshiau E. Rd. Taipei City

Local Snacks
Tai Nan - Coffin Shaped Bread (Guan Cai Ban)
Maybe firstly your sight will be caught by the name of the food. Factually it is a thick piece of western style bread without the core part, which will be filled with the prepared stuffing of fish and meat or vegetables. After filling the slot like part with the delicious stuffing, it can be fried in oil until golden. At last, a piece of fried bread should be covered on the top. Then you can enjoy it.
Chyn Kaan Coffin Shaped Bread
Address: 180, Yeong Kang Market at Chyn Kaan in Tainan
Opening hours: 10:30 to 22:30
Tan Shui - Fish Ball (Yu Wan)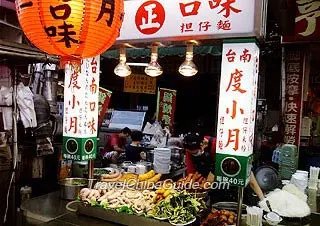 Taipei Night Market
Referring to fish ball, you can taste the authentic Taiwan-style balls in Tan Shui. There are hundreds of snack bars and stalls operate fish balls. The popular snack is made of shark flesh stuffed with ground meat. The first time you try it, you can bite a small hole in the ball and suck the palatable juice and stuffing from it before chewing the meat to enjoy the rough and chewy texture. A very famous snack bar for fish ball is located at 228, Chung Cheng Road, Tan Shui.
Yong Ho - Yong Ho Soybean Milk (Yong He Doujiang)
With the special food of soybean milk, deep-fried twisted dough sticks and sesame seed cake, Yong Ho Soybean Milk now has became a healthy and famous brand in Chinese catering trade. Yong Ho City is the cradle of Yong Ho Soybean Milk, so you may have a different feeling when you enjoy it there with their circumspect service.
Taipei Yong Ho Soybean Milk
Address: 353, Junghua Rd., Bade City, Taoyuan
Hsin Chu - Meat Ball and Rice Noodle (Gong Wan He Mi Fen)
Locals often eat meatball soup with rice noodle mixed together, which creates a perfect taste. A small snack counter at 98, Xi Men Street, Hsinchu City is must try.
Chiayi - Chicken Rice (Ji Rou Fan)
As a representative local snack, authentic chicken rice is usually served with fresh and soft turkey flesh, which will offer you a larruping flavor.
If you want to try various kinds of snacks in Taiwan, snack streets and night markets will be the ideal choice. Taipei Shih-lin Night Market, Huahsi Street Night Market, Raohe Street Night Market, Tan Shui Night Market, Keelung Temple Night Market and Hsinchu Lord Temple Night Market are all recommended - enjoy it!

See also: Top 10 Things to Do in Taiwan
- Last modified on Feb. 01, 2021 -
Questions & Answers on Dining in Taiwan
Asked by Renee from MALAYSIA | Aug. 30, 2016 03:44

Reply
I wish to visit Sanfong Jhong Street too,heard it is famous when Chinese New Year.
Anyway, I would like to know the opening days and hours for this place?
Anyone visited it before and I kindly need your assistance to avoid closing time & days.
Thank you
Answers (1)
Answered by Henry from USA | Sep. 01, 2016 01:20

0

0

Reply
Hi, dear! Most shops along the street are open during daytime all year round, and they will be closed late at night.. :)
Asked by Renee from MALAYSIA | Aug. 18, 2016 10:04

Reply
Is Lanshai Cultural and Creative Park in Tainan open daily?
I'm visiting Tainan this November.I would like to know "Is Lanshai Cultural and Creative Park in Tainan open daily or will close on Tuesday?
Because I'll be in Tainan on Tuesday (just for 1 nite)

Thank you
Answers (3)
Answered by Peter from USA | Aug. 19, 2016 02:00

0

0

Reply
It is open from 10:00 to 20:00 daily. Don't worry! :)
Answered by Renee from MALAYSIA | Aug. 19, 2016 05:07

0

0

Reply
Thanks Peter for your feedback..So it is open daily?because in google,it says it is onli open from wed-mon..so I m worry because I will be there on Tuesday.
Answered by Richard from SINGAPORE | Aug. 24, 2016 20:39

0

0

Reply
Yes, it opens every day. Don't worry.
Asked by Finbarr from IRELAND | Jul. 28, 2016 22:46

Reply
What famous dishes should I try during my visit to Taiwan?
Answers (1)
Answered by Iris from CANADA | Jul. 30, 2016 01:06

0

0

Reply
Oh, you must taste some local traditional foods. They win high populartiy among local people and tourists. Three- Cup Chicken, Fried Dried Radish Omelet, Braised Meat with Bamboo Shoot, Soybean Milk and Chicken Rice are highly recommended. Besides, Taipei Shilin Night Market is the largest one. You can not only find tasty snacks but also some fashionable clothes as well as some unique personal adornments there. Hope you like!
Asked by Tony from AUSTRALIA | Jun. 30, 2015 06:39

Reply
Cooking style in Taiwan
Hi all,
I was in that area many years ago and went to a few restaurants that were a long hotplate that you sat down at on a fixed stool and the chefs cooked your choice of dish on a small bit of foil in front of you. I seem to remember it being called something like Tiepansau ( I have no idea how to write it in English but sounds a bit like that) Just trying to google it- anybody know the name of these restaurants. Thanks heaps
Cheers
Tony
Answers (2)
Answered by Sally from UNITED KINGDOM | Jul. 01, 2015 19:48

2

3

Reply
Oh, I know, it is called teppanyaki, which is a very popular local food. You can find it in many restaurants. If you want to taste the authentic one, you can go to Taipei Shilin Night Market. Have a try.
Answered by tony from AUSTRALIA | Jul. 02, 2015 02:20

0

0

Reply
Hi Sally,
Thanks for that. I also thought it was called Teppanyaki but Taiwanese people often say that's the Japanese work for it. But its all good as google brought up pictures of what I was after by using Teppanyaki. Great food. Thanks heaps
Tony