Taiwan Weather
The Tropic of Cancer runs straight through the middle of Taiwan bringing with it tropical and subtropical weather. Taiwan has similiar climate with Hainan, Guangxi and Guangdong Provinces. It typically presents an average temperature of 22

C (71.6

F) all year round. There is no severe cold in winter, but the weather in summer is brutally hot and of high humidity. Generally, November to the next April is the best timing to tour there with regards to temperature and humidity.
The annual average temperature of the northern part is around 21.7

C (71

F) while is around 24.1

C (75

F) in the southern part. The coldest months are from January to March with the lowest temperature to about 10

C (50

F). In some rare cases, there will be frost or snow on the high mountain. The hottest months are from June to August with the highest temperature up to around 38

C (100

F). The average temperature of the rest months is around 25

C (77

F).
Taiwan is of a humid climate. The northern part, middle mountain area and western plain are abundant with rainfalls in different periods. June to October is the typhoon season in Taiwan, with July to September offering the most activities to experience. The months with the most rainy days are in plum rain season in May and June while thundershower mostly came in the afternoons in summer.
7-Day Taipei Weather Forecast
loading......
Averages for Taiwan Weather
High/Low Temperatures of Taiwan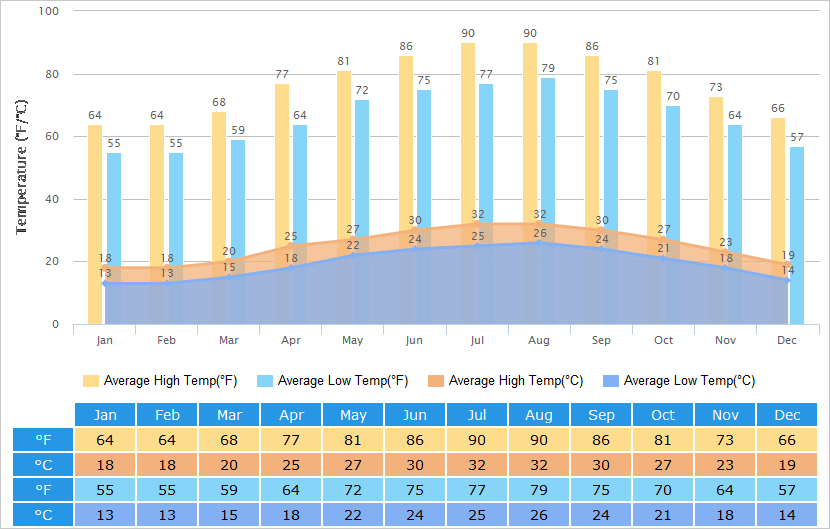 Average Temperatures of Taiwan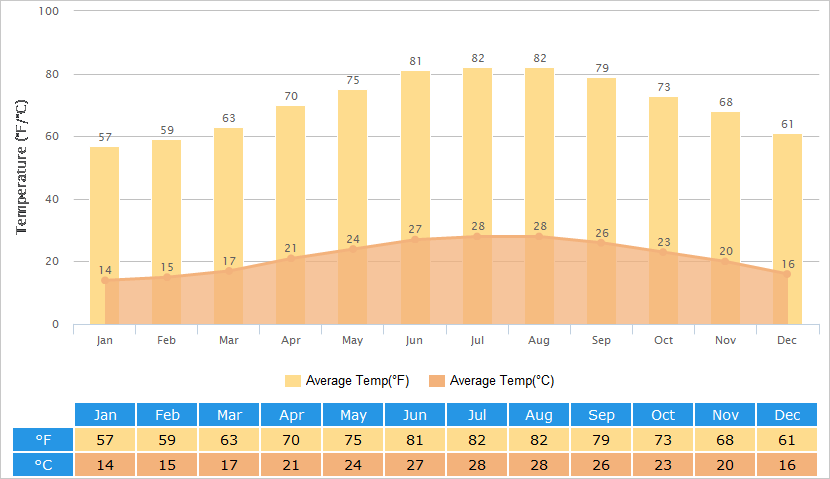 Detailed Tainan weather information about the rainfall.
Average Data
Jan
Feb
Mar
Apr
May
June
Rain (in)
0.7
1.0
1.6
3.1
8.0
17.5
Rain (mm)
20
25
40
80
205
445
Average Data
July
Aug
Sep
Oct
Nov
Dec
Rain (in)
16.0
14.1
8.2
0.9
0.8
1.0
Rain (mm)
410
360
210
25
20
25
- Last modified on May. 07, 2019 -
Questions & Answers on Taiwan Weather
Asked by Julius Marasigan from PHILIPPINES | Jul. 21, 2019 01:52

Reply
Will it rain in taiwan from july 23-26 2019?
Asked by MY from SINGAPORE | Jul. 18, 2019 00:36

Reply
Typhoon in Taipei
Following the news of typhoon, i've checked that typhoon period is ard July to October. I am going taiwan in mid September. Do I have to worry?
Answers (1)
Answered by Toby from USA | Jul. 18, 2019 20:00

0

0

Reply
There are high chances of Typhoon in summer in Taiwan.
Generally speaking, the best time to travel it is March to April and October to November. So it is suggested to change your travel time.
Asked by Bass from FRANCE | Jul. 12, 2019 02:01

Reply
How is the weather in Taipei around end of March and early April, anyone?
Is it too cold or raining for outdoor activities/ photoshoot?
Answers (1)
Answered by Mona from USA | Jul. 15, 2019 02:25

0

0

Reply
The temperature will be 15-20C. You will expect sporadic showers sometime. The outdoor activities and photoshoot will be fine. Don't worry.
Asked by alex from USA | Jul. 08, 2019 07:14

Reply
does it rain a lot in Taiwan from 5/15-5/31 ?
Answers (1)
Answered by Hailey from USA | Jul. 08, 2019 20:06

0

0

Reply
You might expect sporadic showers sometimes based on the previous weather statistics. However, it won't influence the sightseeing. Don't worry.
Asked by kikie from INDONESIA | Jul. 02, 2019 22:10

Reply
hi, Is early October a good time to visit Taiwan?
Answers (1)
Answered by Jasper from USA | Jul. 03, 2019 00:08

0

0

Reply
Yes, it is. In fact, it is one of the best time of the year.