Taiwan Weather
The Tropic of Cancer runs straight through the middle of Taiwan, dividing it into tropical and subtropical climate zones. Generally, Taiwan weather is warm all the year round. There is no severe cold in winter, but the weather in summer is brutally hot and of high humidity.

The annual average temperature of the northern part is around 21.7℃ (71℉) while is around 24.1℃ (75℉) in the southern part. The coldest months are from January to March with the lowest temperature to about 10℃ (50℉). In some rare cases, there will be frost or snow on the high mountains. The hottest months are from June to August with the highest temperature up to around 38℃ (100℉). The average temperature of the rest months is around 25℃ (77℉).

Taiwan is of a humid climate. The northern part, middle mountain area and western plain are abundant with rainfalls in different periods. July to September is the typhoon season. The months with the most rainy days are in plum rain season in May and June while thundershower mostly came in the afternoons in summer.

September to November is the best time to travel to Taiwan. The climate is cool with less rainfall and the risk of dangerous weather like typhoon is low. March to April is also a good choice for traveling, when music festivals will be held for music fans to cheer together.

Annual Weather Facts of Major Cities
Taipei Weather Averages
High Temp: 35~37℃ (95~99℉)
Low Temp: 13~15℃ (55~59℉)
Humidity: 77%
Rainfall: 2,405mm
3-Day Taipei Weather Forecast
Kaohsiung Weather Averages
High Temp: 31~33℃ (88~91℉)
Low Temp: 14~16℃ (57~61℉)
Humidity: 71%
Rainfall: 1,785 mm
3-Day Kaohsiung Weather Forecast
Taiwan Weather by Month
Averages for Taiwan Weather
High/Low Temperatures of Taiwan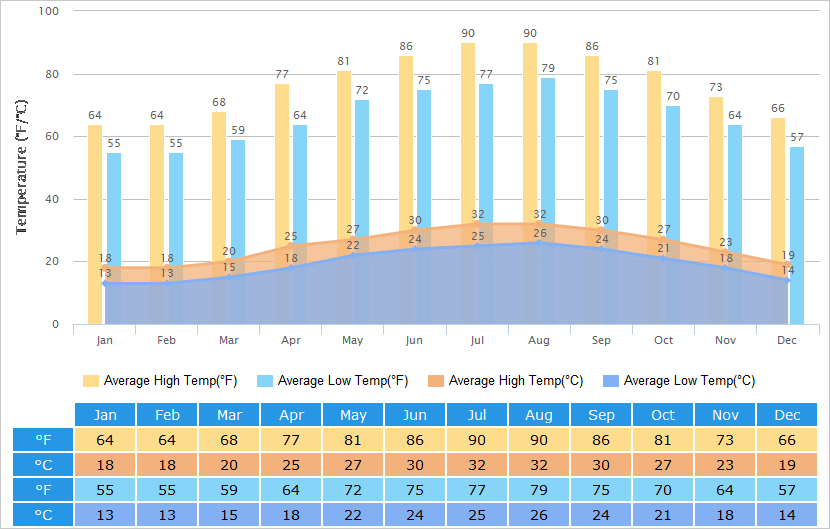 Average Temperatures of Taiwan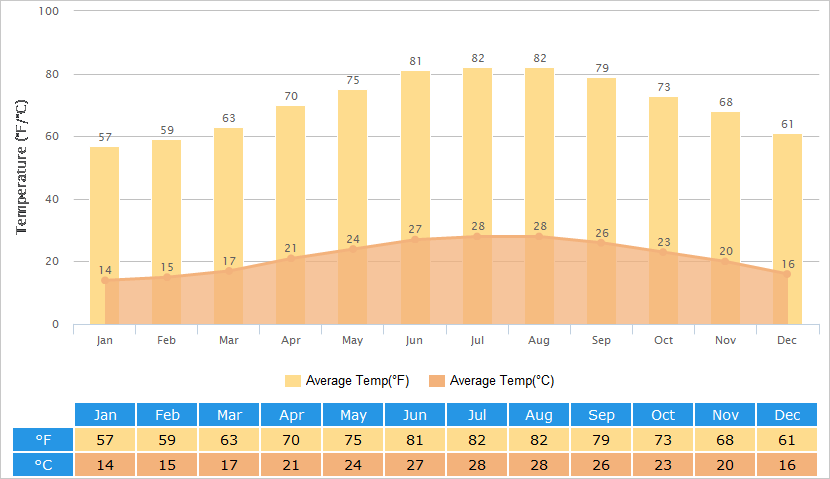 Detailed Tainan weather information about the rainfall.
Average Data
Jan
Feb
Mar
Apr
May
June
Rain (in)
0.7
1.0
1.6
3.1
8.0
17.5
Rain (mm)
20
25
40
80
205
445
Average Data
July
Aug
Sep
Oct
Nov
Dec
Rain (in)
16.0
14.1
8.2
0.9
0.8
1.0
Rain (mm)
410
360
210
25
20
25
Taiwan Climate – Seasons & Travel Advice
Spring (Mar - May)
The weather of Taiwan in spring won't make you feel so hot. In addition to May which is the plum rain season with more rainfalls, it is relatively a good season to travel there. The best place to go is Kenting, where two well-known music carnivals, Chunlang Music Festival and Chunna Music Festival, are held every year. The former is sometimes held in Taipei. The festivals are usually celebrated in April. If you are interested in it, do not hesitate and make your trip to celebrate with music fans from worldwide. Appreciating cherry blossoms is also a popular thing to do in the spring of Taiwan and the top destinations include
Sun Moon Lake
and
Ali Mountain
.
What to Wear: shirt & blouse, knitted sweater, light pants, hiking shoes…
Summer (Jun - Sep)
The climate in summer is hot with strong ultraviolet radiation and much rainfall, especially in the southern part. Besides, July to September is the typhoon season, which may press pause for your trip. If plan to visit Taiwan in summer, pay attention to the weather forecast to avoid typhoons and continuing rainy days. To beat the summer heat, you can go to visit Taroko Valley, Ali Mountain, Jade Mountain where the temperature is lower than the flat plain area.
What to Wear: thin T-shirt, dress, shorts, skirt, sandals…
Autumn is the most perfect travel time for admiring natural scenery. You can climb on Ali Mountain to see the sea of clouds, or visit Sun Moon Lake to enjoy the sunrise and sunset. The cool weather is also pleasant for bike riding. Cycling on the Cijin Peninsula and have a relaxation must bring you an impressive experience. You can also tour the cultural scenic spots comfortably, like
Taipei National Palace Museum
, Hengchun Old Town, and Lover's River. At night, do not miss trying local foods at those night markets.
What to Wear: long dress, thin jacket, cardigan, jeans, sneakers…
Winter (Dec - Feb)
The climate in winter is just like that in autumn in southern cities of mainland China. It hardly snows. Only on some mountain tops may you meet snowflakes. In February, the coldest month, the average temperature of the coldest city Taipei is still 15℃ (59℉) or so. Travling in January or February, you can take the chance to take part in the
Chinese New Year
. Various events like lantern shows and temple fairs will be held in Taipei and Kaohsiung. Participate in the special activities and celebrate the traditional Chinese festival together with local people.
What to Wear: hoodie, thin sweater, long pants, trench coat…
- Last updated on Jul. 24, 2023 -
Questions & Answers on Taiwan Weather
Asked by Joanna Bryson from UNITED STATES | Jul. 24, 2023 13:17

Reply
Weather in Taiwan Taipei
What's the best time from California to Taipei the Weather is cool
Answers (1)
Answered by Emily | Jul. 24, 2023 20:55

0

0

Reply
Generally, October - November and March - May are the best times to visit Taiwan.
Asked by Seah Tanlau from SINGAPORE | Oct. 17, 2020 03:21

Reply
How is the weather for Apr? Is Apr a good time to tour Taiwan?
Answers (1)
Answered by Liam | Oct. 25, 2020 23:51

0

0

Reply
Based on the previous weather statistics, it will be a good time to tour around. It will be warm and comfortable.
Asked by Vivi from INDONESIA | Mar. 08, 2020 20:46

Reply
how's the taipei weather 15-22 agt2020 ? Will there be typhoon or heavy rain ?
what month mostly have typhoon?
Answers (1)
Answered by Editha from CANADA | Mar. 11, 2020 00:09

0

0

Reply
Generally speaking, the typhoon season is usually from June to September. There may have several heavy rainy days in August. It would influence the sightseeing a lot. If possible, you are suggested to change the travel plan.
Asked by Trish from PHILIPPINES | Feb. 27, 2020 05:16

Reply
Is Taipei rain usually expected during mid February?
Answers (1)
Answered by Thelma from SINGAPORE | Feb. 27, 2020 17:37

0

0

Reply
Generally speaking, the typhoon season will be June to September based on the previous weather statistics. Don't worry. It will be ok for you to travel during mid Feb.