Taiwan Weather in April
The season in Taiwan in April is spring and the Taiwan weather in April is as a whole becoming warm, but changeable, especially in the northern part, as the temperature may drop suddenly because of the cold current. In the northern areas in Taiwan, temperature in April is about 16-24℃ (61-75℉). In the south, the average temperature hovers around 17-28℃ (63-82℉). There are definitely rains here and there, and the average rainfall is 80 mm (3.1 in) throughout the island. It's also windy there, and it can be quite blowy in its north. On the mountains, the Taiwan temperature in April would be below 10℃ (50℉) in the early morning, so you need to keep warm especially at dawn and dusk.
Averages for Taiwan Weather in April
Temperature: 21°C / 70°F
High Temperature: 25°C / 77°F
Low Temperature: 18°C / 64°F
Rainfall: 80 mm
Sunrise: 05:20 ~ 05:46
Sunset: 18:10 ~ 18:23
What to Wear in Taiwan in April
It is suitable to wear a shirt, thin overcoat and thin pants. To the second half of the month, short sleeves are also wearable. However, it is necessary to take a cap to keep out the winds. In Taiwan, April temperature holds a large daily difference, especially on mountains in the middle and southern regions, so you need to keep warm with thicker clothes at dawn and night, like a thin knitwear. As it's often rainy, an umbrella, is the must when you go outdoors. The comfortable casual shoes are the best for long walking.


Where to Go in Taiwan in April
The oriental cherry blossoms on
Ali Mountain
is very famous so that it's a must when you get to Taiwan in April season. Red sandalwood flowers in Weiwuying Metropolitan Park in Kaohsiung, lavenders in Formosan Aboriginal Culture Village in Nantou, and the roses in Shilin Official Residence in Taipei, are also popular. You can go to
Sun Moon Lake
,
Mt. Yangming
,
Yushan National Park
, New Taipei Yehliu Geopark, etc. for a spring outing as well.
If you love music, you may attend Spring Scream Music Festival in either Kaohsiung or Kenting. Spring Wave Music Festival in Kenting is also very sought after for the famous stars would show up on the stage.
Shilin Night Market, Liaoning Street Night Market, Raohe Street Night Market, and so on are the most famous night markets in Taipei as well as in Taiwan. They are the best places to taste the local snacks. Seasonal fruits, like peaches, loquats, waxberries and mulberries, are popular, too.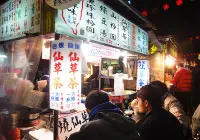 Night Markets
City Gardens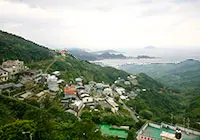 Jiufen Old Town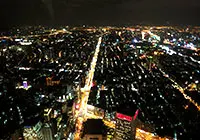 Night Views
Top 10 Things to Do in Taiwan
1. The roads on mountains are slippery. You may wear anti-slip shoes. An umbrella or raincoat is the necessary in this month with increasing rains.
2. Considering the Taiwan in April weather is getting warmer and more humid that you would sweat a lot when traveling outdoor, you'd better drink water to replenish that you lose timely.
What is the temperature in Taiwan in April?
High/Low Temperatures of Taiwan in April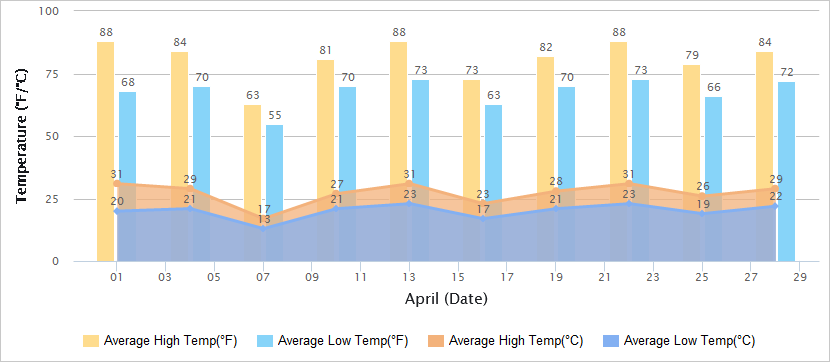 Historical Taiwan Weather in April
Apr
Temperature
Sunrise / Sunset
Humi-
dity
(%)
High
Low
1
31°C / 87.8°F
20°C / 68°F
05:46 /

18:10

47
2
28°C / 82.4°F
20°C / 68°F
05:45 /

18:10

46
3
28°C / 82.4°F
21°C / 69.8°F
05:44 /

18:11

50
4
29°C / 84.2°F
21°C / 69.8°F
05:43 /

18:11

52
5
29°C / 84.2°F
22°C / 71.6°F
05:42 /

18:12

53
6
26°C / 78.8°F
14°C / 57.2°F
05:42 /

18:12

71
7
17°C / 62.6°F
13°C / 55.4°F
05:40 /

18:13

46
8
26°C / 78.8°F
17°C / 62.6°F
05:39 /

18:13

47
9
26°C / 78.8°F
18°C / 64.4°F
05:38 /

18:13

47
10
27°C / 72.5F
21°C / 69.8°F
05:37 /

18:14

46
11
29°C / 84.2°F
22°C / 71.6°F
05:36 /

18:14

44
12
30°C / 86°F
23°C / 73.4°F
05:35 /

18:15

53
13
31°C / 87.8°F
23°C / 73.4°F
05:34 /

18:15

53
14
31°C / 87.8°F
19°C / 66.2°F
05:33 /

18:16

50
15
22°C / 71.6°F
18°C / 64.4°F
05:32 /

18:16

77
16
23°C / 73.4°F
17°C / 62.6°F
05:32 /

18:17

59
17
25°C / 77°F
18°C / 64.4°F
05:31 /

18:17

81
18
25°C / 77°F
20°C / 68°F
05:30 /

18:18

61
19
28°C / 82.4°F
21°C / 69.8°F
05:29 /

18:18

54
20
29°C / 84.2°F
22°C / 71.6°F
05:28 /

18:18

56
21
31°C / 87.8°F
23°C / 73.4°F
05:27 /

18:19

69
22
31°C / 87.8°F
23°C / 73.4°F
05:26 /

18:19

51
23
28°C / 65.5°F
24°C / 75.2°F
05:25 /

18:20

49
24
23°C / 73.4°F
19°C / 66.2°F
05:24 /

18:20

64
25
26°C / 78.8°F
19°C / 66.2°F
05:24 /

18:21

57
26
28°C / 82.4°F
22°C / 71.6°F
05:23 /

18:21

52
27
28°C / 82.4°F
22°C / 71.6°F
05:22 /

18:22

54
28
29°C / 84.2°F
22°C / 71.6°F
05:21 /

18:22

58
29
29°C / 84.2°F
23°C / 73.4°F
05:20 /

18:23

55
30
30°C / 86°F
24°C / 75.2°F
05:20 /

18:23

53
- Last updated on Aug. 22, 2022 -