Taiwan Weather in March
As the early spring, Taiwan weather in March is pretty changeable for it is at the turning point from cool season to the hot season. The March temperature in Taiwan has a gradual increasing trend, but the temperature difference between day and night is larger than before. The average temperature in this month may hover around 15-20℃ (59-68℉), and comparatively speaking, the northern area is colder and wetter than the southern parts. And after the noon, there is often a light rain shower.
Averages for Taiwan Weather in March
Temperature: 17°C / 63°F
High Temperature: 20°C / 68°F
Low Temperature: 15°C / 59°F
Rainfall: 40 mm
Sunrise: 05:47 ~ 06:17
Sunset: 17:56 ~ 18:10
What to Wear in Taiwan in March
You can wear a hoodie and jeans in March season in Taiwan. Similar clothes like a thin overcoat and sweatpants are also OK. When Taiwan temperature in March increases at noon or on a sunny day, a T-shirt or a blouse is enough. At night, you'd better wear a trench coat or a jacket. If you're going to travel to multiple places in Taiwan, it's would be better to prepare more clothes.


Where to Go in Taiwan in March
Warm Taiwan climate in March bring various flowers to bloom. On
Mt. Yangming
, the oriental cherry, camellia, azalea and common calla lily rival to show their beauty one after another. You can also appreciate oriental cherry blossoms on
Ali Mountain
and take the sightseeing train to travel through the flowering woods. Purple wisteria flowers in Chiayi, especially in Ruili Village, are beautiful, too.
As Taiwan temperature in March increases and it becomes warmer, you can take a walk on beach in the south, to enjoy the warm sunshine leisurely, and Kenting is the most popular place for a spring outing in the southern Taiwan. Yehliu Geopark in New Taipei,
Yushan National Park
in Nantou, Hsiukuluan Mountain at the boundary of Nantou and Hualien, and Songshan Cultural and Creative Park, etc. are also worthwhile to visit in March. In Taipei 101, you may do shopping with many famous brands there, and see the Taipei city on high on the observation deck.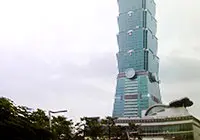 Taipei 101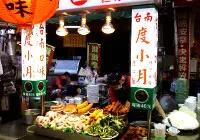 Local Snacks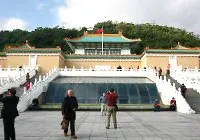 National Palace Museum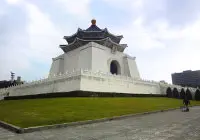 CKS Memorial Hall
Top 10 Things to Do in Taiwan
Other Tips
1. You'd better pay close attention to Taiwan weather in March, for it changes often and quickly and wear clothes accordingly.
2. In the southern Taiwan, March temperature is higher and the ultraviolet radiation is stronger than that in the north. You should apply some sun-proof scream on your skin around the noon.
3. As varieties of flowers are blooming in March, people who are allergic to pollen should wear a mask.
What is the temperature in Taiwan in March?
High/Low Temperatures of Taiwan in March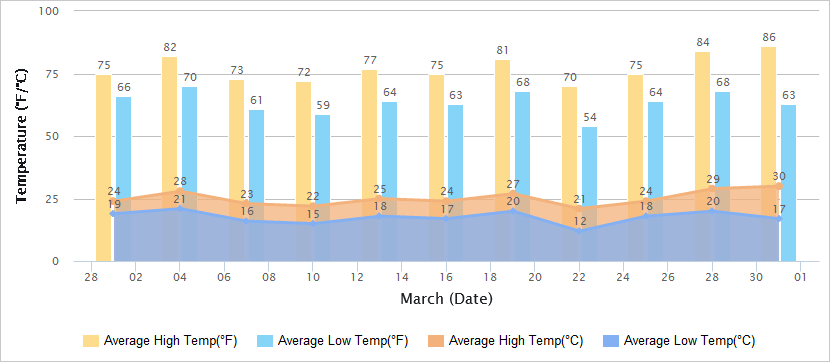 Historical Taiwan Weather in March
Mar
Temperature
Sunrise / Sunset
Humi-
dity
(%)
High
Low
1
24°C / 75.2°F
19°C / 66.2°F
06:17 /

17:56

66
2
25°C / 77°F
18°C / 64.4°F
06:16 /

17:56

51
3
26°C / 78.8°F
19°C / 66.2°F
06:15 /

17:57

52
4
28°C / 82.4°F
21°C / 69.8°F
06:14 /

17:57

42
5
28°C / 82.4°F
16°C / 60.8°F
06:13 /

17:58

67
6
21°C / 69.8°F
17°C / 62.6°F
06:12 /

17:58

74
7
23°C / 73.4°F
16°C / 60.8°F
06:11 /

17:59

68
8
16°C / 60.8°F
10°C / 50°F
06:10 /

17:59

74
9
16°C / 60.8°F
11°C / 51.8°F
06:09 /

18:00

62
10
22°C / 71.6°F
15°C / 59°F
06:08 /

18:00

56
11
25°C / 77°F
16°C / 60.8°F
06:08 /

18:01

50
12
26°C / 78.8°F
17°C / 62.6°F
06:07 /

18:01

49
13
25°C / 77°F
18°C / 64.4°F
06:06 /

18:02

47
14
27°C / 80.6°F
19°C / 66.2°F
06:05 /

18:02

54
15
25°C / 77°F
19°C / 66.2°F
06:04 /

18:03

64
16
24°C / 75.2°F
17°C / 62.6°F
06:03 /

18:03

70
17
24°C / 75.2°F
19°C / 66.2°F
06:02 /

18:04

74
18
27°C / 80.6°F
20°C / 68°F
06:01 /

18:04

52
19
27°C / 80.6°F
20°C / 68°F
06:00 /

18:04

55
20
22°C / 71.6°F
13°C / 55.4°F
05:59 /

18:05

87
21
20°C / 68°F
10°C / 50°F
05:58 /

18:05

55
22
21°C / 69.8°F
12°C / 28.8°F
05:57 /

18:06

49
23
25°C / 77°F
16°C / 60.8°F
05:55 /

18:06

41
24
24°C / 75.2°F
17°C / 62.6°F
05:54 /

18:07

48
25
24°C / 75.2°F
18°C / 64.4°F
05:53 /

18:07

51
26
25°C / 77°F
18°C / 64.4°F
05:52 /

18:07

44
27
25°C / 77°F
18°C / 64.4°F
05:51 /

18:08

66
28
29°C / 84.2°F
20°C / 68°F
05:50 /

18:08

59
29
28°C / 82.4°F
20°C / 68°F
05:49 /

18:09

52
30
26°C / 78.8°F
20°C / 68°F
05:48//

18:09

57
31
30°C / 86°F
17°C / 62.6°F
05:47 /

18:10

54
- Last updated on Aug. 22, 2022 -