Taiwan Weather in October
As the summer season ends and autumn season starts, Taiwan weather in October is getting cooler and cooler, with the average temperature of around 21 - 27℃ (70 - 81℉). There are some rains and showers in October in Taiwan, and the most of rains fall in the northern area including Taipei, Keelung and Yilan, and Taitung and Hualien in the east and mountain areas. It is quite clear in the middle and southern places. The early October is the end of the typhoon season, so typhoon with heavy storm may land. To the mid-to-late this month, the Taiwan climate in October becomes pretty pleasant for travelling. As a whole, October belongs to the best time to visit Taiwan.
Averages for Taiwan Weather in October
Temperature: 23°C / 73°F
High Temperature: 27°C / 81°F
Low Temperature: 21°C / 70°F
Rainfall: 25 mm
Sunrise: 05:46 ~ 06:01
Sunset: 17:15 ~ 17:42
What to Wear in Taiwan in October
A T-shirt is suitable in Taiwan in early October; when it's rainy, you can add a thin coat. On sunny days, you can also wear long sleeves to prevent your skin against sunlight. As Taiwan temperature in October gets lower and lower, it requires thin long sleeves plus a thin coat to the end of the month. Thin pants or jeans are nice to keep warm on a cool day as well as to avoid mosquitoes at night.


Where to Go in Taiwan in October
In account of the pleasant climate in Taiwan in October, especially the latter half month, one can visit any place in Taiwan comfortably.
Ali Mountain
,
Sun Moon Lake
,
Mt. Yangming
and Taroko Gorge are the most famous natural scenic spots, as well as the most popular places to see early autumn sceneries. Turtle Island in Yilan, a turtle-shaped volcanic islet, is also very beautiful. You can see coral reef coast, the stalactite cave, and whales and dolphins in the surrounding waters leisurely.
As for the cultural sites, apart from
Taipei National Palace Museum
, Shilin Official Residence and Taipei 101 in Taipei are also visit-worthy, where you can witness the traditional architecture and relics, the excellent garden, and the panoramic views and night views of Taipei respectively.
Fengjia Night Market in Taichung is famous as the same to try various food and local snacks. At last, Confucius Temple in Tainan will hold grand worship ceremony and celebrating activities on the 28th day of the ninth lunar month, which may be in the last a few days of October season in Taiwan, or the early November.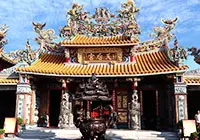 Thean Hou Temple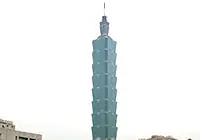 Taipei 101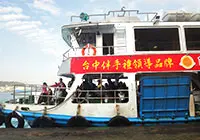 Offshore Island Cruise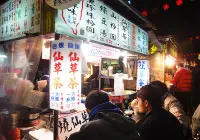 Night Markets
Top 10 Things to Do in Taiwan
Other Tips
1. For Taiwan is in the sub-tropical and tropical latitudes, the protection from the sun is still important in October, especially when you would stay outdoors for a long time, or go to the seaside.
2. Since Taiwan weather in October is good for travel, plus the large flow of tourists from the mainland of China spending their National Day holiday, Taiwan welcomes the busy time of tourism, especially in the early October. You'd better book the hotel and transportation in advance to ensure a smooth trip.
3. In Taiwan, Oct weather still features possible typhoons. Pay attention to the weather forecast and adjust your travel plane accordingly.
What is the temperature in Taiwan in October?
High/Low Temperatures of Taiwan in October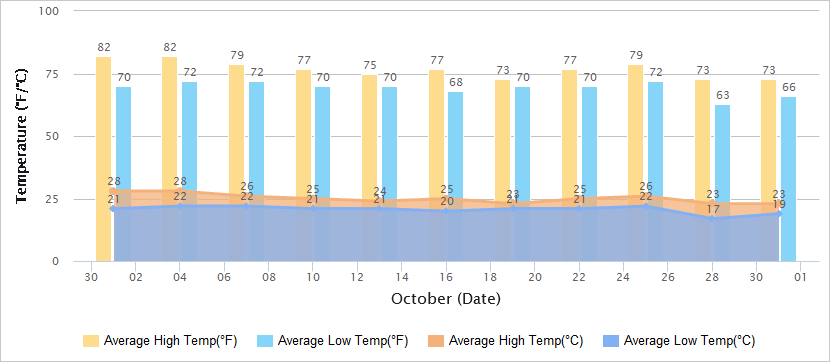 Historical Taiwan Weather in October
Oct
Temperature
Sunrise / Sunset
Humi-
dity
(%)
High
Low
1
28°C / 82.4°F
21°C / 69.8°F
05:46 /

17:42

53
2
27°C / 80.6°F
21°C / 69.8°F
05:46 /

17:40

56
3
27°C / 80.6°F
22°C / 71.6°F
05:47 /

17:39

66
4
28°C / 82.4°F
22°C / 71.6°F
05:47 /

17:38

81
5
28°C / 82.4°F
23°C / 73.4°F
05:48 /

17:37

55
6
28°C / 82.4°F
23°C / 73.4°F
05:48 /

17:36

68
7
26°C / 78.8°F
22°C / 71.6°F
05:49 /

17:35

77
8
25°C / 77°F
23°C / 73.4°F
05:49 /

17:34

75
9
25°C / 77°F
22°C / 71.6°F
05:49 /

17:33

68
10
25°C / 77°F
21°C / 69.8°F
05:50 /

17:32

71
11
22°C / 71.6°F
19°C / 66.2°F
05:50 /

17:31

85
12
21°C / 69.8°F
19°C / 66.2°F
05:51 /

17:30

84
13
24°C / 75.2°F
21°C / 69.8°F
05:51 /

17:29

77
14
25°C / 77°F
22°C / 71.6°F
05:52 /

17:29

73
15
24°C / 75.2°F
21°C / 69.8°F
05:52 /

17:28

79
16
25°C / 77°F
20°C / 68°F
05:53 /

17:27

72
17
22°C / 71.6°F
20°C / 68°F
05:53 /

17:26

84
18
24°C / 75.2°F
21°C / 69.8°F
05:54 /

17:25

71
19
23°C / 73.4°F
21°C / 69.8°F
05:54 /

17:24

81
20
23°C / 73.4°F
20°C / 68°F
05:55 /

17:23

71
21
25°C / 77°F
20°C / 68°F
05:55 /

17:22

60
22
25°C / 77°F
21°C / 69.8°F
05:56 /

17:21

63
23
24°C / 75.2°F
21°C / 69.8°F
05:56 /

17:21

66
24
24°C / 75.2°F
22°C / 71.6°F
05:57 /

17:20

72
25
26°C / 78.8°F
22°C / 71.6°F
05:57 /

17:19

66
26
26°C / 78.8°F
20°C / 68°F
05:58 /

17:18

61
27
24°C / 75.2°F
16°C / 60.8°F
05:58 /

17:17

49
28
23°C / 73.4°F
17°C / 62.6°F
05:59 /

17:17

48
29
24°C / 75.2°F
18°C / 64.4°F
05:59 /

17:16

43
30
24°C / 75.2°F
21°C / 69.8°F
06:00 /

17:15

55
31
23°C / 73.4°F
19°C / 66.2°F
06:01 /

17:15

78
- Last updated on Aug. 22, 2022 -